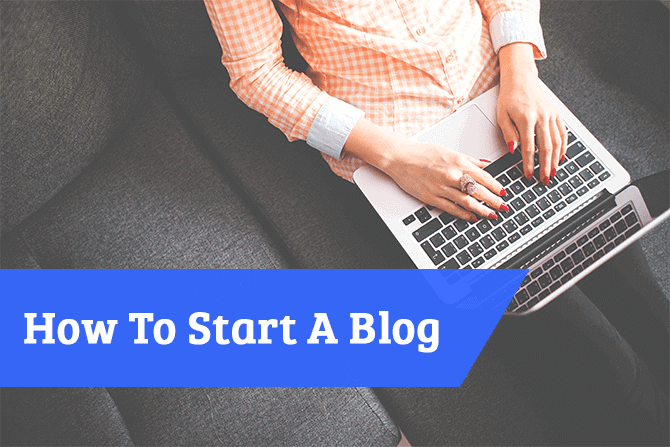 You'd like to start blogging.
Right?
The only problem is that you don't know how to start a blog. You've heard about all those people making big bucks online and you'd like to be next in line, because, hell, you've got bills to pay, but you just don't know how to start a blog.
Well, don't despair. No matter what you've read online, no matter how technical it seems, no matter the confusion you experience when trying to figure out how to start a blog, it really is not all that hard.
It used to be a headache way back. Back in the days before WordPress. Back when you had to know quite a bit of coding, some HTML, some CSS and especially a fair bit of PHP.
Recommended reading:
i) How to start a travel blog
ii) How to start a fashion blog
Nowadays though things are automated for the most part.
There are little programs called Plugins that take the automation of many functions right out of your hands and the good thing about many of them is that they are free.
The lead blogging software, called WordPress is free as well and it is a breeze to install.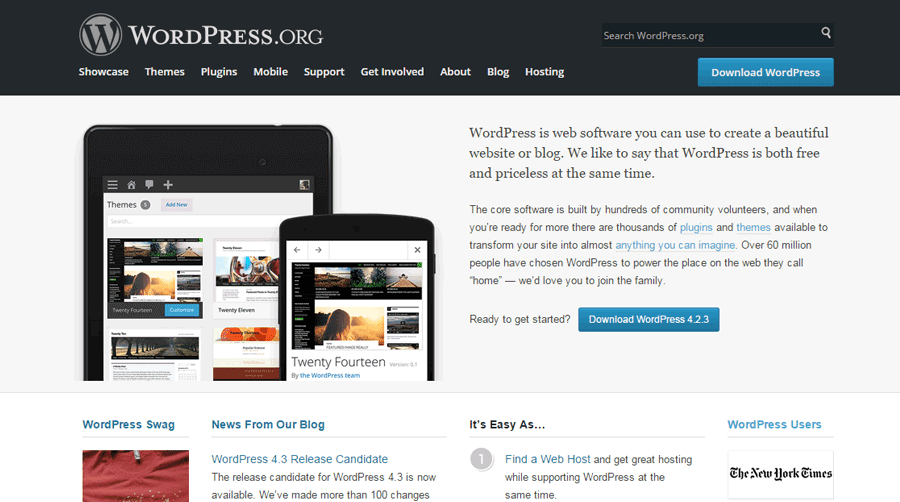 Many web hosts have a special piece of software that makes the installation of WordPress a 5-minute experience for you.
There are so many resources online to help you start your own blog, that there's really no reason to lose your beauty sleep over it.
In this complete guide, I will take you step-by-step through everything you need to know in order to successfully start a WordPress blog.
You will encounter many terms that might be unfamiliar to you along the way, but I can assure you that I will explain each and every term in a way that will make everything clear to you.
#1. What You Need To Know Before We Start
First of all, we need to lay the groundwork for the steps you will take in order to have a complete and fully functioning blog.
Following these steps to the tee will ensure that not only your blog is up and running in no time, but it will also ensure that you don't encounter errors along the way.
I'd also like you to keep the following points in the back of your mind as you are preparing to create your blog. These points will help you keep things realistic, should you stray away from your intended purpose:
Here's a brief explanation of what you'll encounter in each step:
1. Find a Domain Name and Hosting
Every human being on this earth has a name and all human beings should have a home. Although this is not always the case in poorer parts of the earth, ultimately everyone has a place to put their heads down at night.
Using this as an analogy, one could reason domains and hosting the same way. A domain could be likened to your name, whereas hosting could be likened to the place you reside at. Your name represents you, the same way as your domain represents your website. Is that clear?

Keep in mind, though, that a top 10 hosting in india can accommodate many different members of your family. With that, I mean that you can have many different domains hosted on your account on your chosen web host.
We will later look at what you need to know before you purchase a domain name, what to look for in a WordPress web host and how to link your chosen domain name to the web host. Apart from that, we will also create a place on the web host that will serve as a home for your website.
Don't worry too much if you've lost me there. It will all become clearer once we start doing it.
2. How to Set Up A Blog
Now here is where things start to get really interesting. This is where we roll up our sleeves and get our hands dirty. You'll understand exactly what I mean once we get there, but this is the place where you get to observe as well as participate in the behind-the-scenes of every successful blog.
We will install WordPress on our blog by clicking a couple of buttons and answering a few questions, and voila! We have a blog.
Not too much excitement here, as the journey just actually started. Hang on!
3. The Essential Tweaks For Your Blog
After installing our blog, it's time to head over there and log in. Once we've done that we will start to tweak our blog to look the way we want it to look at changing themes, adding a logo and installing a couple of essential plugins.
I believe you will spend a great deal of time in this section, as you install and uninstall a couple of themes till you have the one you desire.
4. How To Create That First Blog Post
This section is quite self-explanatory and doesn't need much input from me. We will go through the different parts of a blog post, ultimately create our first post and publish it.
We will also look at the necessity of pages, the difference between posts and pages, and how to set up your pages. Here is also a fantastic resource on how to write a blog post.
5. The Security Of Your Blog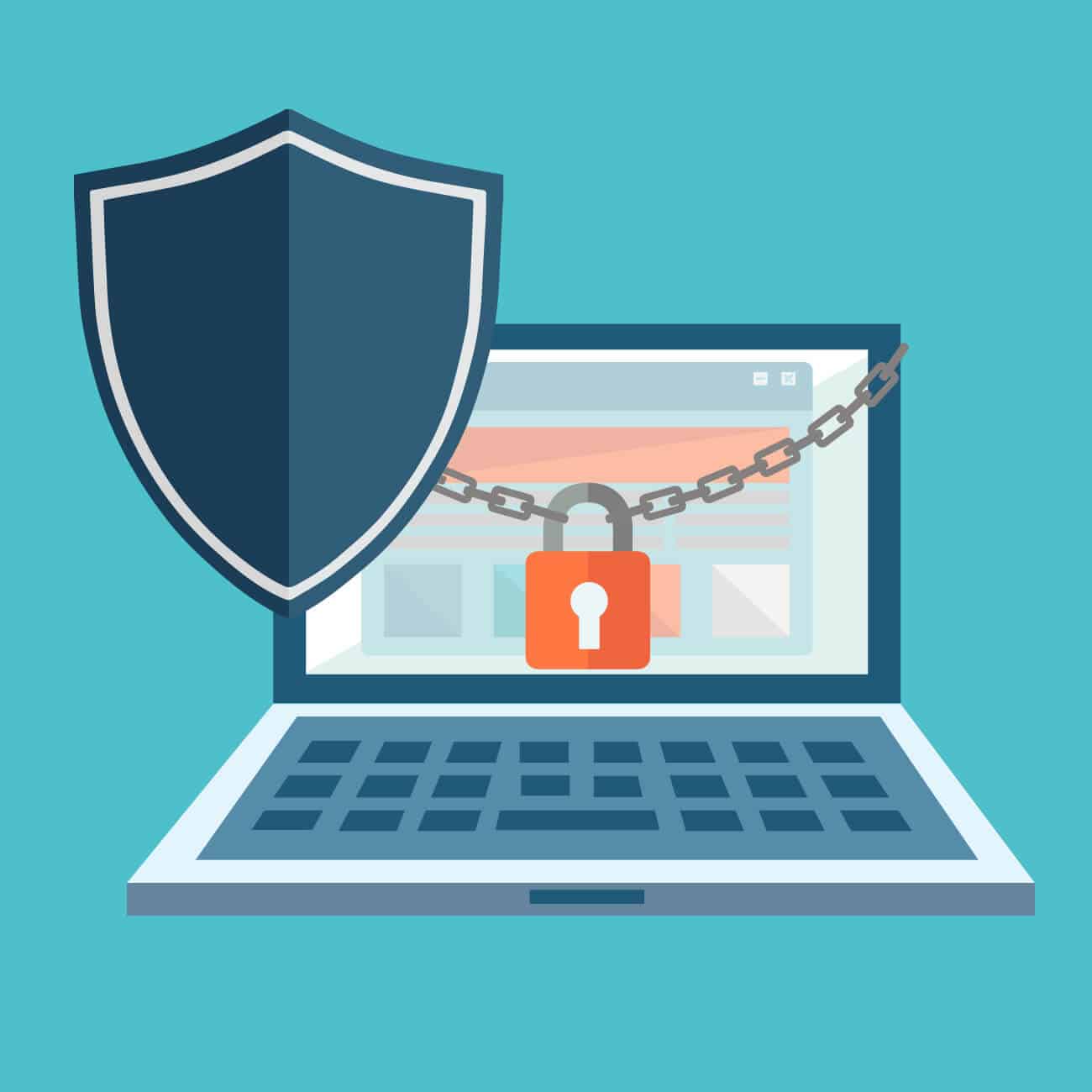 The security of your blog is of the utmost importance.
In fact, it is the one thing you should always keep in the back of your mind regarding your blog.
Hacking has become such a common thing, that your site will be up and running one day and completely gone the next.
In this section, we will look at plugins you can install that will take a backup of your site on a regular basis.
6. Traffic, Promotion And Making Money
What's the use of doing all of this if nobody sees it? Or better yet, what's the use, if you don't put some killer epic stuff on there and make money off of it. So, you need to learn how to plan your content, put it on and promote your blog on Facebook and other social channels.
That's what we'll take a look at here. Of course there's still a whole lot of other stuff involved to further enhance your blog, but for now, this is more than sufficient to start you off on your blogging journey.
So, buckle up and let's go!
#3. How to Set Up A Blog
Installing WordPress is easy and you can do it in just a few clicks. Let's roll right in.
After applying for an account you'll receive an email with all of your login details. Keep this information in a safe place for future reference.
Step 1. Go ahead and log into Bluehost.
To do that you need to go to the homepage of Bluehost and click the login button in the upper right-hand corner. You could also just click the link in the email you received from Bluehost. Continue to fill in your login details.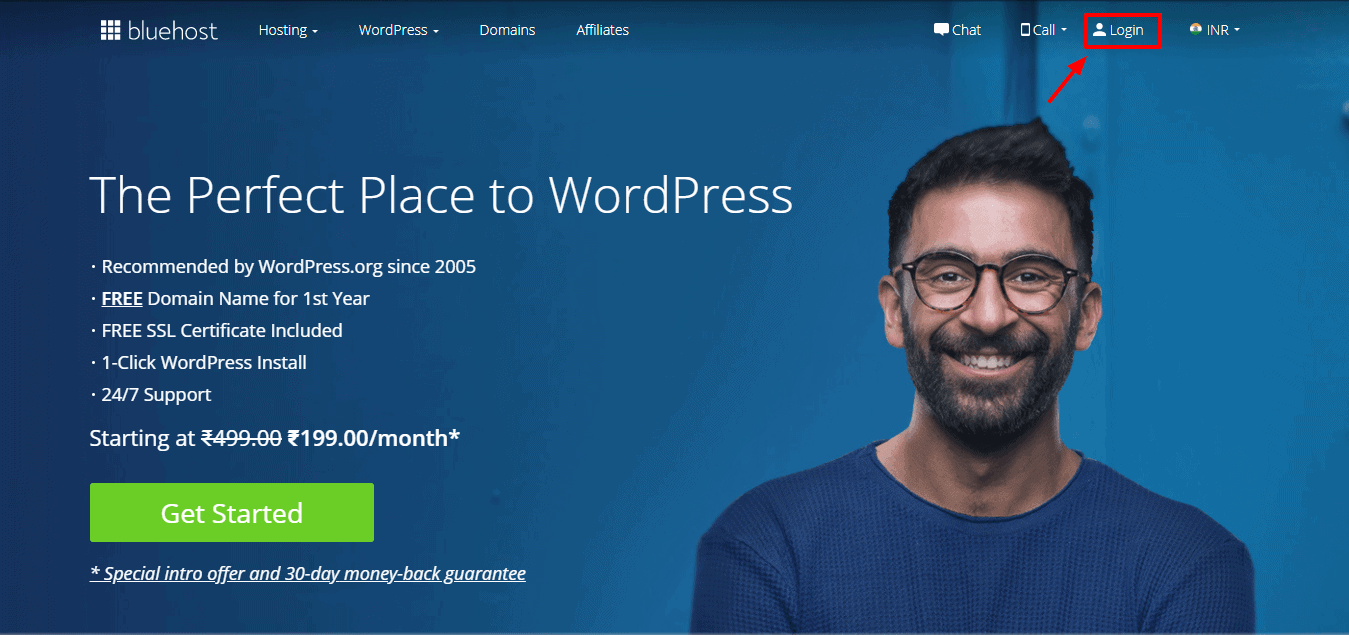 Step 2. Now that you're in Bluehost you'll see a page with a lot of little icons grouped into categories.
This is Bluehost Cpanel. The best and most user-friendly hosting software for clients. This software is very well supported and should you have any questions over an issue you're encountering, you'll find answers all over the internet.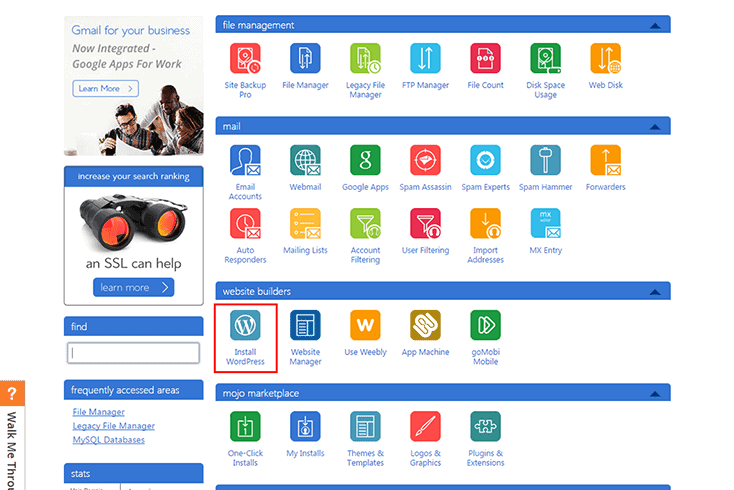 Step 3. Go to the section titled "website builders" and click on the "Install WordPress" icon. Depending on when you follow this tutorial, the graphics in Bluehost might have changed, but ultimately you'll encounter this window or something similar. Click on the "install" button.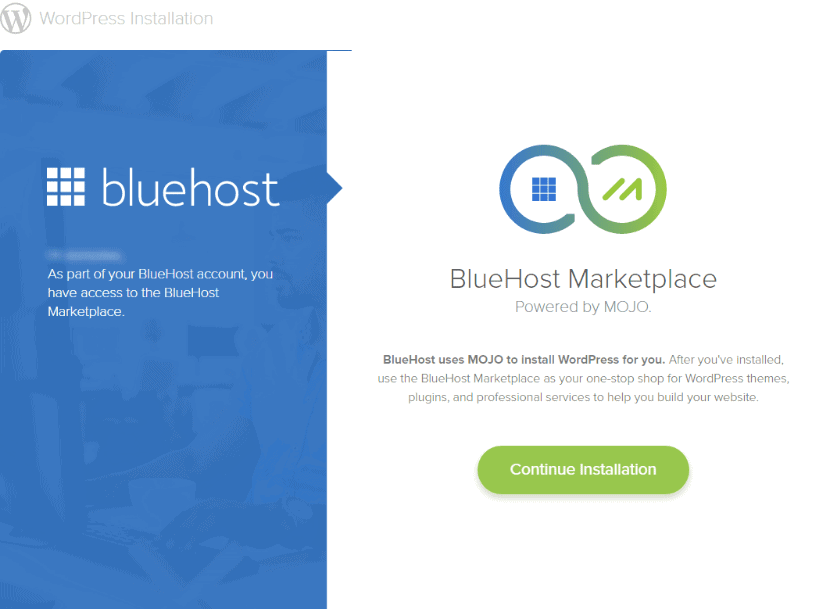 Step 4. Next, you'll be directed to the section where you choose in which directory you'd like to do your installation. Clicking on the drop-down menu will show you all the domains currently under your account.
Should you want to install WordPress in a different directory under your domain, type in the name of the directory.
Eg. If you want to install WordPress in the blog directory, type "Blog" where you see the word "directory". Click "Check Domain"
After clicking "Check Domain" the system will see whether everything is OK and spit out the last step.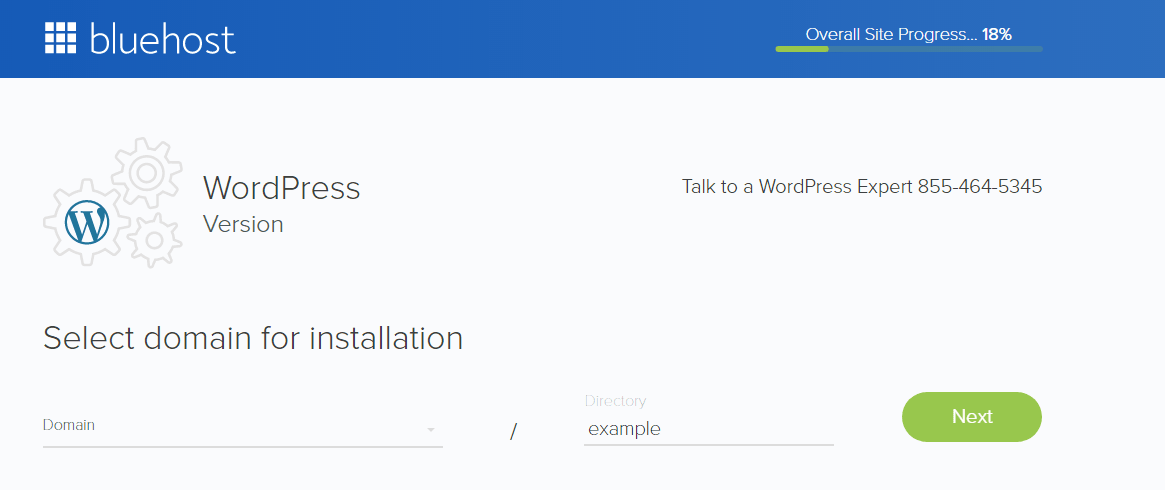 Further, web hosting is what you need in order
Advanced Options: The last step has a place to tick called 'Advanced Options".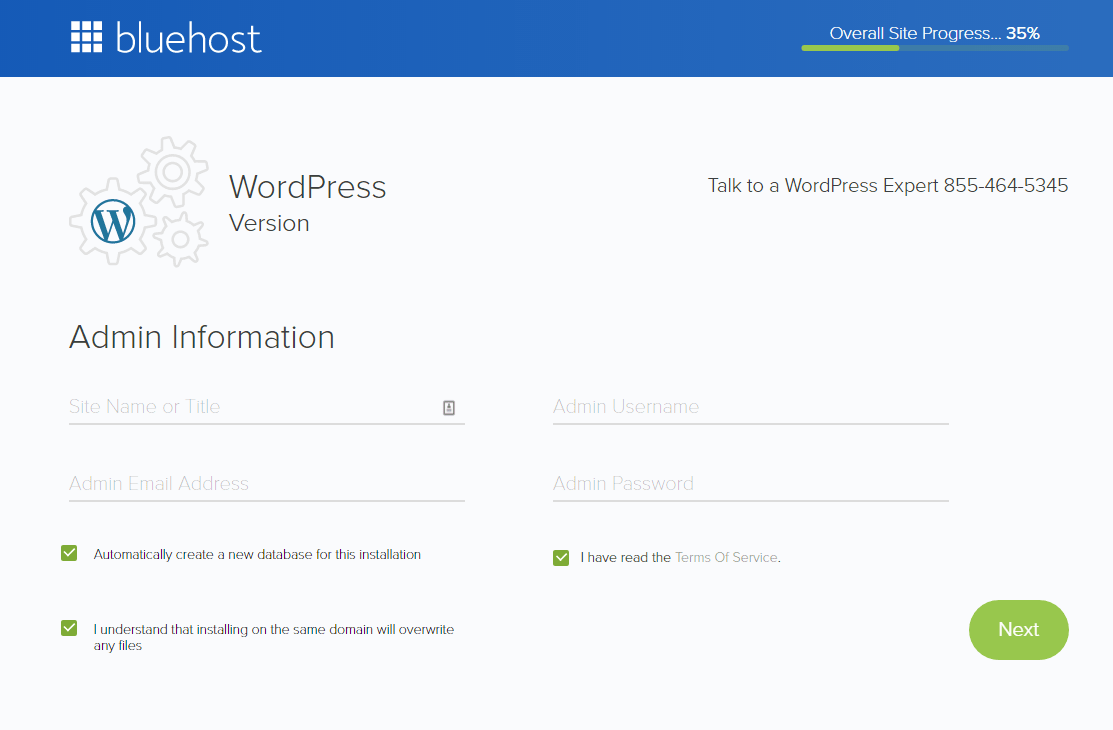 If you click on "Advanced Options" you'll see that the website builder has given your site a name, an Admin, username, and a password. You can, of course, change any of the information pre-filled out for you.
Please refrain from using "admin" as a username or anything easy like your dog's name or your birth date. Gone are the days when everything was easy and hackers were known to only target big governmental websites.
I would suggest you use an online password generator to get you a strong password. Most preferably one with 16 characters, with numbers, alphabet, upper and lower-case letters as well as symbols.
Read and agree to the terms. Click the Next button. Congratulations!!!
You now have a WordPress website, installed on your own domain.
Next, we're going to look at your site and how to change a couple of things on there, to make it look just how you want it to look.
Note: If you have already purchased hosting from SiteGround or DreamHost, then here is the complete guide on how to install WordPress on these web hosts.
#5. How To Create That First Blog Post
To create a blog post, you need to head on over to Posts – Add New Post

This will open up a new Posts page and you're ready to start blogging!
Before you dive in, there's something else you must look at first. All posts must belong to a particular category. So, the first thing we do is we create different categories or we create them as we go along.
You're in luck as I'm going to show you both ways.
A. Creating A Category In The Post
Inside your post on your right side, just under the Publish tab, you'll find the Categories tab. Click on "+Add New Category" and type in the name of your new category.
Once it's added, all you have to do is select it and your post will belong to that category.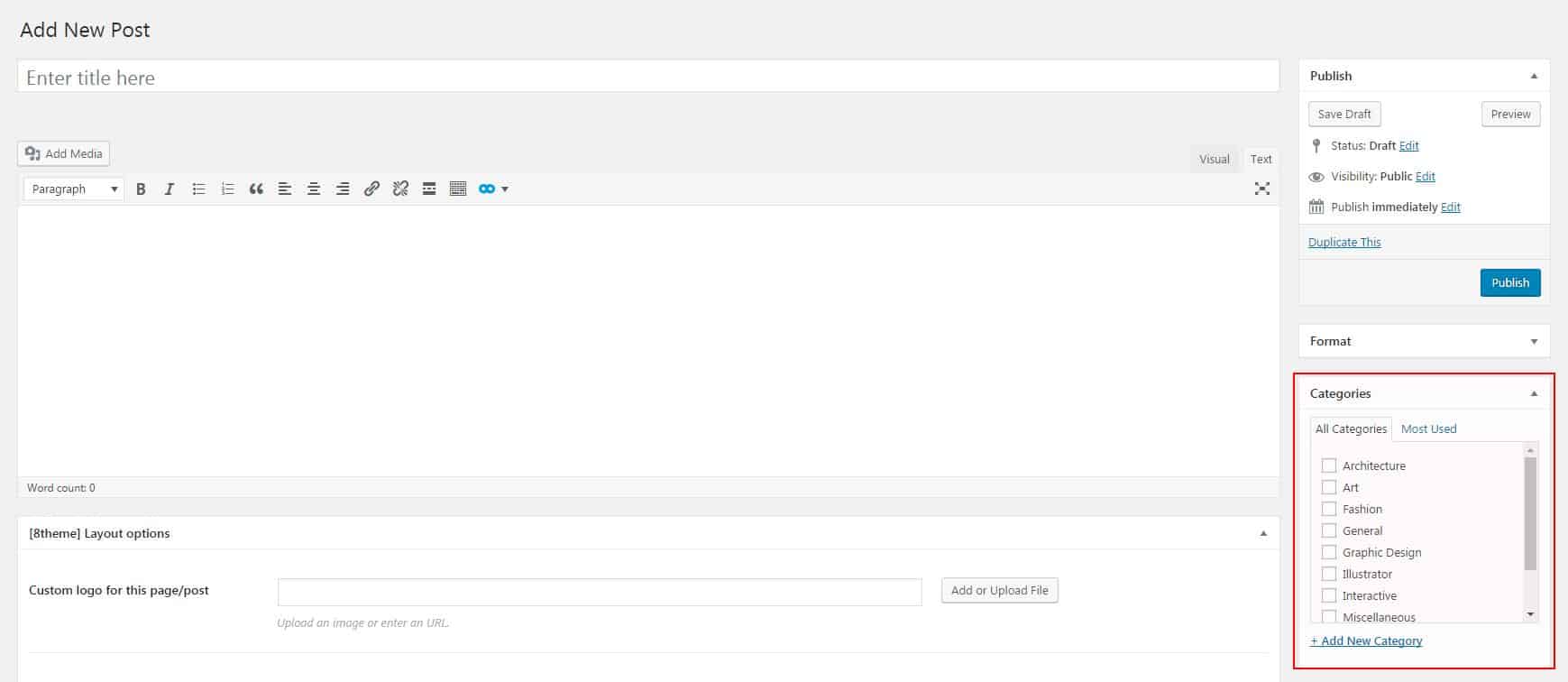 B. Creating A Category Through The Left Sidebar
This method requires you to click on Posts – Add New Category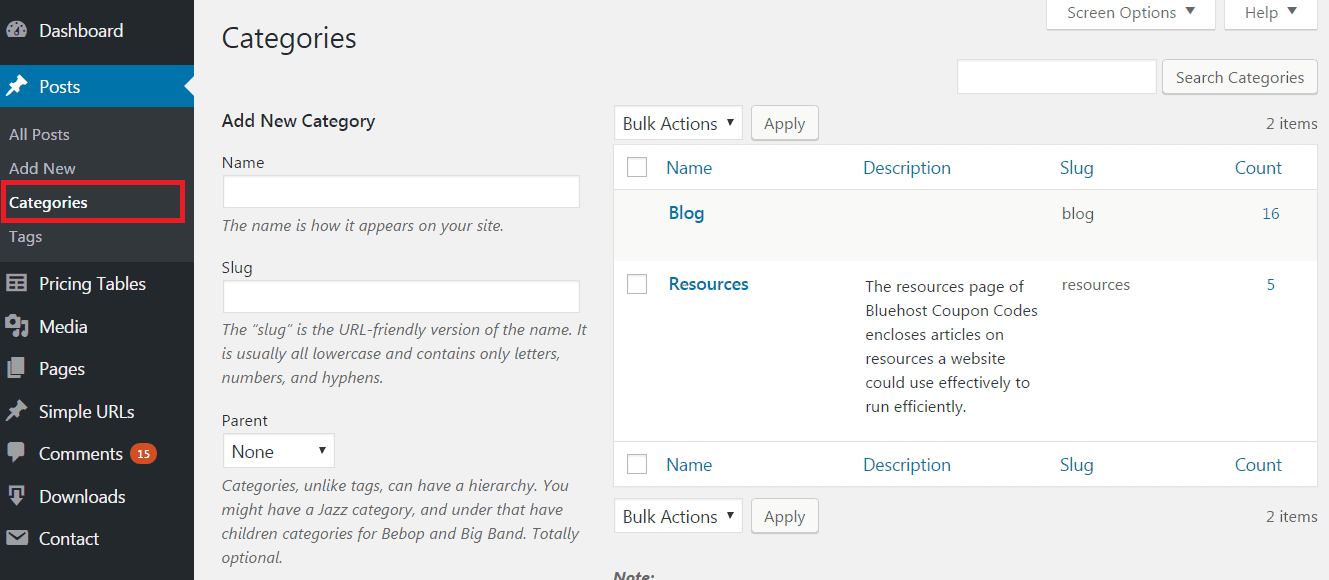 On the Categories page, type in the name of your new category on the left-side. Next type in the slug. The slug is basically just an URL-friendly version of the name.
Next choose whether this category fits into another category, basically if it is the parent or not.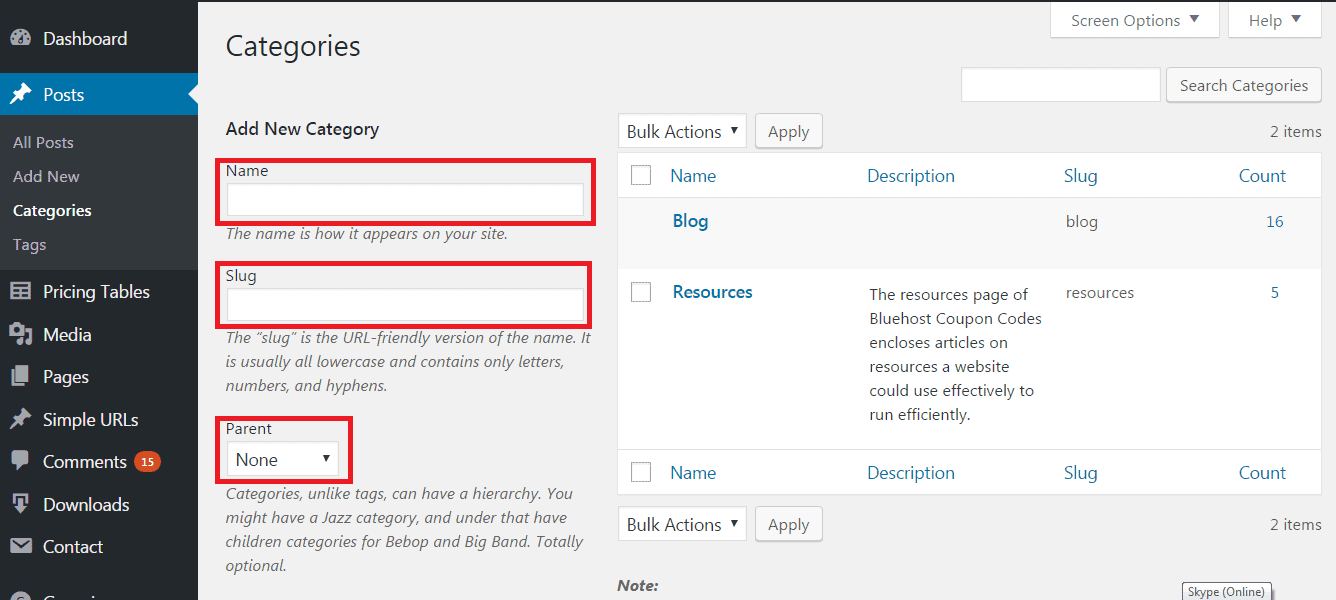 Remember, you can also create all of your categories in one go and just link to them as you create your blog posts. When creating categories try to have them be as descriptive of the posts as possible. It's less confusing to the readers of your blog.
Now that we have that out of the way, let's begin with how to start blogging.
C. New Blog Post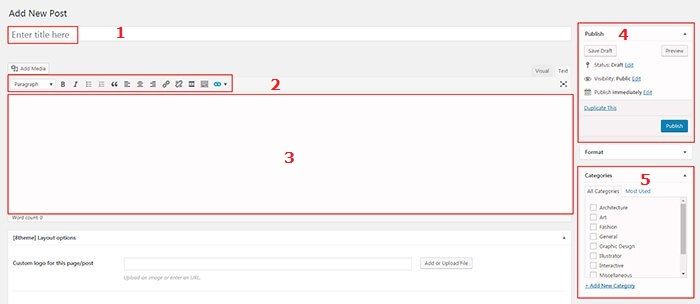 What you're seeing above is the "new blog post" window. We're going to break down every area as you see numbered.

D. Creating Your Web Pages
We've created a blog post above. A web page can be done in about the same way. The only main difference is that you access the "pages tab" instead of the "posts tab" to add a new page.
To add a page, go to Pages – Add New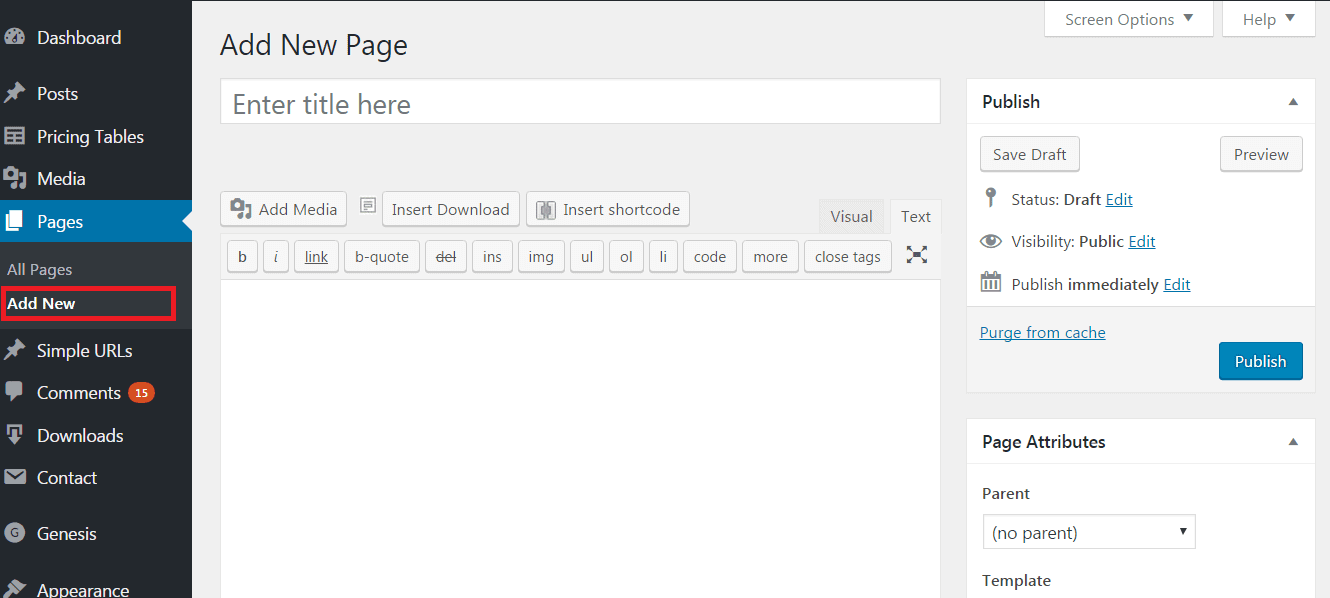 You might be wondering what the difference is between pages and posts. Not much really, except for the following:
A post is mostly a flow of different thoughts, ideas or knowledge. In most cases, posts are created on a continuous basis, informing the reader of something new.
Pages, however, serve as static areas of information. They occupy a particular place on the blog and very rarely do they rotate continuously like the post.
There are a couple of pages that are customary to have:
E. Creating Your Menu
The menu is the area below or next to your logo, where you have links to various pages or categories on your blog. To create a menu, click on Appearance – Menus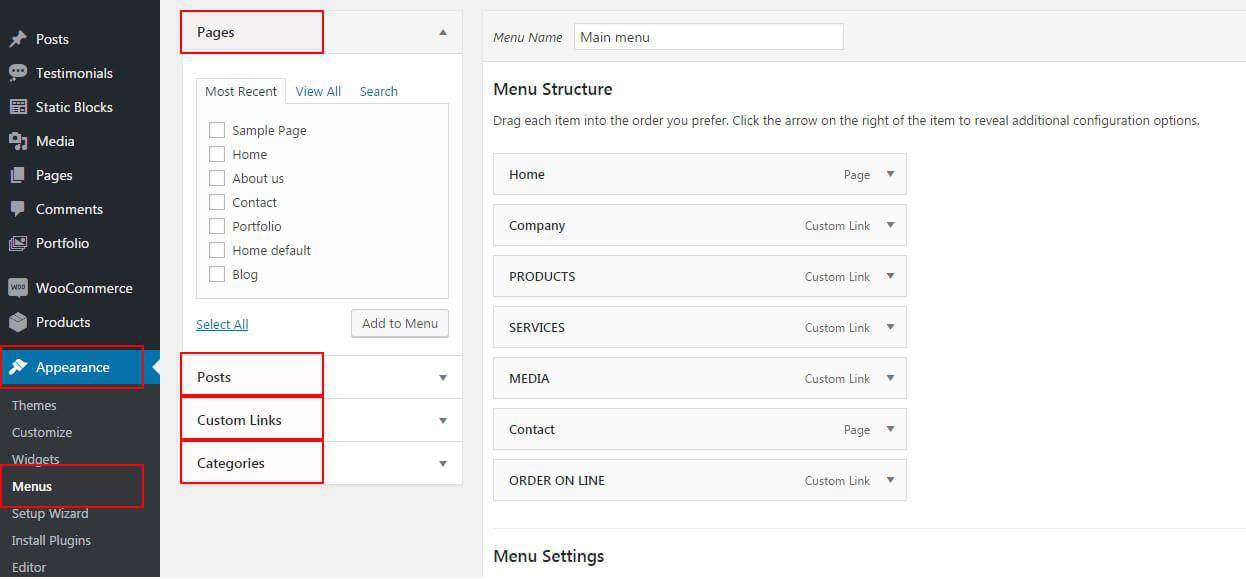 You use the left side of the Menus page to select the pages, posts, categories or links you'd like included on the menu. You have to drag the items you want from the left on to the "Menu Structure." Depending on how many menus your theme supports you can assign different items to different menus.
#7. Traffic, Promotion And Making Money
1. Create Epic Content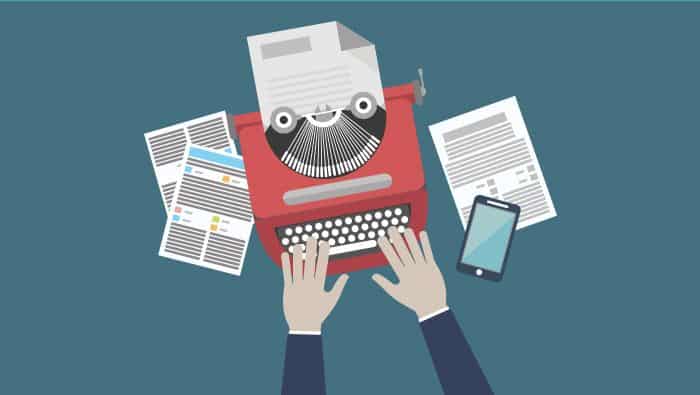 Your blog is not complete if you do not put on some really epic stuff on it. Now, before you get all confused with all of the stuff they tell you out there regarding manipulating the search engines and such, remember that the best websites are a combination of:
Please note that it's not the other way around. It's that "other way around" that has caused many to lose their rankings during the famous Google zoo updates.
Read this guide to know the common SEO mistakes that can kill your blog and website.
Before you do anything, think things through. You want to think of what humans like to read. What would you like to read if you happen to visit your website?
I'm sure not some funny stuff that doesn't make sense or were just written as fillers.
First, figure out what topics you'd like included on your site. Although it involves a bit of work, find a keyword research program that can tell you how best to position yourselves while covering those topics you chose.
What I mean with that is, once you found your topic ideas, see if you can with the help of keyword research, manoeuvre the words around, so that, although it is still the same topic, it is now more SEO friendly and will easily help you rank.
Brainstorm for content ideas and see if you can find around 20 different topics.
2. Tips On Creating Great Content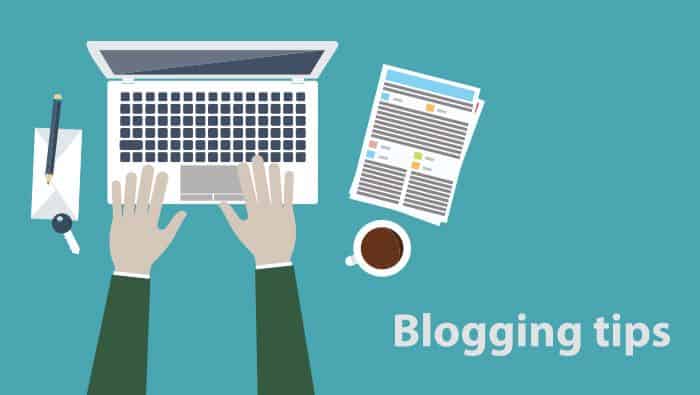 Creating great content is not easy. Therefore, here are some links to help you out as you're preparing your blog for epic content your readers will love:
Also, here's a cool schedule you can follow and become a better blogger in 30 days and here's how you can learn to create strong headlines. Remember, you've got to have compelling headlines.
3. Promote, Promote, Promote
Next, you've got to promote your blog so that more eyes see your content. More traffic to your site means more money your way. Turning a blog into a profitable business is doable if there's enough traffic.
So, to have a blog with traffic that pours in day and night, you've got to follow these guidelines:
4. More Tips On Promoting Your Blog
Below I've included a couple of links that will help you get to know more about SEO and getting traffic for your blog: