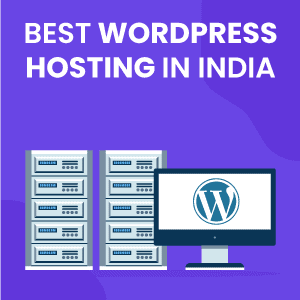 Before jumping on the list of Best WordPress Hosting in India understand about Web hosting. Hosting has become a method to connect our world. It is a means for those in need of a website to get their products and services marketed to a much wider and global target audience.
Because of its popularity, there are many different platforms, applications and different kinds of packages available for one to use, should they want to start a website and online business. The cheapest is Shared hosting which allows you to share a server with multiple other websites that share the server's resources.
The one that tends to be most expensive is Dedicated Server hosting with which you would be leasing a server for your own use. You do not share this server and you have the use of all the server's resources at your disposal.
You also have the choice of operating system to use. You can use either Windows or Linux. Windows is generally more expensive as it is paid software, meaning that you have to buy a license in order to use it. Linux, on the other hand, is cheaper.
This operating system has multiple versions called distributions, that are in most cases free, as this operating system is open source. Linux is credited as being more flexible and more customizable.
Website developers believe it to be more secure and reliable than Windows. In fact, most recommend using Linux, unless you have Windows-specific applications that demand you use Windows over Linux.
With such diversity in the industry, it follows that there would be many top 10 hosting companies in India who would offer not only diverse packages, targeted at the broader hosting world but niche packages as well, aimed at more niche markets and businesses.
Best WordPress Hosting Providers in India
WordPress is the most popular CMS platform and as such, there is no dearth of hosting providers offering a range of best WordPress hosting services. From WordPress backup to essential plugins to security certificates, there is a lot that is offered with WordPress hosting. Thus, in this article, we'll look at the best WordPress hosting in India. More specifically, the top 10 Best WordPress hosting in India.
Web Host
Features

Uptime

Price*

Action

1. BlueHost





1 Website
Free SSL Certificate
50 GB SSD Storage
Free Domain for 1 Year
5 Parked Domains
25 Subdomains
$50 Marketing Credit
30 Days Money-back Guarantee

Direct Discount Link
99.9%



Starting from

₹179

per month

2. BigRock





1 WordPress Site
5 GB Storage
Dual Core CPU
FREE SSL Certificate
2 GB RAM(s)
30 day Money Back Guarantee

Direct Discount Link
99.9%

Starting from

₹199

per month

3. Inmotion Hosting





FREE Domain
1 Website
Suitable for 20,000 Monthly Visitors
40GB SSD storeage
Unlimited Bandwidth
Unlimited Email Accounts
Easily Create a Beautiful WordPress
FREE SSL

Direct Discount Link
99.9%

Starting from

$4.99

per month

4. iPage





Free 1yr. domain registration
Unlimited storage
Unlimited bandwidth
Customized control panel
Pre-installed themes & plugins
FREE SSL Certificate
FREE domain transfer
30-day money back guarantee

Direct Discount Link
99.9%

Starting from

$3.75

per month

5. WpEngine





Visits / month - 25,000
Local storage - 10 GB
Bandwidth / month - 50 GB
Sites included - 1
Genesis Framework
24/7 chat support
Dev, Stage, Prod Environments
Transferable Sites
PHP 7.2 ready
LargeFS
Global CDN
Page Performance
Automated SSL certificates
Risk-free for 60 days

Direct Discount Link
99.9%

Starting from

$35

per month




6. ResellerClub





1 Website
Supports 25,000 visits/mo
2 Cores
2 GB RAM
5 GB Storage
Unlimited Email Accounts
Automatic WordPress updates
Jetpack plugin pre-installed
WP Database Optimized
24/7 Support
Free SSL Certificate

Direct Discount Link
99.9%

Starting from

₹160

per month

7. HostPapa





Two Website
Free Domain Registration
100GB of Disk Space
Unlimited Bandwidth
100 Email Accounts
Free SSL certificate
Free website transfer
24/7 Multilingual live WP support
Jetpack preinstalled

Direct Discount Link


99.9%

Starting from

₹199

per month

8. HostingRaja





WordPress - Unlimited Disk
WordPress - Unmetered Bandwidth
WordPress - Unlimited Emails
One Free Domain for Your WordPress
Unlimited WordPress Databases
1GB RAM For WordPress
Wordpress Auto Install
Wordpress Theme Worth - Rs.6000
Realtime Malware Injection Scan
WP PHP Vulnerability Check
WordPress CSS/JS optimizer
WordPress Advanced Security
Setup WordPress for FREE
Free SSL Certificate
30 Days Money Back

Direct Discount Link
99.9%

Starting from

₹299

per month

9. SiteGround





1 Website
10 GB Web Space
~ 10,000 Visits Monthly
Free Cloudflare CDN
Free Website Builder
Free SSL Certificate
30 Days Money Back

Direct Discount Link
99.9%

Starting from

$3.95

per month




10. HostGator




1 Wordpress Installation
Dual Core CPU
5 GB Storage
2 GB RAM(s)
Visitors up to 25K/month
Unlimited Email Accounts
MOJO Marketplace*
45-day Money Back Guarantee

Direct Discount Link
99.9%

Starting from

₹249

per month
What is WordPress Hosting?
WordPress is a website building application that has gained a lot of popularity in recent years. It is estimated that nearly 30% of websites out there are deployed on WordPress. You might be wondering why this application is so popular. While there are many reasons to explain this popularity, the most important are its cost, flexibility and adaptability.
You can easily download a copy of WordPress from WordPress.org. You then only have to select from the various best WordPress hosting plans and pay for them. Furthermore, you have an option to use WordPress Premium, which is the paid tier available and hosted by WordPress.
WordPress is also highly flexible and customizable. You can easily customize your website and add themes & plugins depending on your package. You can check out some of the WordPress magazine themes here. It is also super easy to install and get running, boasting a one-click install.
WordPress web hosting is hosting done using the WordPress application. This can mean either being hosted for free on WordPress.com or you can create a WordPress website and then add this to your current hosting account.
This sounds easy enough. However, in order to determine which WordPress hosting option would be best for you let's look at what the features of best WordPress hosting are.
Features of Best WordPress Hosting in India
When looking for the best hosting for WordPress, one has to look at its features. We have looked at what WordPress web hosting is, now let's check out the essential web hosting features one should look for when picking the best web hosting for WordPress.
This useful feature is usually provided by all Best WordPress hosting providers out there. It allows users to easily install WordPress with no hassles. There are even one-click install packages out there. This makes it easy and faster to set up a website.
Good hosting providers know that the success of your website is the success of their business. As such, they offer special tools for setting up your site and to monitor & maintain it.
There are times when things get out of your control and you need help. This is where having a great support is important. What constituents of great support? Great support is one that is easily available, professional and has expert knowledge on issues affecting your site.
Is WordPress Hosting Right For You?
In your search for the best WordPress hosting in India, you have to, first, ask yourself if WordPress hosting is right for you. We have looked at its features and now have a very good idea of what it is and what it entails.
Knowing all of this might not really convince you whether it is the right choice for you. The first question is whether you want to use Managed or Self-hosting WordPress.
Managed WordPress Hosting refers to WordPress hosting where you have the WordPress team managing your website. The best Managed WordPress hosting providers take care of the updates, plugin compatibility and everything else involved in maintaining your site.
Self-hosting on the other hand means you use WordPress to build your website but you use your own hosting account to host the website. You have to manage and look after the website yourself.
This can be a little more difficult depending on your knowledge of coding and hosting. If you should decide that WordPress web hosting is the right choice for you, then you have to decide which of these two you'll choose to opt for.
WordPress Hosting – Advantages & Disadvantages
If you have read our web hosting checklist, you'd know that it is important to be well-informed about the advantages and disadvantages of a hosting provider to make the right choice. When looking for the best web hosting for WordPress, you need to look at these four important benefits: security, scalability, support and tools.
You also need to look at the disadvantages, as it is always best to know the good & bad in order to make the most informed decision.
Advantages
Security: When WordPress puts out a new version, security issues are patched within hours of the release.
Scalability: WordPress allows for much faster scaling when it is needed. This comes from the care and attention paid to the components of this service.
Support: As it has been mentioned, having a great support for your website may be the key to your success, especially if you are a newbie to the hosting world.
Tools: WordPress has tools designed specifically to make your life easier. These can help you build your website and help in general upkeep & monitoring.
Disadvantages
Cost:The cost of WordPress web hosting is an important factor to take into account. While you can easily get and use WordPress to build your site, you have to decide on whether you want managed or self-hosted WordPress hosting. Managed may sometimes not be the best choice for some, as to enjoy the support of the WordPress staff, you'll have to pay extra.
Control:Depending on which option you use, you may find you have less control than you would wish when using Best WordPress hosting. This is important when it comes to those that need higher customizability and plugins that are not offered by your WordPress package.
WordPress Hosting – Frequently Asked Questions (FAQs)