ResellerClub is a popular web hosting company and it serves more than 200,000 customers across the world. It has more than 5 million domain registrations. ResellerClub hosting is ideal for big organizations or people who are looking to start a new website.
This best hosting in India offers an array of hosting plans and packages. The best part about it is you can customize a hosting plan according to your need. It also lets you use different integration tools. You can integrate with CMS like WordPress and Joomla. The Cloud Server hosting provided by the web host offers flexibility and support.
It also provides ResellerClub coupons for domain and hosting plans. You can make use of these to get great discounts on your purchase. Additionally, it offers different choices of servers with one-click installation options.
ResellerClub Review – Features
A. Speed and Server Time
The most important part of website hosting is uptime. The web hosting company should provide great uptime and server time. During our research for this ResellerClub review, we found that this hosting company provides zero downtime. So, you can expect 99.9% uptime for hosting.
The speed and overall performance of the web hosting company are amazing. Faster website speed and uptime can help enhance user experience. This, in turn, can help boosts site's ranking and drive greater conversions.
B. Security and Complete Support
ResellerClub hosting offers 24/7 security features. It protects your website from different cyber threats. You can also contact the support staff if you have any issues regarding the functioning of your site.
Through email, your problem will be solved in a single day. ResellerClub hosting company also has a unique ticketing feature. You can raise a ticket so that the support staff can get in touch with you. You can also contact customer care and speak to them directly.
ResellerClub Web Hosting Packages
A. ResellerClub Shared Web Hosting Review
Shared hosting is ideal for developers and designers who love WordPress and Magneto. There are three main plans under Shared hosting. The Personal plan is priced at ₹160/month and offers one domain with unlimited storage and bandwidth. The Business plan costs ₹230/month and offers 3 different domains again with unlimited bandwidth and storage.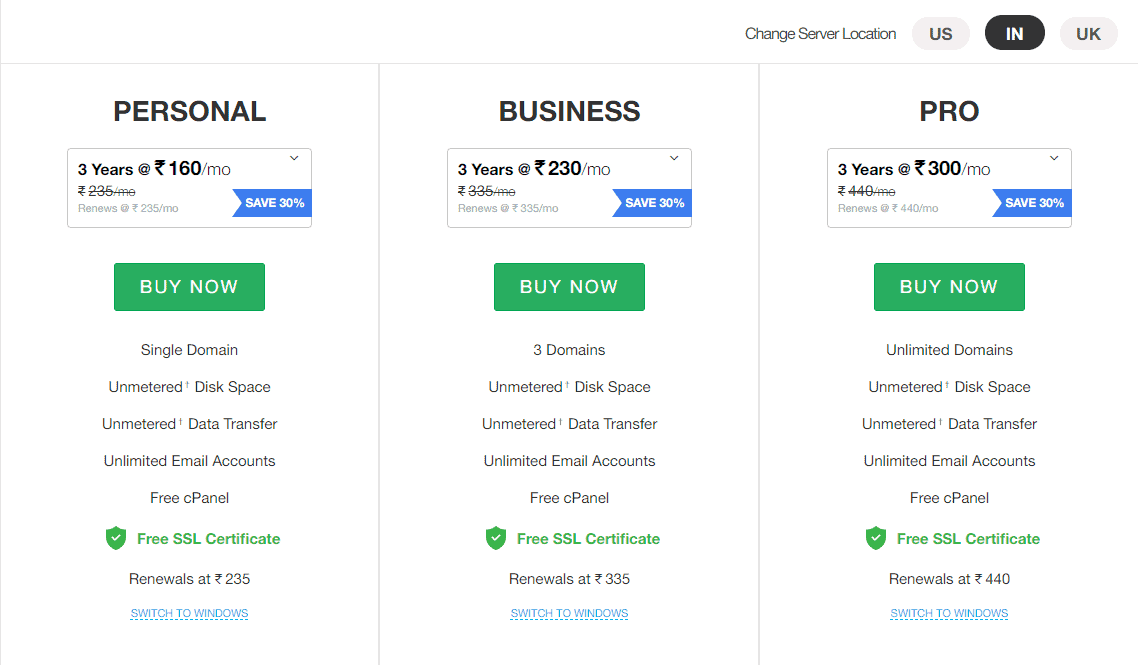 The third plan is the Pro plan starts at ₹300/month. This plan provides unlimited domains and is best for business websites. This plan also offers unlimited storage and bandwidth support. You can use the plan on a customized basis too. The unlimited web hosting features offered by Shared web hosting are amazing for startup websites too. Linux Shared hosting also gives you a 30-day money back guarantee.
B. ResellerClub Reseller Web Hosting Review
Reseller Web hosting has four different tier plans. The R1 plan offers 40 GB storage and 700 GB bandwidth. This plan costs ₹1015/month. The R2 plan is priced at ₹1220/month at offers 50 GB storage with 900 GB bandwidth. The R3 starts at ₹1545/month and offers 100 GB storage with 1200 GB bandwidth. The R4 offers 200 GB storage with 1400 GB bandwidth and costs ₹2035/month.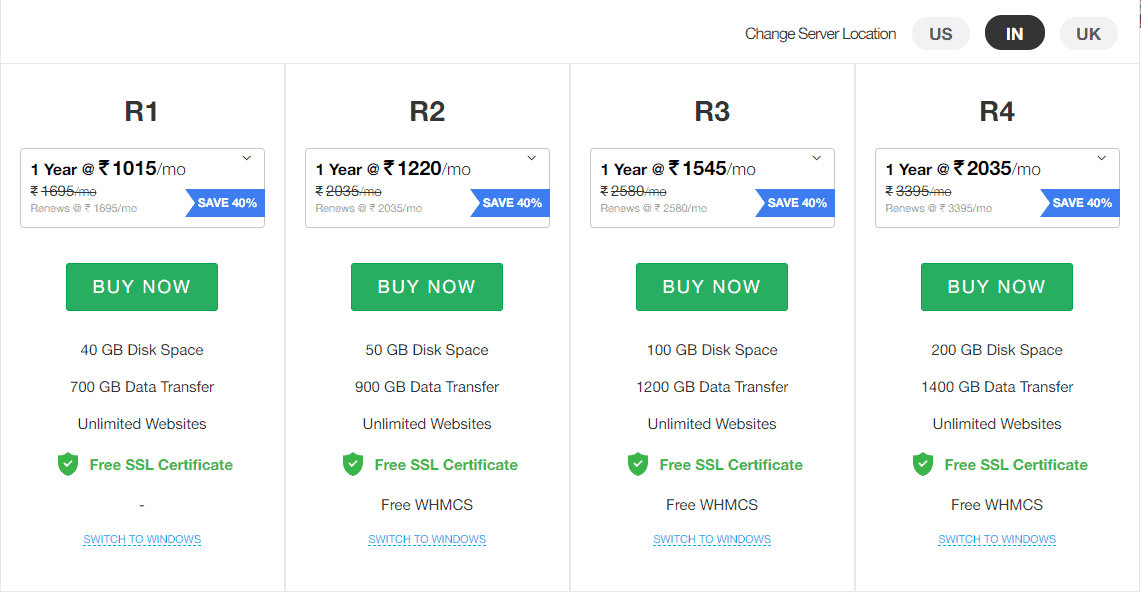 All these plans offer unlimited sites so you can start as many websites at once. Each plan gives you Free SSL Certificate and Free WHMCS which is amazing. There is also a dedicated support team in place to help you out with all issues and technical glitches.
ResellerClub CMS Hosting Review
ResellerClub offers three types of CMS hosting; WordPress, Drupal and Joomla. Each hosting option offers a variety of features that cater to all needs. So, check them out now and pick one that best suit your requirements.
A. ResellerClub WordPress Hosting Review
WordPress hosting offers 4 tier plans. The Starter Lite plan offers 2 GB RAM with 5 GB storage and unlimited email accounts. The Performance Lite plan offers 4 GB RAM, 20 GB storage and automatic WordPress updates. This plan offers 2 websites.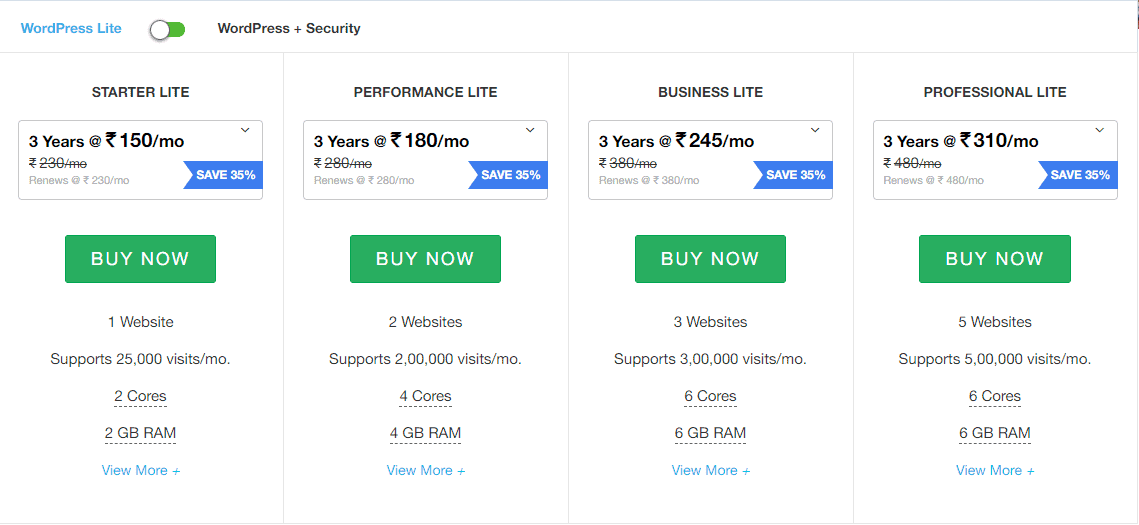 The Business Lite plan offers 6 GB RAM and 40 GB storage along with 3 websites. The Professional Lite plan offers 6 GB RAM and 40 GB storage. 5 different websites can be hosted with this WordPress plan.
WordPress hosting packages also offer auto updates with pre-installed plugins. You also get cloud-based backups, 24/7 support and complete security suite.
B. ResellerClub Drupal Hosting Review
Drupal hosting offers high-performance solutions with CPANEL access support. There are three different tiers in this hosting plan. The Personal plan offers unlimited disk space and data transfer with one click Drupal install. A Business plan offers up to 3 domains with unlimited disk space and data transfer.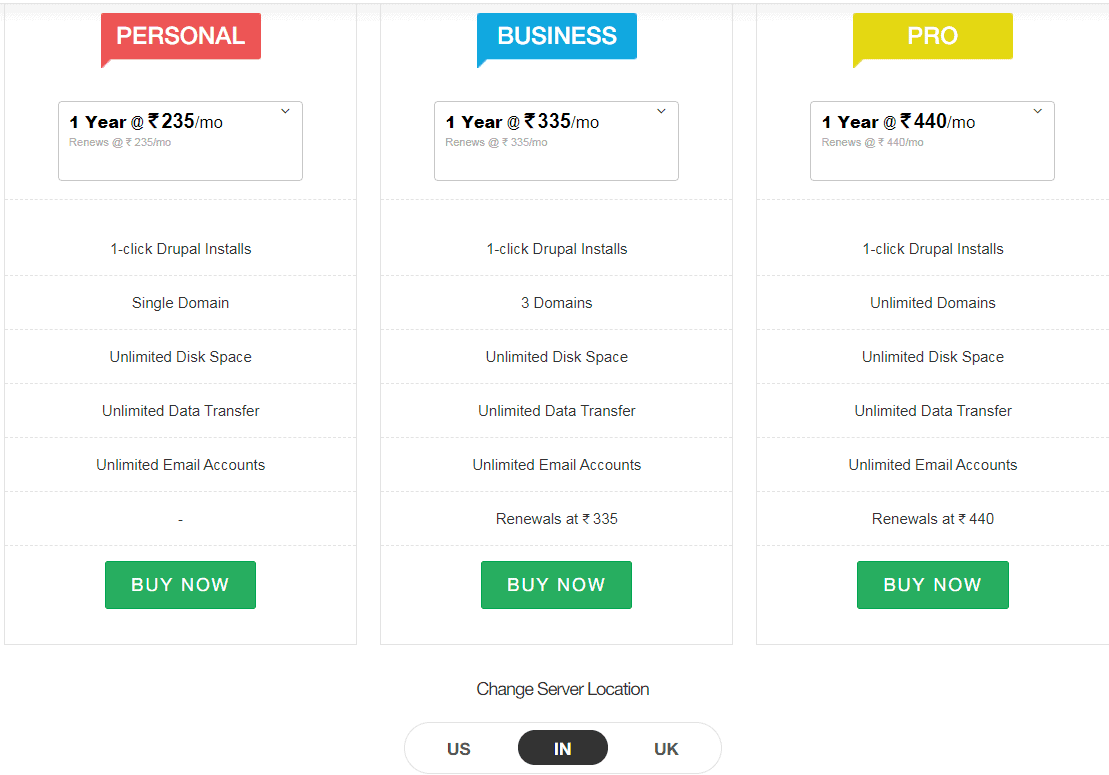 The Pro plan offers unlimited domains with unlimited disk space. It also offers unlimited data transfer with a renewal feature. The plans are optimized for Drupal CMS and all the plans offer great security for Drupal hosting. With one click install, your work becomes easier. Drupal hosting is ideal for small business organizations.
C. ResellerClub Joomla Hosting Review
Joomla hosting is ideal for Joomla CMS platform or if you wish to integrate it with other sites. The plan offers three different tiers you can choose from. The Personal plan offers a single domain with unlimited data transfer and disk space. A Business plan offers 3 domains with unlimited data transfers and email support.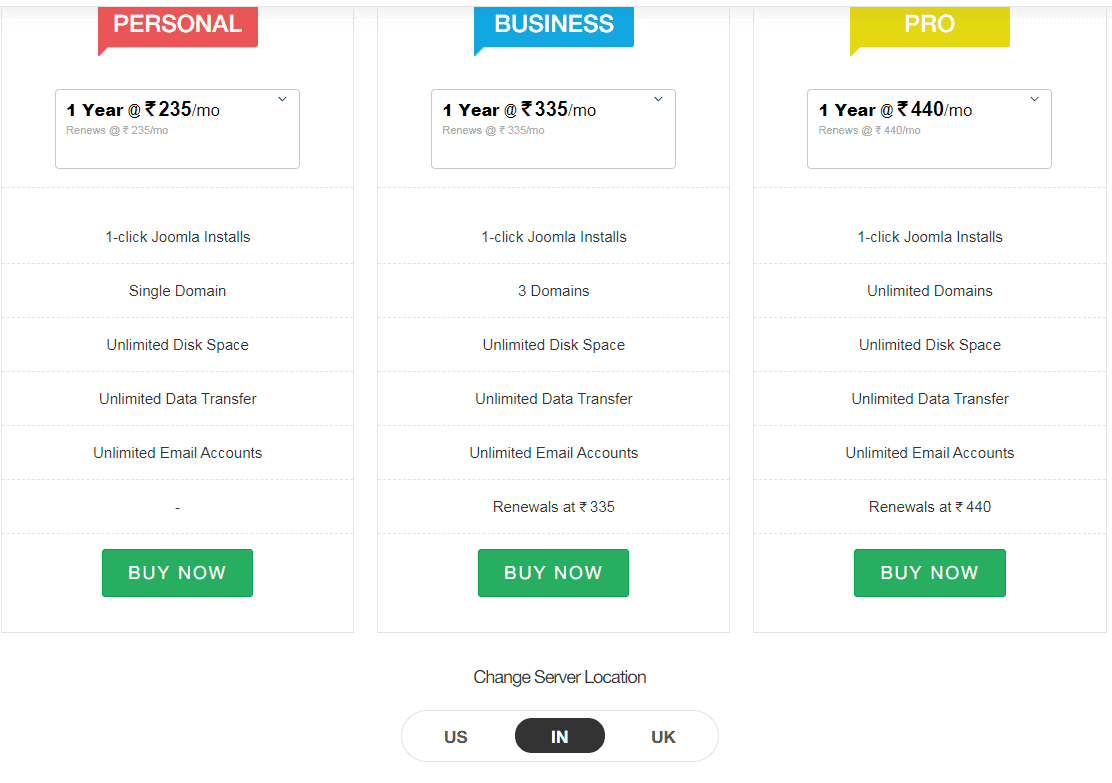 The third plan that is Pro offers one-click Joomla installs with unlimited disk space and domains. It also offers unlimited email accounts. Joomla plan offers features like stable infrastructure and a great control panel.
ResellerClub Cloud Hosting Review
Cloud hosting gives you space and power you can use for the expansion of your business. It lets you host unlimited sites and offers great plans. There are three tiers in a Cloud hosting plan. The Personal Cloud plan gives you unlimited bandwidth with 2 GB RAM. The pricing for this is ₹450/month and it offers a single website.
The Business Cloud plan starts at ₹600/month and offers 4 GB RAM and unlimited storage & bandwidth. The Pro Cloud plan costs ₹825/month and offers 6 GB storage with unlimited bandwidth and storage. Both the – Business and PRO plan – lets you host an unlimited number of websites.
Cloud hosting is a scalable plan that also provides intuitive performance dashboard. It provides features like data mirroring and rock solid stability. The best part, all 3 Cloud hosting plans offer unlimited email accounts and Free SSL Certificate.
ResellerClub VPS Hosting – KVM Review
This hosting plan is ideal for Linux KVM. The plan gives you full root access with high-speed SSD storage. The plan offers 4 tiers you can choose from. The Standard plan offers 2 GB RAM and 20 GB disk storage. It also offers 1 TB bandwidth and starts at ₹485/month. The Business plan costs ₹750/month and offers 4 GB RAM, 40 GB storage and 1 additional IP.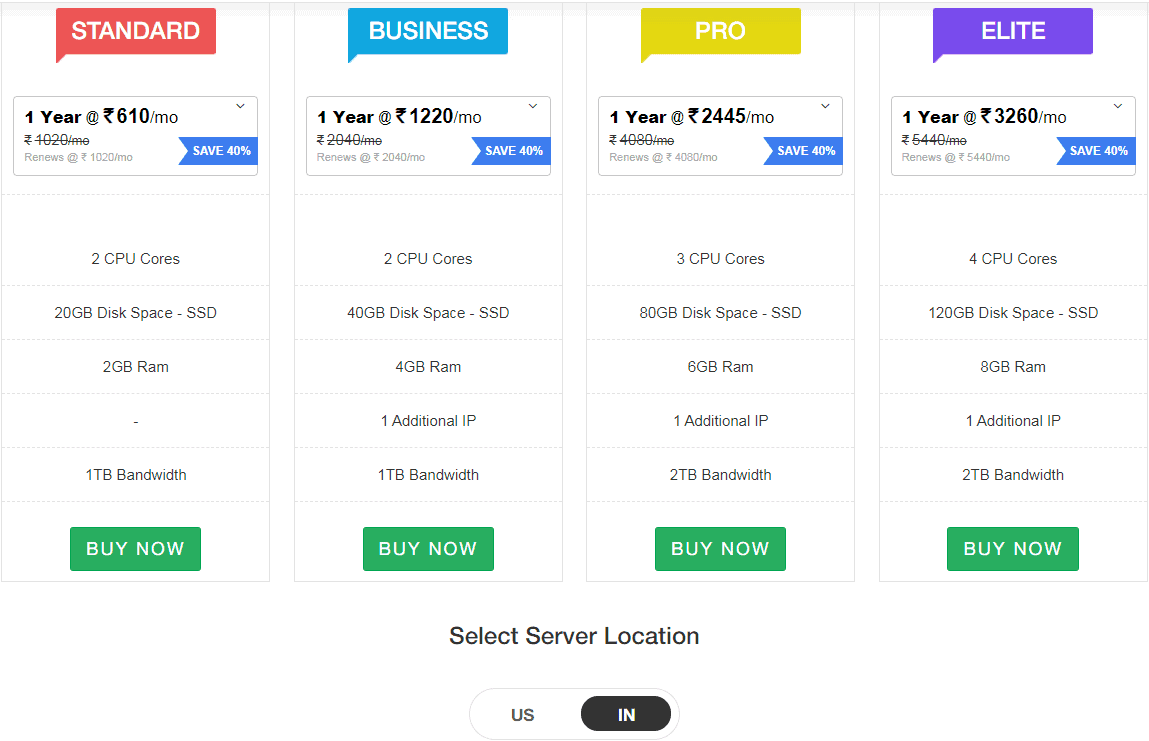 The PRO plan offers 6 GB RAM with 2 TB bandwidth support. It is priced at ₹1360/month and offers up to 80 GB disk space. The Elite plan offers 8 GB RAM and 120 GB disk space. It also offers 2 TB bandwidth support and costs ₹1900/month. The VPS hosting plan offers top-notch infrastructure with instant provision. It also offers great support with up to 99.9% of uptime.
ResellerClub Dedicated Server Hosting Review
Dedicated server hosting offers powerful and scalable support to your website. The plan is best suited for large organizations or people who need extra security. There are four tiers in this plan. DS1 offers 4 GB RAM and 1000 GB storage. It also offers 5 TB bandwidth support and costs ₹4000/month. DS2 plan starts at ₹4500/month and offers 4 GB RAM and 5 TB bandwidth.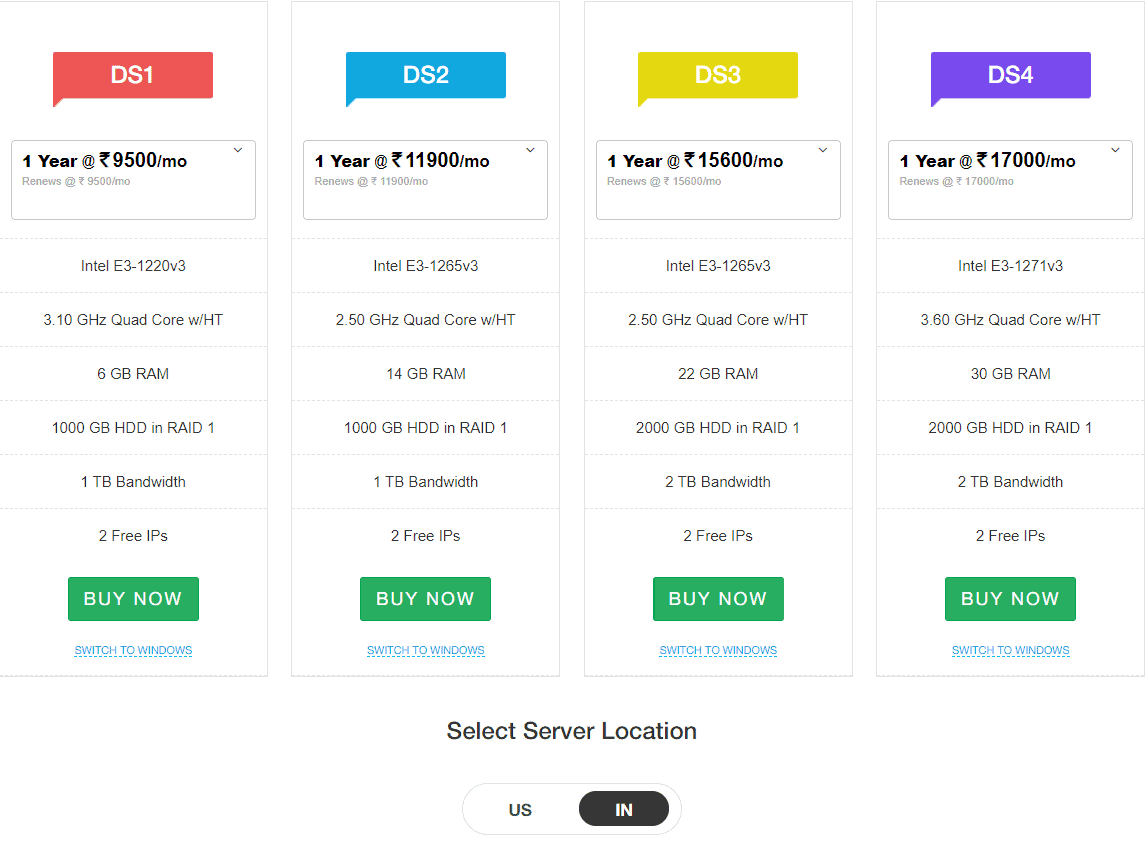 DS3 plan offers 8 GB RAM and 1000 GB storage. It costs ₹5000/month and offers 10 TB bandwidth support. DS4 plan is priced at ₹5500/month and offers 16 GB RAM and 1000 GB storage. It also offers up to 15 TB bandwidth support. The Dedicated hosting plans offer great web support with money back guarantee.
ResellerClub Business Email Hosting Review
Email business hosting will provide you with a host of features that will help your website scale better, especially if you are making use of email marketing to promote your business or to generate more leads. This email hosting plan offers you 5 GB storage with private labels and calendars. It also offers anti-virus protection with 24/7 support. You'll get the benefit of personalized email hosting with the Business Email plan that starts at ₹240/month.

Pros & Cons
Pros
Friendly support.
Great performance and quality in hosting.
Many plans to choose from.
Better pricing.
Great server choices.
Cons
Poor support response time.
Too high domain prices.
#Conclusion
Hope this ResellerClub reviews gave you a detailed explanation of each plan. This web hosting company empowers developers and designers who like to integrate with other websites. The company offers a range of features and hosting plans so you don't have to limit your choice. You can customize a plan according to your budget and preference. You can also get great deals and discounts on plans offered by ResellerClub hosting. Take a look at this web hosting checklist to pick the right hosting plan.