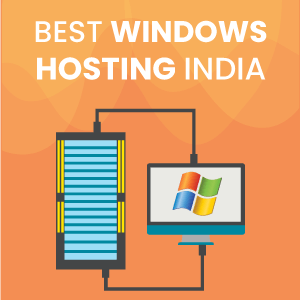 Just like there are different kinds of hosting plans, there are also different ways to categorize them. One way is to do it based on how the server is used or divided. Here you have a choice between Shared hosting, Virtual Private Server hosting and Dedicated Server hosting.
Another way of doing it is to categorize based on the operating system, Windows or Linux. Read here to know what Linux hosting is and to find out the Linux Hosting in India.
Each option has its features, advantages and disadvantages. You would have to consider your requirements in order to choose which would be best for you. We have written articles on these different kinds of hosting.
Best Windows Hosting Providers in India
Here is the web hosting checklist that can help you select the right hosting provider. For this article, however, we will be looking at the operating system category. We will focus on the best Windows hosting and the best Windows hosting companies in India.

Web Host
Features

Uptime

Price*

Action

1. BigRock




Location: India
20 GB Space
100 GB Transfer
FREE SSL Certificate
5 Email(s)
Hassle Free Local Support
30 day Money Back Guarantee

Direct Discount Link
99.9%

Starting from

₹59

per month

2. Bluehost




Free Domain
Single Domain
Free SSL
Unmetered Storage
Unmetered Bandwidth
5 Email Accounts
30 Days Money-back Guarantee

Direct Discount Link
99.9%



Starting from

₹179

per month

3. HostingRaja





Unlimited Windows Websites
Unlimited Windows Disk
Unmetered Bandwidth
Unlimited Emails + WebMail
Unlimited FTP/SFTP Accounts
Windows Free Plesk
Windows 3GB RAM
Get Any One Free Domain

Direct Discount Link
99.9%

Starting from

₹199

per month

4. Inmotion Hosting




FREE Domain
2 Websites
Unlimited Disk Space
Unlimited Bandwidth
Unlimited Email
Marketing Tools
Security Suite
FREE SSL

Direct Discount Link
99.9%

Starting from

$3.99

per month

5. iPage




Free domain registration*
1,000s of free templates
FREE email address
FREE 24/7 support
FREE drag and drop site builder
FREE SSL Certificate
FREE domain transfer
30-day money back guarantee

Direct Discount Link
99.9%

Starting from

$1.99

per month

6. WpEngine





50 GB Bandwidth / month
Risk-free for 60 days.
10 GB Local storage
Genesis Framework
35+ StudioPress Themes
24/7 chat support
Dev, Stage, Prod Environments
Transferable Sites
PHP 7.2 ready
LargeFS
Global CDN
Page Performance
Automated SSL certificates

Direct Discount Link
99.9%

Starting from

$35

per month

7. ResellerClub





Single Domain
Free SSL Certificate
Unlimited Disk Space
Unlimited Data Transfer
Unlimited Email Accounts
Free SSL Certificate
30 day Money Back Guarantee

Direct Discount Link
99.9%

Starting from

₹235

per month

8. HostPapa





Two Website
100 GB Web Space
Free Domain
Free Cloudflare CDN
Free Website Builder
Free SSL Certificate
30 Days Money Back

Direct Discount Link
99.9%

Starting from

₹199

per month

9. SiteGround




One Website
10GB Web Space
Suitable for ~ 25,000 Visits Monthly
Free Cloudflare CDN
Free Website Builder
Free SSL Certificate
30 Days Money Back

Direct Discount Link
99.9%

Starting from

$3.95

per month




10. HostGator




Single Domain
10 GB Disk Space
5 Email Account(s)
Unlimited MySQL
Unlimited Microsoft SQL
CloudFlare CDN plugin
Latest Plesk Panel - Onyx 17.5
One click script installation
45-day Money Back Guarantee

Direct Discount Link
99.9%

Starting from

₹149

per month
What is Windows Hosting?
In our search for the top Windows hosting in India, we first have to know what Windows hosting is.
As stated earlier, one can categorize hosting plans based on the operating system they use. You can use either Windows or Linux as the operating system. However, there are differences in both, few of them being the price, applications as well as flexibility.
Cost: When it comes to cost Linux hosting is cheaper. This is due to the nature of Linux and the fact that it is open source software. Linux is free and it allows developers to tinker with it and to improve and customize aspects so that they will fit better into whatever the developer intends on using it on.
Windows, on the other hand, is proprietary software, which means that you have to pay for the license to use it. However, most hosting packages include the license cost in the overall cost.
Applications: There are many different applications out there for use in hosting packages. These differ according to the operating system in use on the server. An application is created with a particular operating system in mind, be it Linux or Windows. Some are exclusive to Linux or Windows though.
Examples of applications that are exclusive to Windows are ASP, ASP.NET and MySQL. These all have their uses and may determine which hosting operating system you will use. This choice would be based on your requirements for your website. Hosting providers also offer FTP software for Windows will all windows hosting plans.
Flexibility: As we said earlier, Linux is open source and therefore allows for customization. This makes it that much more flexible in comparison to Windows which does not allow for this degree of customization.
So, you might be wondering what the best Windows hosting in India providers has to offer. Hang in there with us, as we'll reveal them to you soon.
Features of Windows Hosting
Now that we have spoken about what Windows hosting is, let's look at what features are available with it. Most best hosting providers in India offer Windows hosting packages. However, by knowing what the features are, you'd be able to make a better decision, if or not you would like to use Windows Hosting.
Using the ASP.NET feature will enable you to use different programming languages. However, this is as long as they are compatible with the common runtime language. This includes Visual Basic as well as C#.
Control panel is one of the important web hosting features for Windows. Most hosting companies understand that you may be a beginner in website design and may not know all the ins and outs. For this reason, they offer a powerful Plesk control panel so as to make setting up a website that much easier for you.
Before signing up for the Windows hosting option, it is important to look at what add-ons are available with your package. These could be vital to you and satisfy a need you have not yet realized.
As with Linux, there are multiple versions of Windows that are used. Some may be older than others. They may also provide different functionalities. Hence, one should make sure that the version that the package uses will be perfect for one's requirements. This is all in order to assure you get the top Best Windows hosting available.
Is Windows Hosting Right For You?
Having great features is great, but the important question is whether Windows hosting is right for you? This is a question that is easier answered after you've confirmed what your requirements are for the intended website.
Once you know this, you will be able to compare the features to your needs. Most of the websites out there run on Linux. This might lead you to think there is no point to using Windows hosting. However, there are instances when only Windows will do.
When you want to use the .NET framework or ASP, these are both Windows exclusive, then your requirements dictate that you use a Windows host. This is also true if you want to use Visual Basic and C# for your site.
The option of whether to use Linux or Windows is not as easy as it looks. It involves research and at least a wide range of knowledge on the type of website you'd like to design in order to pick the best Windows hosting.
Best Windows Hosting – Advantages & Disadvantages
Most people opt for Linux hosting and generally recommend it over Windows. However, this does not mean Windows is without merits. Top Best Windows hosting can offer you very powerful features that, depending on your needs can make your online business and website that much better.
We will look at 6 key advantages to Windows Hosting: the .NET framework, FrontPage extensions, .ASP and Dynamically Database-Driven Pages, Access Compatibility, Development as well as the fact that it is easier to use.
Further, Windows Hosting may have many advantages, but it also has a host of disadvantages. These disadvantages may prompt you to use Linux hosting instead. However, this all depends on your needs.
Advantages
The .NET framework: Certain websites need to use .NET or Visual Basics. These languages are only available on Windows. Linux hosting does not support these languages. So if your site needs these languages as you build it, then Windows has a firm advantage over Linux.
FrontPage Extensions: Windows has a very popular web design program called FrontPage. If you are using this tool to design your site, you will have less hassle in making sure your extensions work if you use Windows hosting.
It is easier to use: A definite plus is how much easier it will be for you if you are already familiar with the Windows operating system. This makes the learning curve easier, as you already have a firm idea of the rationale, rules and processes of operating on Windows. When it comes to work on your server, you will have less to learn, making it easier to start up. This is especially true if you are a complete beginner.
.ASP and Dynamically Database-Driven Pages: The use and popularity of ASP have made many loyal Linux customers switch to Windows host, as Linux systems do not support this highly-effective database tool. In fact, if you want to use Active Server pages then your only option is Windows hosting.
Access Compatibility: While there are many database options, such as MySQL, many people prefer to use Access. If your website needs to collect its data from an Access database, a Windows server will be able to integrate this database seamlessly.
Development: If you use Visual Interdev or plan to develop Windows-based applications on your site, then a Windows platform will obviously be the best choice for you. Linux does not support Windows development programs and if this is the development language of your choice, you would be best served by a Windows-based server.

So, take advantage of the top eCommerce hosting providers in India for excellent services in getting your online store up & ready to make money.
Disadvantages
Cost: Windows packages are usually more expensive than Linux packages. This is because Windows is not a free operating system. Most Windows hosting packages include the license in the cost which can drive the cost up.
Stability:Uptime versus downtime is very important, as the longer the uptime the better it is for your business. Those migrating from Linux may find Windows host servers to have a little more downtime or to have a few more problems with the server. Also, Windows servers need more reboots, which adds to the problem of server downtime.
Performance:Linux servers tend to run faster than Windows servers. This is based on the programming they use. This is a problem that can be worked around but not easily. So if you have a site that needs rapid performance then Windows may not be the way for you.
System Resources Needed:The hosting resources at your disposal can be very important. This is where Windows drew the short straw, as they use more resources in comparison to Linux servers. This means they need more disk space, bandwidth, etc.
Compatibility:There is some compatibility with Linux developed functions such as CGI and PERL. However, these would need some heavy workaround on the scripts and while there are some scripts that work on Windows, it may not be worth all the hassle.
Our Recommendation
| BlueHost | BigRock | ResellerClub |
| --- | --- | --- |
| FREE Domain Name for 1st Year | Unlimited Domains & Email Addresses | Unmetered Disk Space |
| FREE SSL Certificate | FREE SSL Certificate | FREE SSL Certificate |
| 30-day money-back guarantee | 30-day money-back guarantee | 30-day money-back guarantee |
| 1-Click WordPress Install | Fast India Servers | 99.9% UPTIME |
| 24/7 Support | 24 X 7 Server Monitoring | 24/7 Support |
| ₹ 179.00/per month | ₹ 99/per month | ₹ 160/per month |
| Buy Now | Buy Now | Buy Now |
Windows Hosting – Frequently Asked Questions (FAQs)