SiteGround Review Summary
Last updated: May 30th, 2020
SiteGround has been in existence for over 10 years now. They currently service over 500,000 domains across the world and their services include Shared hosting, Reseller hosting, WordPress hosting, Dedicated servers, Cloud hosting, amongst others.
Being one of the best hosting in India, SiteGround is known right throughout the industry for always pushing the limits to try to provide the best for their clients. This they have managed to accomplish, evidenced by reading through the hordes of positive SiteGround reviews all over the internet.
SiteGround has also palmed in a positive point by being one of the few hosting companies recommended by WordPress.org. SiteGround's hosting plans have a focus on WordPress specific features, to cater to the host of people that build their websites on this popular platform.
They are considered one of the fastest and most secure web hosting companies around and since security is a great deal to any business or individual dealing with the internet, we've decided to write this comprehensive SiteGround review to highlight the main benefits and features that they provide.
Using SiteGround? Add Your Review Here!
Looking For Superfast Shared Hosting?
SiteGround has also palmed in a positive point by being one of the few hosting companies recommended by WordPress.org. SiteGround's hosting plans have a focus on WordPress specific features, to cater for the host of people that build their websites on this popular platform.
They also offer a wide range of SiteGround Coupon. They are considered one of the fastest and most secure web hosting companies around thus since security is a great deal to any business or individual dealing with the internet, we've decided to write this comprehensive SiteGround review to highlight the main benefits and features that they provide.
SiteGround Hosting Review – Features
SiteGround offers you a number of options to secure your websites. For $1 a month you can have an add-on called HackAlert Monitoring. This software will let you know when your site is being attacked by hackers. This is a worthwhile add-on to have because believe me there are many hosting providers that do not offer any security protection for their clients except you pay big bucks for it.
They also offer other products, anti-spam tools such as IP address blocking, SpamAssassin, hotlink protection and SpamExperts. Should you not want to utilize these you could always start out with WordPress plugins like Wordfence that would offer you some type of protection. Eventually, though you'd want to have the type of protection that is server side.
Leech Protect is another cool feature they offer to further protect you from password stealers. It allows administrators to prevent users from posting any of their passwords or giving it out publicly on any portion of the site. Site Security Check will scan and identify whether your domain names are under scrutiny by Google Safe Browsing, which detects sites which are potential threats. It will check to see if there is any malware on your site.
SiteGround utilizes CloudFlare for faster performance and security. What is CloudFlare? It is a content network delivery provider that protects and speeds up any website. When your website is part of the CloudFlare community, your traffic will be routed through their network, so that your web pages are optimized for faster delivery.
While you can easily sign up with CloudFlare and have an account of your own, what better way to utilize it than if it was offered as part of a package. With this integration, many businesses are able to have up to speed websites. Apart from SiteGround only Bluehost, Rackspace, and 1&1 offers this solution.
One of the key Web Hosting Features, Website uptime can make or break a website hosting provider. Most successful hosting providers promises an uptime of 99.99%. There are tools all around the internet that can measure a site's up and downtime. When your site is down a lot, it will eventually kill your business as no-one will be able to access the products or services you offer.
In this regard, SiteGround seemed to be a winner as no downtime was recorded. SiteGround has an actual uptime of 99.99%. Remember, this is not promised uptime, but real tangible uptime. Experiencing uptime of 100% is totally possible, but it is not something you must expect. It is a possibility not necessarily guaranteed to you.
SiteGround is totally geared towards great customer support. You can get a feel for it by visiting their website. There are tonnes of tutorials, articles, and knowledge-base articles. They also have round the clock telephone support plus a live chat. Should you want to contact them via a written recorded session they offer a ticketing system.
When testing out their online chat, it's quite surprising how fast someone comes on to help you. The system will let you know how long you have to wait in the queue by telling you how many people are still before you. Once it's your turn, you're quickly connected to a representative. Responses are clear and quick.
Whilst testing for a response on a particular issue their line was called at 2 pm during the week. The representative helped very patiently till all issues were resolved. It doesn't really matter whether you ask them about an issue bothering you on your end or whether it is about something on their server, their service is handled with helpful answers.
This is why they are considered one of the best hosting providers for beginners. They are also one of the few, if not the only ones, who put up the bio's of all of their support team online. This puts a feeling of reassurance in your mind and makes you want to do business with them.
SiteGround Shared Hosting
Top SiteGround Hosting Plans For 2020
While many web hosting providers offer a month-to-month payment package, SiteGround approaches things a bit differently. They offer a one month trial, billed at $3.95, plus a one-time setup fee of $14.95. So, your first invoice when wanting to test them out will amount to $18.95.
This is a bit weird, having to charge a setup fee just to run a one month trial. Especially since their yearly plans do not include a setup fee. According to SiteGround, this is to ensure they open up an account for you on their servers. Having gone through the nitty-gritty you then have the option of opting for a one-year, two-year or three-year plan.
By the way, if you'd rather want to test out a site before committing for a year, then you might want to try out HostGator. They offer a friendly month-to-month payment plan that might suit you.
SiteGround have data centres around the world and they give you the option to choose where you'd like your sites to be hosted. They have data centres in the US, Europe and Asia. This is beneficial, especially, if you're worried about privacy and would rather like to host in an area that might protect you and your assets, under specific laws.

SiteGround Cloud Hosting
SiteGound also offers Linux based Cloud Hosting. This is offered through 4 different plans or packages. You might be wondering what Cloud hosting is or why you would want to go the Cloud hosting route? Simple, because you want to ensure that your traffic does not go down due to lack of proper resources.
Instead of your website hosted on one instance of a server, it gets hosted on a virtual partition which utilizes its needed means from many different physical servers. The Cloud hosting plans start at a modest price of $80 per month and culminate to $240/month depending on your preferences and needs.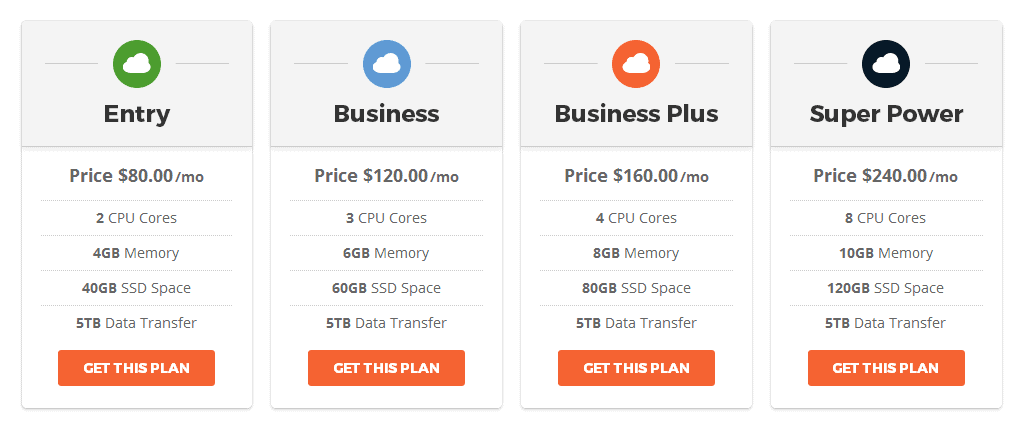 SiteGround Dedicated Servers
Should you decide to go with their Dedicated servers, you can choose what type of CPU, RAID, RAM and other necessary resources you need. You can choose SiteGround's Linux based Dedicated hosting if your website receives a high amount of traffic, as they are 5x faster than regular Shared hosting plans. SiteGround helps set up your server. It ensures that all software is up-to-date and offers 24/7 server monitoring. SiteGround Dedicated server plans range from an Entry Server starting at $269 per month all the way to an Enterprise Server for $729 per month.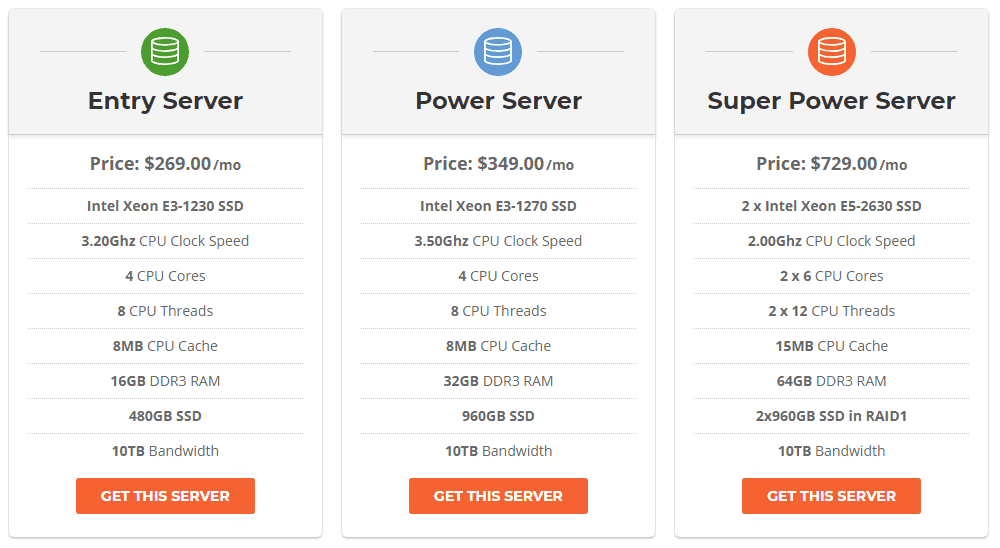 SiteGround Reseller Hosting
Designed mainly but not limited to web designers and developers, SiteGround uses the credit system when it comes to Reseller hosting. This means, you need purchase a number of credits, which are associated with a hosting package with 1 credit = 1-year hosting. The more the number of credits you buy, the bigger the discount you get. In addition, these credits don't expire, which means you can use them anytime you want. You could purchase 11+ credits for as low as $42/ per credit. The other options include 1-4 credit at $49/ per credit and 5-10 credit at $45/ per credit.

Based on the Linux platform, each Reseller account comes with standard features, similar to their Startup Shared hosting plan which includes 10GB web space, Free email accounts, Free daily backup, Free CloudFlare CDN, Free Solid-State Drives (SSD), Free Softaculous for 1-click application installs, unlimited data transfer, unlimited FTP accounts, cPanel, anti-hack and spam protection, customized server setup, 5 server location and more. SiteGround also offers 99.99% uptime guarantee, advanced security, fastest server monitoring, 24/7 technical Reseller support, premium Reseller tools for easy management and 30-days money-back guarantee.

SiteGround Enterprise Hosting
If you are looking for a custom-made web hosting solution for your company, then you need to look no further than SiteGround. In order, to provide its customers with more options based on their individual needs and budget, SiteGround has launched a new service – Enterprise hosting that allows businesses to create their own web hosting packages.
Their Enterprise hosting package is built on a robust & reliable Linux based infrastructure and comes with fully managed services. They provide easy scalability and a seamless MySQL synchronization between the two locations. Apart from these, you get advanced expertise with WordPress, Drupal, Joomla & more. In addition to stable & performant base stack and other custom technologies.

With this plan, you also get timely enterprise level support along with a dedicated account manager who will help you overcome any challenges that may come your way. You can directly contact your account manager via personal phones, e-mail, and Slack/Skype. In addition, you get 24/7 Helpdesk priority support where any issue is dealt with by top level of technical professionals.
SiteGround WordPress Hosting
SiteGround also offers Linux based WordPress hosting. They offer a service that allows you to have backups of your installations on a daily basis, give your site optimized security against hackers, update your CMS automatically and cache your pages. It also offers one free domain name of your choice plus quick, automated installs. The WordPress plans are quite similar to the Shared hosting plans when it comes to the pricing structure. Moreover, with the installation of WordPress, comes a number of free WordPress themes as well.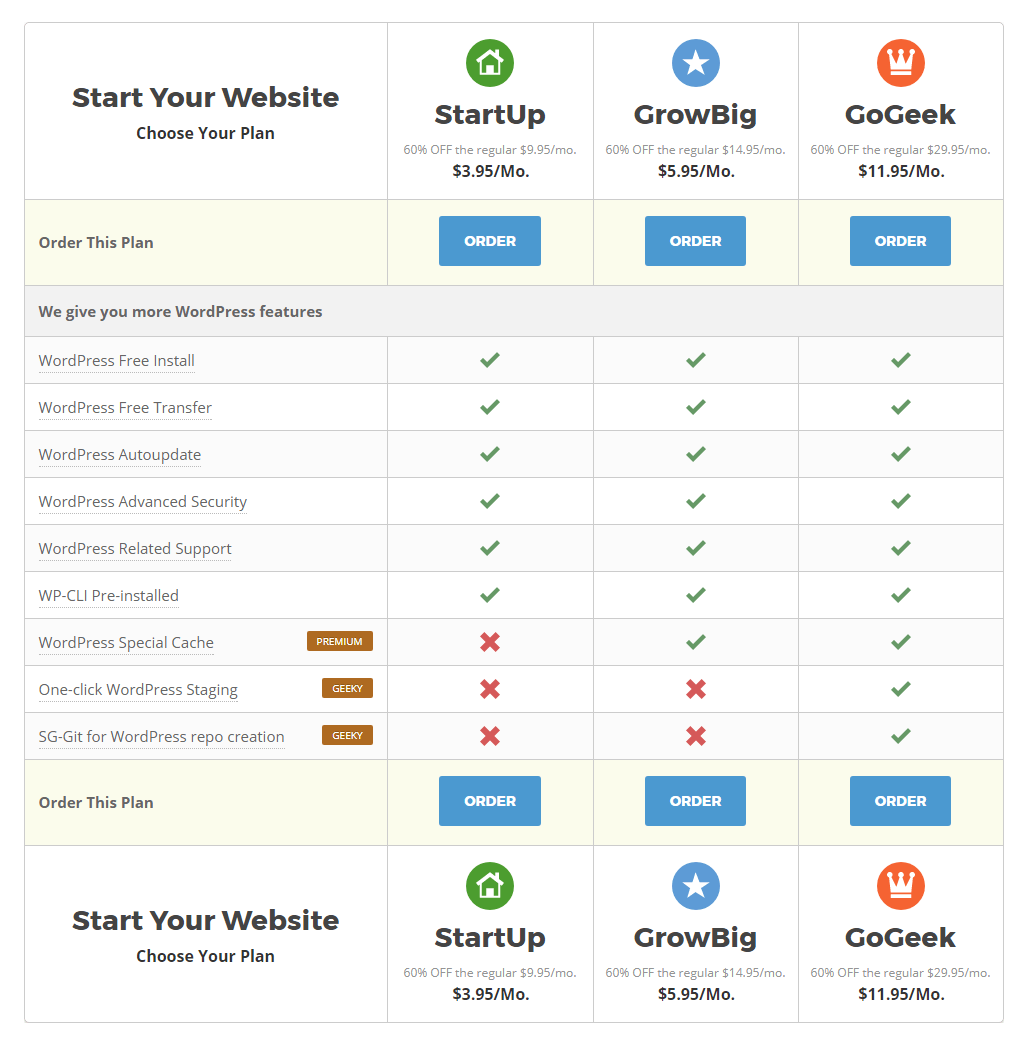 SiteGround WooCommerce Hosting
SiteGround WooCommerce hosting is crafted for those who run an online store powered by WooCommerce. They are the officially recommended hosting provider by WooCommerce and offer additional premium eCommerce features, pro-active security, high-speed optimized hosting, auto-updates and outstanding support. The pricing structure of SiteGround WooCommerce hosting is similar to WordPress and Shared hosting with the lowest starting at $3.95 per month.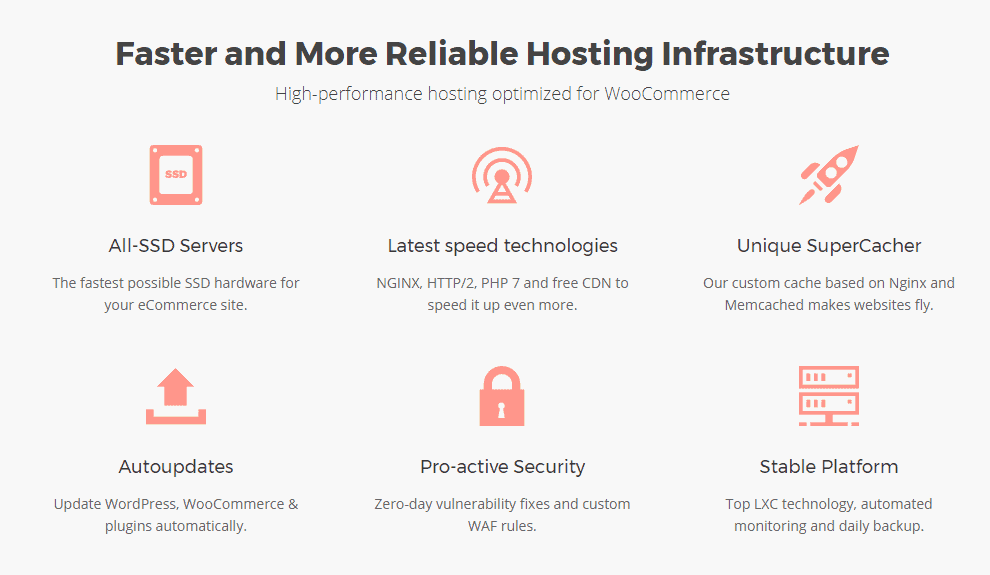 SiteGround Email Hosting
Boasting an array of features along with the best servers, Email hosting services provided by SiteGround guarantees you a secure, spam-free and lightning fast email experience. Their packages are crafted to suit the business needs and budget of all companies and they offer an intuitive cPanel with all plans that make email management easier. Similar to the Shared hosting & WordPress hosting plans when it comes to the pricing structure, SiteGround offers you 3 Email hosting packages to choose from.


Pros & Cons
Verdict
SiteGround is undoubtedly a leading contender, especially with their WordPress hosting service. They might not be the cheapest around, but quality wise, they are one above many others. Their integration with CloudFlare, one of only four web host providers that offer that, is enough to convince you to join.
They might not have Windows servers, something I feel will make them serious contenders with the likes of Bluehost and HostGator, but then again if you need that, then you need to consider other web hosting providers. If you need Windows hosting, then read this Bluehost Review to know what Bluehost offers.
You can also, for comparison, read the below reviews of other web hosting companies that provide only Linux hosting just like SiteGround.
Was this SiteGround Review helpful? Let us know by leaving a SiteGround Review Below!

SiteGround User Reviews