WP Engine Web Hosting Reviews
Last modified: December 9th, 2022
WordPress is the biggest CMS platform and hosting a site on it requires some technical expertise. WP Engine is the best web hosting company that lets you host your WordPress site with integrated platforms. The best web hosting India will provide you with breakthrough WordPress experience. It lets you create your site with accelerated innovation that enhances your user experience.
The enterprise performance of the hosting site provides great scalability to a new WordPress website. It offers complete security and cloud experience like never before. You can choose from a customized plan by reading this WP Engine Review.
Right from effective site building to optimization, from publishing to marketing, WP Engine hosting is simply the best solution for WordPress hosting. It not only helps you in landing new projects but also gives you the right kind of exposure you need for your website. But, does it meet all the web hosting requirements? Read this web hosting checklist to find out! For now, let's look at the features it offers with its web hosting plans.
WP Engine Hosting Review – Features
WP Engine only hosts WordPress sites, so should you have any HTML sites, Drupal or Joomla, they will not be the fit for you. You might be thinking that it's kind of weird to just host WordPress. But if you truly sit and think about it, it's a brilliant idea. By focusing solely on WordPress, Jason Cohen and his team are offering a unique service to their customers. Since they only hire WordPress experts, you are most likely going to end up with a WordPress whiz on the other side of the line, when needing support.
WordPress Hosting is Managed
Their hosting is relatively fast with very minimal downtime. Their server performance has been exceptional since way back in 2011. Another goodie is that their uptime is backed by SLA, and should the host not serve you enough uptime, you can be sure of a refund.
WP Engine would backup your data daily as well as perform scanning for malware. Super awesome feature. Should your site get hacked, they will fix it all. Now, this is that Ferrari attribute I talked about earlier.
Usage of their own in-house caching system speed and scalability.
Ability to Stage your sites
Staging is an awesome feature which allows you to test things out first before you implement them. Basically, it means that you'll be able to work on your site, redesign and do whatever it is you want, without it affecting how your viewers see it.
With this feature, you are able to synchronize all your files with Amazon S3, thus creating more storage for your site.
In retrospect they come out cheaper
Looking at all the web hosting features available with your plan, hosting with WP Engine does actually come out cheaper. There are so many good features that will cost you over $100 a month should you apply for them as stand-alone.
WP Engine Hosting Reviews – Web Host Packages
#1. Startup Plan
For your small business website or a blog website, you can choose a startup plan. The plan has more than 35 integrated themes with transferable site features. It offers a genesis framework with 24/7 chat support. It offers great performance with the global framework. It supports the Dev and different Prod environment.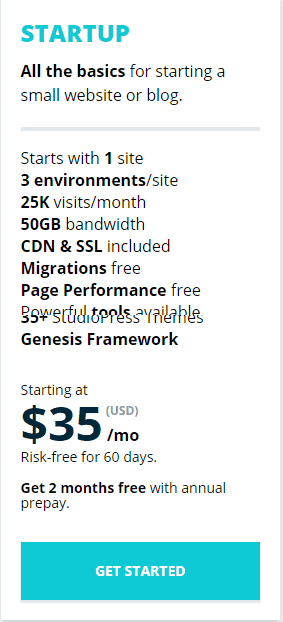 The best part about this hosting plan is it offers automated SSL certificates that are handy for the security of the website. SSH gateway is also included in the startup plan. The plan offers 10 GB storage and 50 GB bandwidth support. It's an ideal plan for a single site. For startups, the plan is great as the monthly cost is also low at $35(USD) /month.
#2. Growth Plan
If you want to expand or grow your business, then this is an ideal plan to choose. You can choose from more than 35 studio press themes with this plan. It offers 24/7 chat support and is PHP 7.3 ready. The plan provides optimal page performance with Genesis framework. It provides the feature of the transferable site. The plan also provides automatic SSL certificates and imported SSL certificate.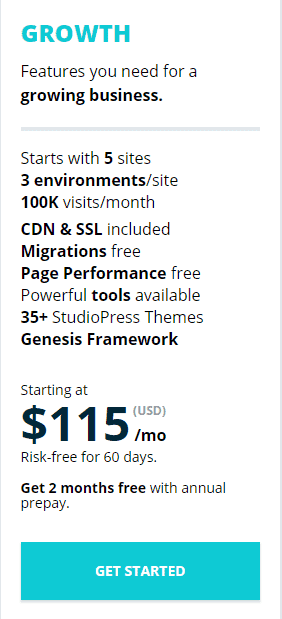 You can keep your site secured with the SSL feature. It also offers global CDN feature with LargeFS. The site lets you work on Dev and Prod environment that offers full functionality. It also provides SSH gateway support. It provides 20 GB support with a good bandwidth of 200 GB. This hosting plan can host 5 sites and costs $115(USD) /month.You can also take add-on support like Geo-target and content performance.
#3. Scale Plan
Scale plan is ideal for scaling your business. If you are looking to venture into new avenues, this is an ideal plan for you. The plan offers transferable site support and 35+ studio press themes. It offers a LargeFS with great page performance. It offers 24/7 chat support with the Genesis framework. You can work in Dev, Stage and Prod environment with this plan. Its PHP 7.3 ready and it also supports automated SSL certificates.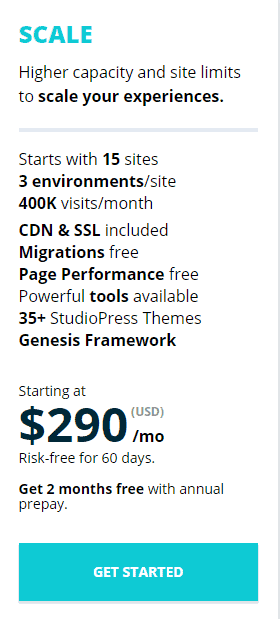 It also offers SSH gateway with global CDN. It provides more than 30 GB support with 400 GB super bandwidth. This hosting plan offers you 15 sites so you can use the sites for different areas of expertise if you need to expand. You can get add-on support like multi-site support and Geo-target. It also offers global edge security and content performance. If you pay extra, you can also get additional sites in your plan. The pricing for this plan starts at $290(USD) /month.
#4. Custom Plan
If you have a large business organization or mission-critical site, you can opt for this hosting plan. It offers you managed on-boarding with high performance. The plan gives you fastest support response and that makes all the difference. This plan offers 35 studio press themes with dedicated 24/7 chat support. It offers a great page performance. It also offers WordPress multisite with a launch readiness assessment. Plus, Geo-target with SSH gateway.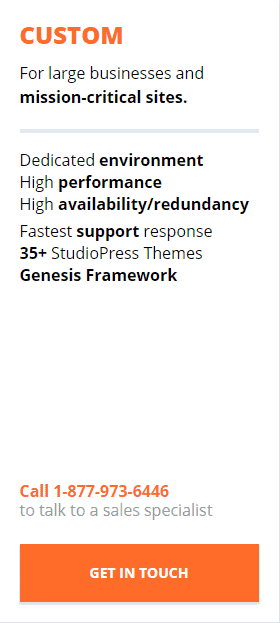 It offers automated SSL certificates with transferable sites. It offers the feature of content performance with consultative on-boarding. You can also work in Dev, Stage and Prod environment with the custom plan. It offers storage up to 1 TB and a bandwidth of 400 GB. The plan is ideal if you expect millions of users on your site.
Most branded companies prefer this plan for their websites. 25 sites are included in the custom plan. As an add-on feature, you can choose global security along with application performance. It also offers ticket support with customer success management. For the pricing of Custom plan, contact WP Engine on +1-512-273-3906.
WP Engine Enterprise Grade WordPress Hosting Review

Lastly, the Enterprise Grade plan offers up to 150 installs, over 5 million visitors per month and 400GB – 1TB in local storage. Pricing for this plan is also available upon request. Plus, since it is a custom web hosting package, you are assured of getting high-level of security of your website, optimal uptime guarantee, 5x faster website performance, 24/7/365 customer service, 24/7 system monitoring, manage WordPress updates, disaster recovery option, GIT integration, 1-click Staging, 1-click Copy site, 1-click Billing transfer, dedicated account management and more.
However, please note that WP Engine does not offer any email accounts with any of its hosting plans. Which means, that you'd have to integrate a third-party for your email provisions. You'll also get a content delivery network if you subscribe to the Professional, Business, Premium and Enterprise Grade plans. Should you want to add this feature to the Personal plan, you'd have to pay an extra $19.95.
Looking to Buy Enterprise Grade WordPress Hosting?
Highlights: SSD drives for all plans, Enhanced performance with NGINX, HTTP/2, PHP7 and free CDN, Free SSL Certificate, 24/7/365 US-based support, maximum uptime & incredible loading speed!
Things You Ought To Know Before You Take The Plunge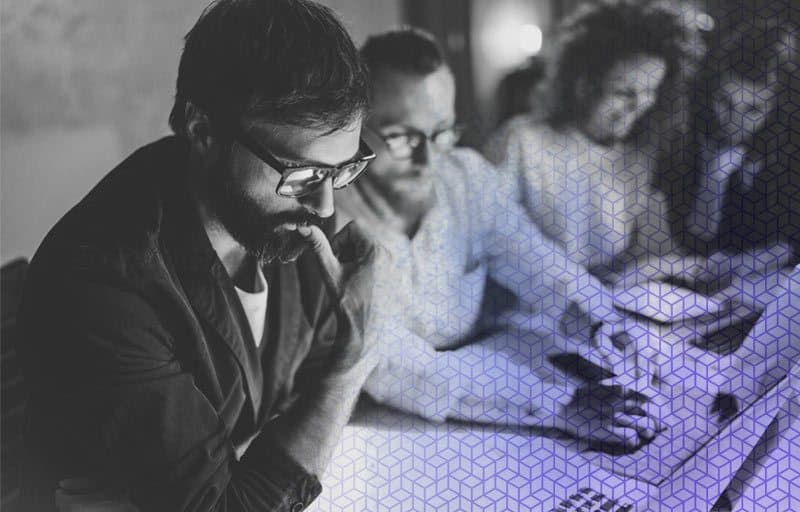 If you look at the prices above you'll notice that WP Engine does not have your typical pricing structure. If you have more than one domain to host you'll have to go for the $99 pricing plan. Not quite cheap. Thus, if you have more than one domain, then it makes sense to purchase a hosting package with one of the other much cheaper hosting providers and sign up for a shared hosting package.
WP Engine does not offer any email or webmail facilities. Should you want an email with your own domain suffix like (john(at)yourdomain(dot)com), you would need to either host it yourself or find a third-party provider. It is entirely possible to go with Gmail or any other free email provider, however, not everyone feels comfortable using these services, as these alternatives do not convey a very professional image for your business.
If you scroll down the WP Engine Homepage, you'll encounter their pricing plan layout. One of the things you'll notice immediately is that they charge you by the "visits per month" of visitors to your site. According to WP Engine, they take the number of non-bot visitors in a given period as the visits to your site. In the past, WP Engine used to charge per visit, be it non-bot or bot.
This attracted quite a lot of criticism, which forced them to re-evaluate their approach to this matter. For example, the personal package allows you 25,000 visits per month. If you attract more than that amount per month, you'll have to pay more. After October 2015, WP Engine stopped charging for bot visits to your site, a change which was welcomed by all, hosting with them.
During the early years, WP Engine's support was superb. Speaking to users who signed up in the former years between 2012 and 2013, you'd hear testimonials of how it seemed like every support staff was knowledgeable in WordPress. Emails were replied very quick and the ticketing system felt like a live chat because the response was almost immediate.
As time moved on, in 2014 to be precise, you could sense a bit of dissatisfaction amongst WP Engine users.
Most complaints were generally focused on the following: The staff was not informed about their work and had no experience at all about what they were doing. Response to requests was quite slow. So slow that some had to wait for days and others were completely ignored.
Due to the criticism and dissatisfaction amongst customers, the management was forced to come up with a solution. Some of the changes that were implemented were the hiring of new staff and the availability of senior staff to customers to deal with more complex problems. This has obviously been good because complaints about service have decreased dramatically since 2015.
WP Engine offers you telephonic support from Monday to Friday 7 am to 7 pm CST. However, they have an email and ticketing system that runs for 24/7.
Things You Ought To Know Before You Take The Plunge
Highlights: SSD drives for all plans, Enhanced performance with NGINX, HTTP/2, PHP7 and free CDN, Free SSL Certificate, 24/7/365 US-based support, maximum uptime & incredible loading speed!
Pros & Cons
Pros
It provides optimal speed and great performance.
Dedicated 24/7 customer support.
Top-notch security features.
Pricing on value for the plan.
Market focused and SEO optimized.
Great hosting features.
Free data backup and 60 days trial.
WP Engine discount coupons.
Cons
Ongoing and initial intricacy.
No flexibility
Pricing on usage
Not applicable for the non-WordPress platform.
Some themes are not compatible.
Added storage adds to extra costs.
Verdict
Do you fit into more than one of the following mentioned statements?
You find maintaining your WordPress website a tedious task?
Hackers are already plaguing you and you want to spare yourself that headache?
You have one WordPress site with minimal happenings to about a medium level of traffic, but are about to go very popular and expect huge surges of traffic coming in?
If your answer is yes to any of the above questions, then surely you may go ahead and consider WP Engine hosting. Although they are a bit pricey and only offer WordPress hosting, you can be assured that your site is well-managed and is protected against malware.
Please note that you should only go with WP Engine if you're hosting WordPress sites.
Apart from WP Engine, what other web hosting company offer WordPress hosting? Well, there are quite a few. You can read the reviews below to know more.
Conclusion
WP Engine is an efficient web-hosting provider for WordPress websites. The hosting provider specializes in creating a hosting environment that suits every user. For small business needs, you can stick to a startup plan. If you need to create many sites then you can choose the custom plan offered by the hosting provider.
The best part about WP Engine hosting is security. It provides various security features for your WordPress websites that help to prevent your sites from hackers.
The hosting provider gives you a premium managed WordPress environment. With new themes and transfer site facility, you'll be able to change the look of your WordPress website as well. It also supports automated WordPress updates so that your site remains up-to-date with the current trends. The hosting company provides WordPress website backups and Geo-target tool for optimization.
From installation to chat support, the hosting provider takes care of everything related to your WordPress site. For complete website management, you can trust WP Engine hosting. It will provide you with comprehensive coverage for hosting.