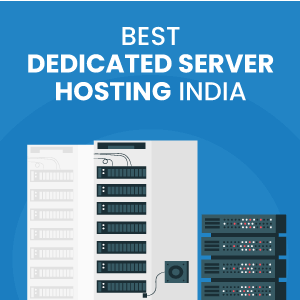 Best Dedicated Server Hosting is a premier hosting service. While there are other options such as Shared, Reseller and Virtual Private Servers, Dedicated Servers take all the best features of these web hosting options and then add more.
As discussed earlier, Virtual Private Servers are created when a portion of the host server is cut off from the rest of the server and used as a stand-alone server within the greater host server. Dedicated Servers, on the other hand, are when a client buys or rents the services of the entire server and do not share it with anyone else. How they choose to use this server depends on the terms and conditions that they agreed upon with the host provider.
There are many web hosts out there offering different Dedicated hosting services. Check out this list of thetop 10 hosting providers in India to know more. You can choose from these different providers the perfect Dedicated hosting type for your business. As this is a continuously growing field, there are innovators and front-runners in the industry of hosting providers.
Best Dedicated Server Hosting Providers in India
But which companies offer the best Dedicated Server Hosting in India? What web hosting features do they offer? And what kind of disadvantages would you have to deal with?
Let's take a look!
Web Host
Features

Uptime

Price*

Action

1. BigRock




Intel E3-1220LV2
2.30 GHz Dual Core w/HT
4 GB RAM
1000 GB HDD in RAID 1
5 TB Transfer
2 Free IPs

Direct Discount Link
99.9%

Starting from

₹6,999

per month

2. BlueHost




CPU 4 Cores, 8 Threads
Speed 2.3 GHz
Storage 500GB (Mirrored)
RAM 4GB Available
Bandwidth 5TB
1 Domains Included
3 IP Addresses
30-Day Money-Back Guarantee
24/7 Support
Free SSL Included

Direct Discount Link
99.9%



Starting from

₹6499

per month

3. Inmotion




Intel Xeon E3-1246v3
3.9GHz Turbo 4C/8T
8GB DDR3 Double Ram
500GB SSD or 1TB7.2k HDD
Software RAID Available
6TB Data Transfer
5 FREE IPs Inclueded
2 FREE HOURS of Managed Hosting
Free SSL (HTTPS) using AutoSSL

Direct Discount Link
99.9%

Starting from

$105.69

per month

4. iPage




2 Core CPU
4GB of RAM
500GB disk space
5TB of bandwidth
3 IP addresses
Free 1yr. domain registration
CentOS 6.4
cPanel

Direct Discount Link
99.9%

Starting from

$119.00

per month

5. ResellerClub




Intel E3-1220LV2
Dual Core
4 GB RAM
1000 GB HDD in RAID 1
5 TB Bandwidth
2 Free IPs

Direct Discount Link
99.9%

Starting from

₹4000

per month

6. HostPapa




Two Website
100 GB Web Space
Free Domain
Free Cloudflare CDN
Free Website Builder
Free SSL Certificate
30 Days Money Back

Direct Discount Link
99.9%

Starting from

₹199

per month

7. HostingRaja




Disk Space : 512 GB SSD
CPU: 4 Core (9.60 GHz)
100 GB Web Space
RAM : 6 GB
Bandwidth : 5 TB
IP Address : 1
FREE Varnish Server
FREE Website Optimization
Spamassassin included with server
Control Panel - FREE Rs. 12,000/Yr
Full root/ssh access
Realtime Malware Injection Scan
Realtime PHP Vulnerability Check
Inbuilt CSS/JS optimizer
FREE SSL Certificate
High Priority Support

Direct Discount Link
99.9%

Starting from

₹4499

per month

8. SiteGround





Intel Xeon E3-1230 SSD
3.20Ghz CPU Clock Speed
4 CPU Cores
8 CPU Threads
8MB CPU Cache
16GB DDR3 RAM
480GB SSD
10TB Bandwidth

Direct Discount Link
99.9%

Starting from

$269.00

per month




9. HostGator




Intel E3-1220LV2
2.30 GHz Dual Core w/HT
4 GB RAM
1000 GB HDD in RAID 1
5 TB Transfer
2 Free IPs
Free Website Migration

Direct Discount Link
99.9%

Starting from

₹6,830

per month
What Is Dedicated Server Hosting?
As the name implies, Best Dedicated Server hosting is hosting on a server that is fully Dedicated to your website and business. This means that the entire server is at your disposal and you need not share the resources of the said server. This also means that you have a lot more control over what happens with the server.
On the other hand, you also have the responsibility of up-keeping and managing the server yourself, unless you have bought a package that has a management of some degree.
While the server hosts your website and you are the sole user of the server, you should know that you do not, in fact, own a server, but are merely leasing it for a given time. Servers are usually housed in huge data centres where they are wall-mounted.
Depending on the kind of management you opt for, you can have server administrators at these data centres to look after your server. Should you not have this as part of the Best Dedicated Server hosting plans, you may have to undertake the arduous tasks of configuring, maintaining and managing the server yourself.
Features Of Best Dedicated Server Hosting
When choosing to go the best Dedicated Server hosting route it is important to make sure it is the right choice for you. You have to make sure you will get what you need, as it can be an expensive path to take. There are three key features to look out for when selecting the best Dedicated Servers hosting; quality customer service, customized features & ease of use, as well as security & dependability.
If you are new to Dedicated Servers you may not know how to configure, maintain and manage a server. This is where quality support is most important. It is important you get dedicated, professional and expert help when you need it, in order to get your site up and running again as soon as possible.
Customized Features and Ease of Use
Because Dedicated Servers are usually marketed to companies with high traffic and resource requirements, they usually come with software and customized features designed to make this an easier process to handle. So, check whether all essential tools are available that will help you keep your server healthy.
Security and Dependability
Unlike other hosting plans, Dedicated hosting solutions come with real-time monitoring and security backups so you can rest assured that your data is not vulnerable.
Is Dedicated Server Hosting Right For You?
To select a right hosting provider, you need to consider the factors mentioned in this web hosting checklist. There are many reasons as to why Dedicated Server hosting may be right for you. You may be in a field that requires resource-intensive software. You may be a company that has outgrown other forms of hosting such as Shared or VPS.
You may even feel that your site is going to require heavy resources, whether disk space, bandwidth or RAM. These may mean you have to get a Dedicated Server but there are further factors to consider before purchasing the use of the Dedicated Server.
Types of Best Dedicated Server Hosting
Windows Dedicated HostingAs mentioned in earlier articles, you have the choice of two operating systems, Windows or Linux. Each one has its advantages and disadvantages. When you are using other types of hosting plans you may not be able to choose which operating system to use but in the case of Dedicated Server hosting, you can.

It should be said right off the bat that Windows Dedicated Servers are usually more expensive. They rely on Windows, which is paid software and therefore, requires a license to use it. It is best to use a Windows Dedicated Server when you have to use Windows exclusive applications or application that work best on Windows, for example, the .NET framework.

Linux Dedicated HostingThis is the operating system of choice for most website developers. It offers a plethora of applications to work with. Furthermore, it is open source and as such, it has many distributions that are free to use. Hence, it is a little cheaper than the Windows Dedicated Hosting plans. It is also generally thought of as more stable and more secure than Windows for server operations.
Managed Dedicated HostingMost Dedicated Server plans require you to manage your own server, that's why it has more of an administrative burden versus other forms of hosting such as Shared hosting. This being said, you can purchase a Dedicated hosting plan that comes with management. Should you need management of your server you should make sure that the plan you sign includes the level of management you need.
Dedicated Server Hosting – Advantages & Disadvantages
With all that being said, it still remains to be asked: Who are the best Dedicated Server hosting providers in India? What about their packages make them the top Dedicated Server hosting providers? However, before we check out the list of the best Dedicated Server hosting companies, let's take a look at the many advantages of choosing Dedicated Server hosting. Simultaneously, we'll also check out their disadvantages.
Advantages
Customization: Because you have the server to yourself you can customize much more than if you had to share it. As such, you can customize your server so as to serve your target market best.
Uptime: As you have the use and control of all the resources at your disposal, you will have far fewer chances of downtime. With effective monitoring times, you could possibly move it up to 100% uptime.
Congestion: You have far less chance of server congestions as the server and its resources are all there for only you to use.
Security: Your actions on the server are the only ones to put the server a risk. As there are no neighbouring clients to run buggy software or scripts. You can also install anti-virus and other anti-malware measures that will be best for your particular business.
Support: Depending on the Dedicated hosting plan you use, you may get an excellent support for all aspects of the server you use.

Thus, it is vitally important that you look at the services offered before selecting the best Dedicated Server hosting for your business.
Disadvantages
Cost: As stated earlier, Dedicated Servers are more expensive because where the hosting company could host multiple different clients on a server, with Dedicated Server hosting only one client has the entire use of the server. This is not taking into account any licensing fees you may need to pay to use a software.
Maintenance: Because Dedicated Servers mean the user will configure, run and maintain the server, they are much more of an administrative burden. This is worse for those who are new to using Dedicated Servers. Most people and businesses first use the other hosting options and then upgrade as needed.
Technical Requirements: Dedicated Servers can be very difficult for newbies to set up. They require a certain amount of knowledge to set, ranging from IP routing to server mechanism.
Our Recommendation
| BlueHost | BigRock | ResellerClub |
| --- | --- | --- |
| FREE Domain Name for 1st Year | Unlimited Domains & Email Addresses | Unmetered Disk Space |
| FREE SSL Certificate | FREE SSL Certificate | FREE SSL Certificate |
| 30-day money-back guarantee | 30-day money-back guarantee | 30-day money-back guarantee |
| 1-Click WordPress Install | Fast India Servers | 99.9% UPTIME |
| 24/7 Support | 24 X 7 Server Monitoring | 24/7 Support |
| ₹ 179.00/per month | ₹ 99/per month | ₹ 160/per month |
| Buy Now | Buy Now | Buy Now |
Dedicated Server Hosting – Frequently Asked Questions (FAQs)