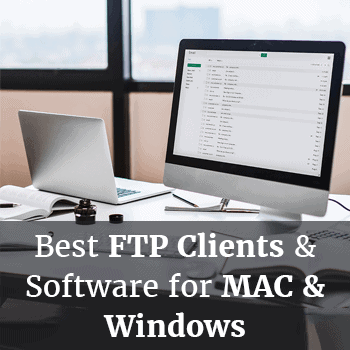 What does FTP Client mean?
File transfer protocol or FTP is software that connects remote computer and host servers. FTP clients normally provide dual transfer of data between two computers over the internet network. FTP clients work on a client's server access where the host computer is a client and the FTP server becomes the central server.
FTP Client is important for every website and every server. For this reason, BigRock provides users with secure FTP access. To know more about the varied features of BigRock, check out this BigRock review.
The best FTP client not only helps in faster downloads but also update files quickly. There is no need to log in to the server with this software. However, there are so many FTP clients available nowadays, how will you really choose the best FTP client?
One of the best ways to select an FTP client is to read comparison reviews and pick one that suits your need. Just like you would read hosting comparison reviews like BigRock vs GoDaddy and BigRock vs HostGator India to make an informed choice.
Freeware FTP software is free to download but with a limited set of features. Shareware software can be downloaded with a license and most websites prefer the same.
You can also purchase a shareware FTP client after the trial period is over. It's often a confusion regarding best FTP client for windows or best MAC FTP client. Best FTP client provides an easy access to the Graphic user interface and functionality like upload, delete, copy, rename.
Looking for security is important if you are looking for the best FTP clients. The security feature should support encryption and proxy. FTP software interface should be clean and should be designed in a customizable way. It should help you to pause and resume downloads even if the connection is lost.
Which are the Best FTP Software and Best FTP Clients for MAC & Windows?
For faster download and quick updates, a robust FTP client is a must. Thus, here is a complete list of free and premium FTP clients that you can choose from. Comprising of the best FTP software for Windows platforms and the best FTP clients for MAC, this list is all you need to make a well-informed choice when selecting an FTP client for your website. Take a look!
2. Cyberduck – FTP Client for macOS and Windows
Cyberduck is the best FTP client for Windows, however, it also supports MAC OS. Cyberduck FTP client supports SFTP, WebDAV, open stack swift and Amazon s3.. It also supports backspace cloud files and Google cloud storage, which makes it easier to deal with sites.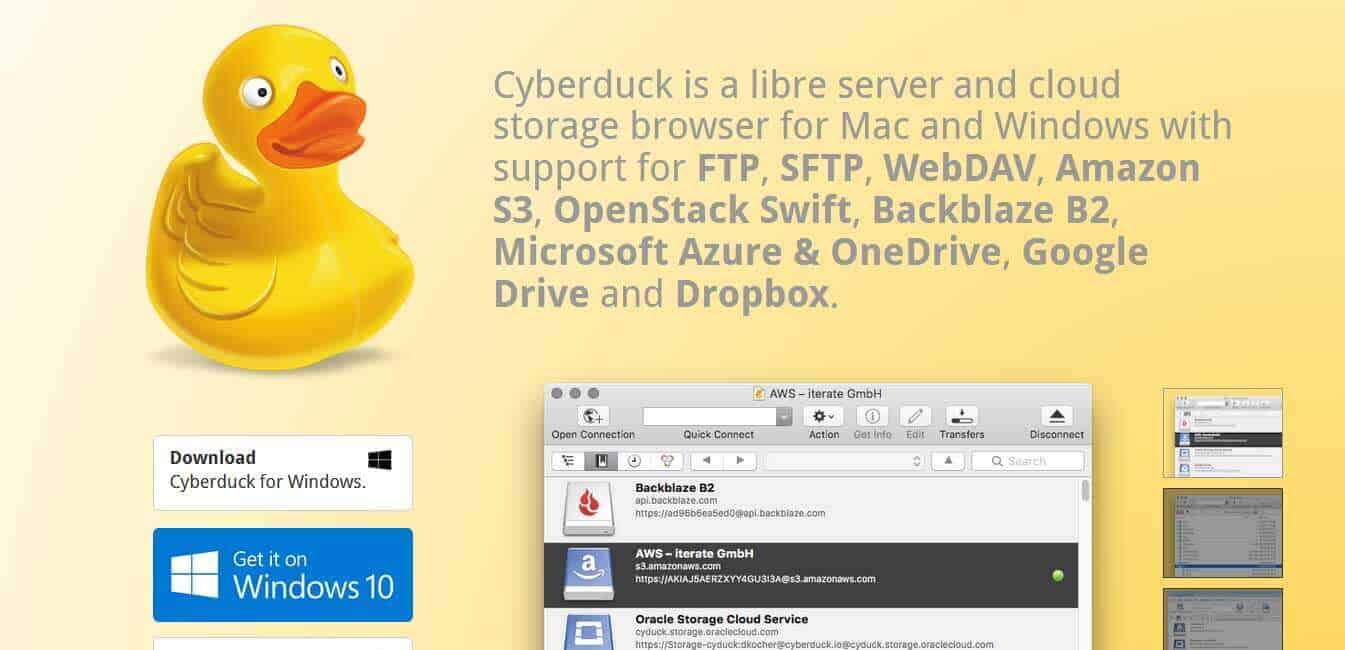 Cyberduck FTP client has optimized options for bookmarking and organizing such as spotlight importer. This FTP client has a super graphical user interface for browsing files. The quick look feature lets you view the file and external editor lets you edit the files.
There are added features like notifications and synchronization. There is an interaction with system technology feature, which makes this FTP client quite popular. Cyberduck is perfect in versatility and speed.
4. WinSCP – Free SFTP and FTP Client for Windows
WinSCP is another good FTP client and also a free one. It supports FTP, WebDAV protocol, and SFTP. The software is the best FTP client for Windows. The UI functionality is similar to Windows UI in support.
WinSCP helps to copy files between two computers in an active and secure way. This FTP client supports integration with Windows and offers drag & drop feature.

It also supports shortcut icons. WinSCP FTP client supports a feature known as Directory Synchronization that keeps two directories in sync in an automatic or semi-manual state. An integrated text editor helps in file editing too. Most features of the WinSCP FTP client are developer orientated. The decision of security remains with the owner.
6. SmartFTP – FTP Client for Windows
SmartFTP is a professional FTP client available for Windows. This FTP client is available in two different variants. It supports FTP, SFTP, FTPS in basic protocol. It also supports Amazon s3, Google drive, OneDrive, and web DAV. It lets you download and upload files and the speed is pretty good.

You can also use this FTP client in backup support and other advanced features. The protocol support is limited in the free version of this FTP client. A developer oriented text editor in this software helps in editing. It also helps in Syntax highlighting.
The visual compare feature lets you sync in two directories. It also offers other professional features being a smart FTP client. The professional cost of this FTP client starts from $79.
8. Free FTP – Fast and Efficient File Transfers
Free FTP is the most basic FTP client that you can download for your website or server. The interface of this FTP client is clean so you can use it easily even if you are a beginner. The browsing history is clearly visible so that makes your job easier. It supports SFTP, FTPS and FTP. It also supports server file management feature.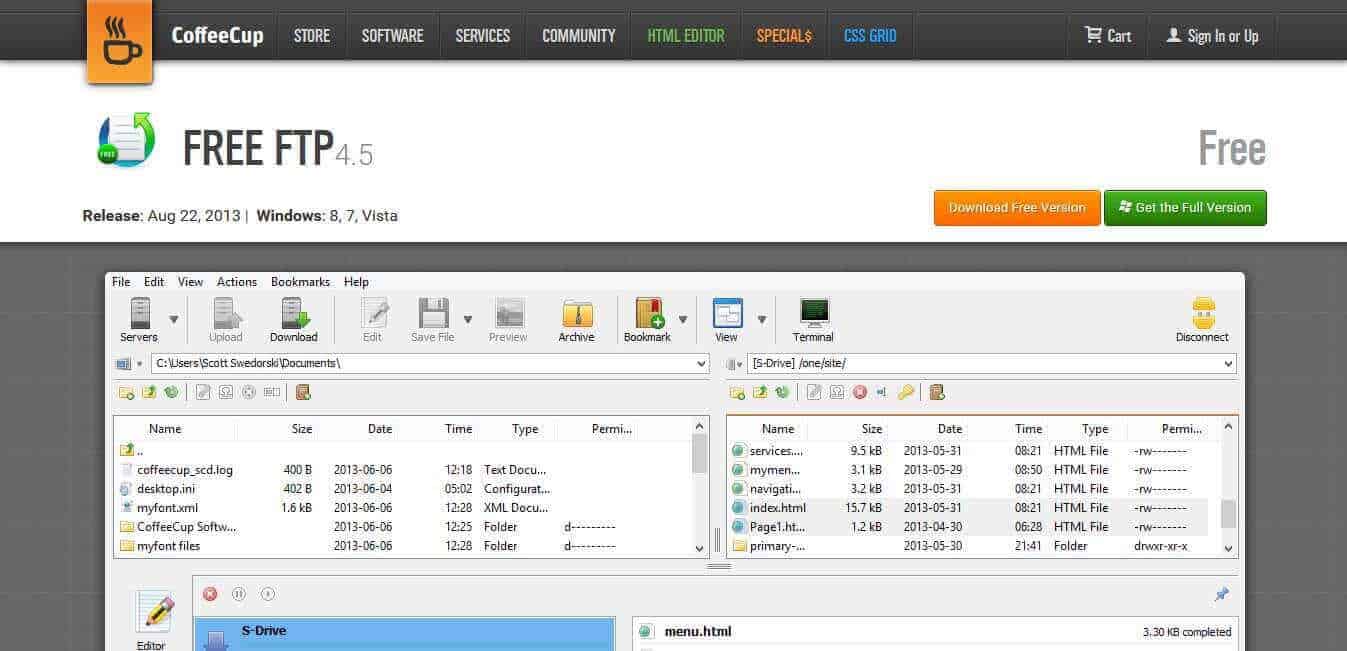 You can download the trial version for basic features. The full version of the FTP client supports features like image editing, bookmark synchronization, faster uploads and text editor. You can try the full version starting from $39. It's a great FTP client for Windows.
10. CuteFTP – Simple, Powerful and Secure File Transfers for All
Don't go by the name, as this is the best FTP software which has an amazing interface. It supports many features like automated file transfers, built-in text editor and open PGP encryption. It also supports advanced features like price tag and extensions.

The CuteFTP client has a secured file sharing system called as Tappln. This feature allows you to share file between different computers and mobile devices that support Android and IOS. It's a perfect FTP client for Windows and MAC. The only thing that goes against this FTP client is the professional fees.
Experienced users mostly use it so the price is quite expensive as compared to other top FTP clients that are available. The plan starts from $59.99 for Windows and for MAC users the plan starts from $39.99.