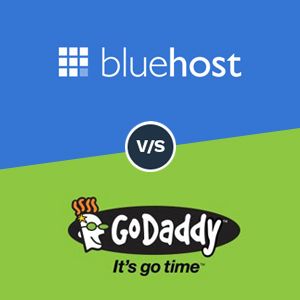 Hi All, did you read our recent blog post on Bluehost vs DreamHost? If not then check it out now! Today, we'll try to find out which is the best web hosting in this Bluehost vs Godaddy review.
Either you're a web design newbie looking out for the best web hosting India you can work with or you're a guru at the trade of designing websites for your clients, you will agree with me that it is important to keep abreast of the slight advantages one web hosting service can offer you better than others.
It is not an easy task choosing which one to go with especially when you have two interesting offers vying for your attention. That is why in this article I will make it easier by reviewing Bluehost vs Godaddy and help you with good reason on which one you should choose.
Bluehost vs GoDaddy – Who Is the Best?
Lately with the whole range of hosting service providers available, picking the best as become a difficult chore for most website owners. To choose the right plan, you need to consider the features your site needs, the pricing – if it fits in your budget, add-ons offered by the hosting provider, so on and so forth. This could make the task of selecting a web host harder if not impossible. As such, to spare you the trouble, here is a detailed review of the top 2 hosting providers – Bluehost and GoDaddy – that offer ample features, freebies, and benefits at a cost-effective price. But who is the best?
Read this Bluehost vs GoDaddy review to find out!
Bluehost vs Godaddy – General Overview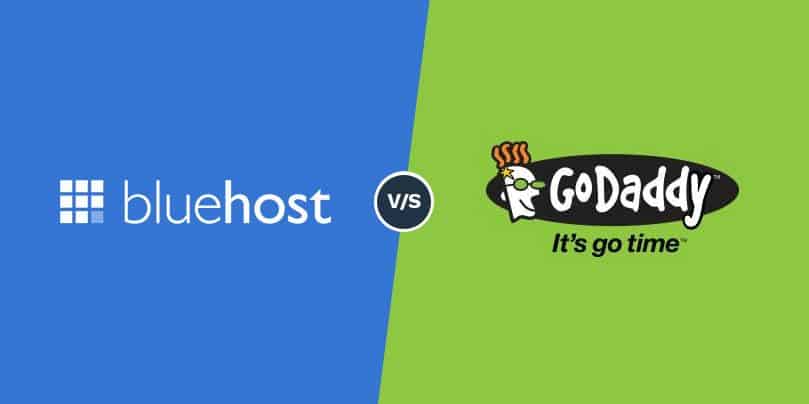 Godaddy is known arguably to be the world's largest domain name registrar. It also gives traction to the biggest cloud space for individuals and independent & small companies.
GoDaddy was founded in 1997 by Bob Parsons and is a publicly owned website hosting company and internet domain registrar with over 63 million domain names under their belt of management. GoDaddy is quite a large market shareholder. For more information, read this GoDaddy review.
Bluehost is a leading cloud-based service provider that makes it possible for small and medium-sized companies to establish a robust web presence for themselves.
Their packages give you the freedom to buy either from their servers, advised for businesses with an audience because you get faster speeds on your website or on the US servers where you still get great value.
Bluehost guarantees that as a client, you'll get the same world-class service that is tailored for businesses and individuals in backed up with 10 years-plus of experience and continuous advancement in web products.
Bluehost has in-depth customer interface and control panel that places you in command and this is effective in helping you build your brands strong and effective presence online.
#2. Bluehost vs Godaddy – Hosting Plans
#4. Bluehost vs Godaddy - Server Speed & Performance
Server speed and performance are an important web hosting features. One major thing that characterizes the websites that you build is the speed and performance they can muster, and this is a function of the server that hosts your website. Uptime is the time during which your website is accessible while response time or speed is the time it'll take to load up contents from the server for your visitors.
Outstanding for its loading speed, BlueHost has a responsive server that loads at an impressive 0.32s averagely, and maintains 99.9% hosting uptime.
While on the other hand, GoDaddy web hosted sites loads for about 0.7s to complete a page request which is almost 145% slower than BlueHost.
#6. Godaddy vs Bluehost - Customer Support Services
Picking which hosting service has a better customer support system is subjective especially in cases when you don't use the customer support much. Since your email or call representative is human, at any given moment your experience might not be as good as mine.
Based on my interactions with users of GoDaddy, I've concluded that their support is cool enough though you have to wait so many minutes on the phone. But, at the end, the job is usually done satisfactorily.
While on the other hand, Bluehost customer support is swift and excellent, be it via phone or email, I've received great assistance from them.