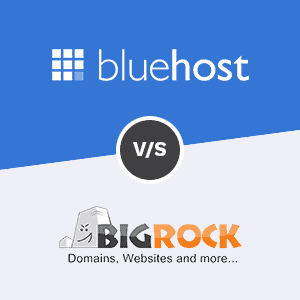 The World Wide Web has sure come a long way from the days of emails and social network. Today, the online platform offers users a plethora of possibilities and earning opportunities. From expressing an idea to sharing your talents and starting up a business, you can do everything on the virtual network.
All you need is an idea and a steady web server. Seriously, starting a blog or a website for your business has never been easier!
Like done in my previous two blog posts – Bluehost vs Godadday and Bluehost vs DreamHost, in this post, I am going to compare two of the biggest web hosting companies – Bluehost vs Bigrock, so that you can pick a secure and robust web hosting platform for your business website.
Which Web Host To Choose – Bluehost vs BigRock Review?
Bluehost and BigRock are two of the top players in the web hosting industry. Both offer a wide range of features and freebies with their hosting plans. They offer excellent customer service and great uptime. The web hosting security offered by them is top-notch too. However, there are certain key areas where one hosting is superior to the other. Thus, if you are uncertain as to which web hosting to choose – Bluehost or BigRock, then this comprehensive Bluehost vs BigRock comparison review can help you out!
The Need for Web Hosting
The popularity of the virtual platform has increased exponentially in the recent years. Gone are the days when you used the internet just for chatting with your friends or searching something on Google.
Today, the World Wide Web has attracted users from all walks of life who can express themselves, set up businesses, interact with other people and earn good money online. Technology really has changed our lives for the better.
More and more websites are popping up every day, adding on to the ever increasing competition. Also, with the increase in the number of site builders and eCommerce platforms, starting a venture online has become all the easier. You don't even need complicated coding skills or any technical expertise to build a website anymore.
Thanks to the site builders circulating the market, websites can be designed in a matter of minutes. However, that's not all, simply designing an incredible website is not enough.
Web hosting services are the connecting medium that links you to the main server. The web hosting assists you in posting your content online, thereby kick-starting your blog.
A web host is crucial to the success of your website, it provides you with the suitable platform for launching your website globally. It gives your website a specific address and identity using which your viewers can look you up.
After you have completed designing the basic layout of the website, the next step is to christen it.
Choose a unique and catchy domain name, host it online and you are good to go. There are loads of web hosting companies that claim to offer the best of facilities and enhance the reach of your website.
It might get a bit overwhelming for a newbie to choose an ideal web host for their website. Don't worry, we have narrowed down the list to two leading best hosting providers in India namely, Bluehost and Bigrock (each discussed in detail below) that you can check out.
General Overview of Bluehost vs Bigrock
More and more businesses are venturing out into the virtual world in order to tap the ever-growing online traffic and profit from it. It is important that you have a solid web presence if you want to expand internationally and maximize your profits.
A web hosting service helps you in just that. Now, opting for the first company you see online is definitely not the way to choose a web host.
You'll have to look into the features and benefits they offer before you make a choice. The top two names that are leading the market are Bluehost and Bigrock – both equally competent and dependable when it comes to providing a powerful support for your website.
However, there are some differences in their facilities and hosting plans that separate them.
In this article, we will give you a comparative study of the two companies Bluehost vs Bigrock. But before we begin, here is a glimpse into the background of the two companies
A] The Story behind Bluehost
Bluehost is a web hosting company owned and managed by Endurance International Group. Considered to be among the biggest web hosting service providers, the company has hosted over 10 million domains and businesses.
Bluehost works together with three other companies Hostmonster, iPage and Fastdomain, their collective in-house service is set in Provo, Utah and occupies about 50,000 square meters.
Bluehost is the brainchild of Matt Heaton, who founded the company way back in 1996 when he was working on an independent project on web statistics. It was during this period that he discovered the shortcomings of the current web hosting services of the time.
He then worked out a way to expand the storage limit and enhance the overall functionality of his hosting program. To fix the problems, he created two web hosts called 50megs.com and Catch before finally settling on Bluehost in 2003.
Later in 2009, Bluehost was among the first companies to introduce a new feature called CPU throttling (very common among hosts now). The feature would work towards managing the user's CPU usage and automatically reducing the load when the user is exploiting the server too much.
The host would freeze the system's CPU operation and could even shut down the website for a considerable period of time. It was acquired by Endurance in 2010, who started offering VPS and dedicated hosting sometime in 2013.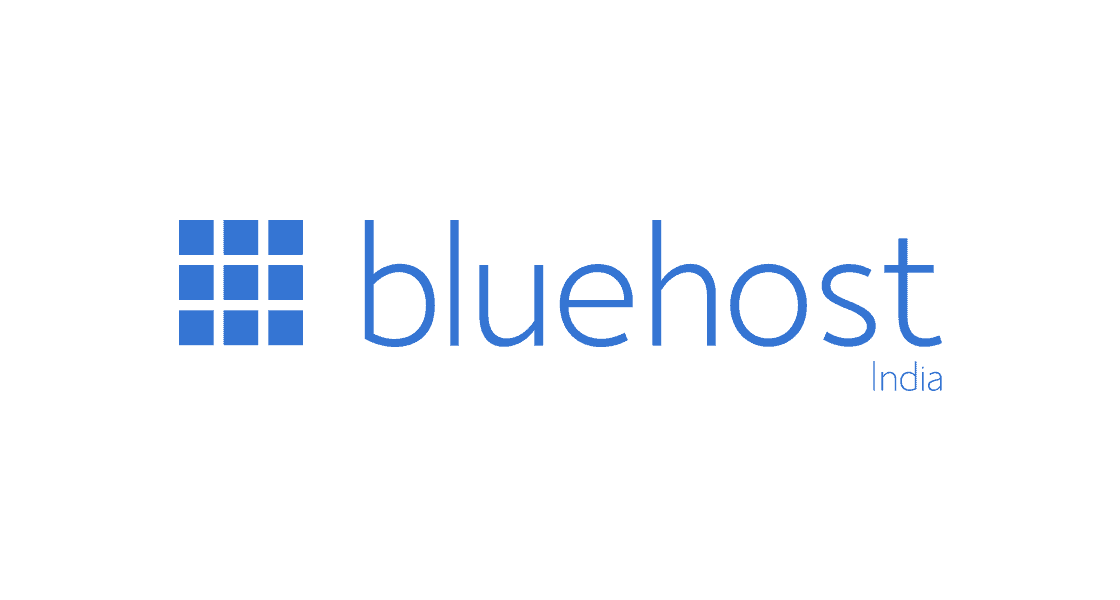 Why Choose Bluehost?
Launched in 2003, Bluehost sure has done well for itself in the past years and now is one of the top 20 web hosting services in the world used and recommended by start-ups and established businesses alike.
The user-friendly and intuitive interface is a delight to work on even for a novice, while the premium quality tools are developed to impress the professionals. You get all kinds of hosting packages here, from Shared, Reseller, Dedicated to VPS.
Listed below are a few advantages of Bluehost and reasons why it is a good option for your website.
Easy to Manage and Setup

Bluehost is pretty easy to install, the one-click installation wizards load almost instantly. Also, the Shared hosting features are automatically loaded on the server by Bluehost. Even the management and monitoring of your website is covered by the web host, all you have to do is select and register the domain and launch your website.

Very Secure

Bluehost comes with a CloudFare integration that takes care of all the security issues of the website. The platform is suitable for webmasters as it has all the SSL and SSD certifications required to protect your system from a DDOS attack and other online threats.

Great Performance

Bluehost claims to offer a 99.99% uptime guarantee that ensures the online visibility and high SEO ranking of your website 24/7. Also easy upgrades, customizable drag and drop interface helps you create websites that generate high traffic and monetize on it smartly.

The Control Panel

The Control Panel is intuitive, interactive and armed with the top-notch tools and features as per the prevalent industry standards. You can create multiple accounts, create multiple websites and manage it all in one place. Users can even install WordPress, Joomla and other CMS at a click-of-a-button.

eCommerce Solutions

On Bluehost, you even get powerful eCommerce solutions such as Magneto and ShopSite to design e-stores. These platforms are flexible and versatile enough to work well on all Windows, Mac and IOS devices.

WordPress Optimised Hosting

Bluehost services are compatible with well-known site building platforms such as WordPress. In fact, its hosting facilities are recommended by WordPress offering automatic backups and upgrades.
B] The Story behind Bigrock
Bigrock, our second contender caters to the audience. Bigrock is a branch of the main Bigrock brand that was established in 2010 and focuses solely on supporting and promoting entrepreneurs. It is accredited and authenticated by ICCAN as a credible domain registration company where users can purchase domains or create their own and patent them.
Bigrock is a part of the Directi Group and offers some of the most competitive hosting prices in the market. Even the domain services are surprisingly inexpensive, they cost about 80% less than what other companies offer.
Bigrock was built for uplifting and helping start-ups and budding businessmen and give them an equal footing with the more established ventures out there.
The web host not only offers web hosting and domain services but also a whole set of really cool functions such as domain registration, professional email services and marketing solutions (including anti-spam & anti-virus features), web hosting services, site building tools, eCommerce solutions and digital certificates.
Bigrock has been in business for over a decade now and has gradually become a household name among web browsers. The platform powers over six million domains and websites globally and is a hit among first-time users who can get massive discounts with BigRock coupon code.
Even Bigrock was later acquired by Endurance Group and has its headquarters in all corners of the world – the United States in Utah, Texas, Washington and Arizona and in the United Kingdom, Israel and Brazil.

Why Choose Bigrock?
Bigrock is one of the most popular domain registration platforms in the world that caters to over six million customers and has established quite a reputation in the market as a dependable and efficient hosting option.
Known for its smart tools and customizable features, the platform is a hit among amateurs and newbies who have no prior experience of developing and managing a website.
However, it also offers a lot of advanced features that would keep the professionals and technical experts happy. Let us look at the benefits offered by Bigrock and the reasons why you should think about investing in its services.
SEO-Friendly and Effective

Bigrock has both global and local servers that are loaded with the most powerful SEO enhancement tools for boosting your web presence and giving your website that much-needed push in the market. The IP address of your system is fed to the GeoLocation finder so as to increase the chances of getting spotted on popular search engines.

Affordable Customised Plans

The unlimited plan starts at just Rs. 599 / per month, you get unlimited storage and bandwidth. You can also personalise the hosting packages as per your liking. Bigrock gives you a choice between WordPress, Joomla and Drupal as eCommerce platforms for building web stores.

Very Productive

Bigrock claims to offers a 99.9% uptime guarantee. A high uptime ranking automatically ensures a high SEO position and better chances of getting noticed. It also helps you generate more traffic and convert maximum leads to fruitful sales.

Excellent Customer Support

Bigrock is among the few web hosting companies that can boast of its technical support team and customer services. There is always a team of professionals to assist you in case you have any queries or complaints. You can contact them via emails, live chats, video calls or phone.

Advance Payment Options

Unlike other platforms, Bigrock customers don't have to worry about not having an account in the international payment portals such as PayPal and Bitcoin. Other payment methods include net banking, online money transfers and cash payments. All your monetary transactions are protected by 128-bit encryption.
Bluehost vs Bigrock – Key Features Comparison
Web hosting companies can make or break your e-venture, therefore, it is of utmost importance that you choose a host that not only supports but also boosts your web presence considerably.
Now that you know a bit about the two leading names, Bluehost and Bigrock, let us move on to discuss the various features and pricing options of the two companies to get an in-depth knowledge about their operations and fish out the best out of them.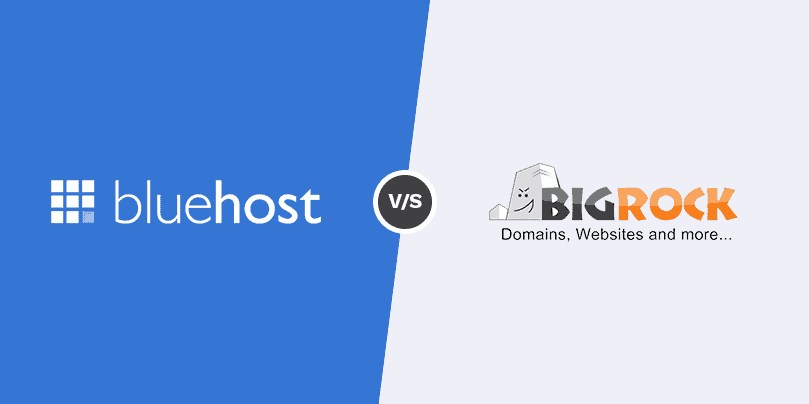 These two brands, though very similar, do have certain distinguishing features that set them apart and give them their uniqueness. These key points of comparison are discussed in finer detail below.
Both Bigrock and Bluehost come from different backgrounds and have unique features to back them up in this race for the top web hosting service.
Bigrock started out as a domain registrar and now almost a decade later the company is an all-around solution for budding bloggers who want to set up their website and monetize on it.
Web hosting (for both Windows and Linux), eCommerce solutions, site-building and VPS are some of the perks you can enjoy on Bigrock.
Bluehost, on the other hand, started out as a hosting company and offers everything from Cloud hosting, Shared hosting, Reseller options and VPS to its customers.
#1. Bluehost vs Bigrock - Performance
The performance of any web hosting service depends on the speed and accuracy of their features. Both the companies offer a high 99.9% uptime and are very responsive and quick to load.
Bigrock supports all programming languages and codes such as CGI, PHP, Python, asp.net, and pearl. These scripts are easy to install and also comes with a WordPress plugin and a user-friendly interface.
Bluehost, on the other hand, comes with an intuitive control panel and a secure FTP access. The platform runs with 24 GB RAM and includes free DNS, dual quad-core Xeon-powered servers. Bluehost is also compatible with almost every coding language such as crypt, cURL, PHP 5.3x and 5.4x, MySQL 5, RoR, Perl, Apache 2.2x, GD, CGI, and Python.
Both the platforms run well on mobile devices and other operating systems. You even get robust eCommerce, email marketing tools and social media integration for sharing your content and expanding your customer base.
Verdict: Bluehost is more efficient and flexible than Bigrock.
#2. Bluehost vs Bigrock – Speed Test
The responsiveness and loading time of a webpage often determines the number of views it gets. Server downtime and buffering are some of the obstacles that web developers can remove using a powerful web hosting solution. After all, nobody likes visiting a page that takes time to load!
Both Bluehost and Bigrock happen to be among the fastest web hosting services in the market.
Bigrock offers its customers advanced and secured servers that constantly monitor and check your website for signs of online threats such as virus infestation or Trojan attack. The local servers also help to boost the SEO ranking of your website by using your location. However, on the downside, the platform does not offer free data backups.
Bluehost, on the other hand, is not dependent on their company server. The platform has its own in-house server in Utah along with its peer Hostmonster. The server comes with the most powerful hardware that secures your connection and protects your content from hacking and other threats.
Verdict: Bluehost takes the cake again because of its responsive design and free backups.
#3. Bluehost vs Bigrock - Response Time
The response time is the rate at which your website can connect to the main server. A faster response time also boosts the uptime and loading functionality of a page as your content is now retrieved and sent faster from the primary server.
Both Bluehost and Bigrock have a low response time, that is, they take less time to communicate with the server and are thus, far more credible.
Bluehost comes with a robust control panel as well that you can configure as per your requirement. The cPanel has a whole list of tools and features that allow you to create and manage multiple accounts in one place. You don't get a website builder here though.
Bigrock provides a DIY site-building platform where you can design blogs, sites and stores.
Verdict: Both Bluehost and Bigrock are at a tie here. Both the companies are equally responsive and effective.
#4. Bluehost vs Bigrock – Customer Support and Reliability
A solid customer support system is mandatory for the success of any website or online venture. The team of technicians must have the necessary skills and professional expertise to explain and assist the users when they face a problem. Efficient customer support teamwork towards strengthening client relations and build a solid reputation on the internet.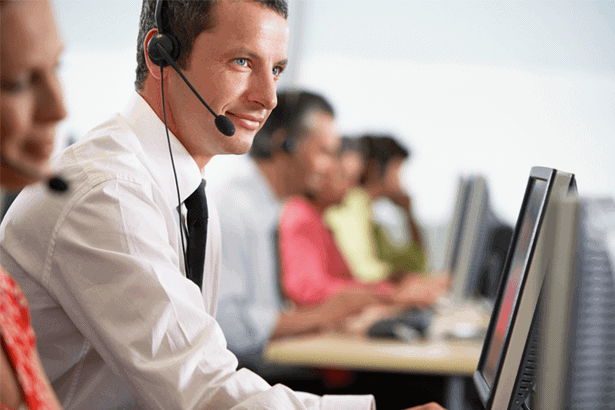 There should also be a help desk where users can submit their queries and complaints that must be addressed immediately. Customer services help build brand loyalty and enhance the credibility of the platform.
Both Bluehost and Bigrock are blessed to have a proficient and skilled technical team that assists users in web designing, eCommerce and launching the websites. On Bigrock, you can find an extensive database where users can answer the basic questions and common web hosting issues. Live chats, video calls, emails, the token-based system is available on both the platforms.
#5. Bluehost vs Bigrock - Money Back Guarantee
When it comes to judging the efficiency and credibility of a web hosting service, it's pricing and money back policies also play a major role. Companies have to keep in mind that not all users who register to their services are likely to continue paying for their services. Some users also might want to switch to another platform and try out their features.
Each hosting company has its own money-back policies that generally extend to a month at max. Both the companies on our list are known for their flexible pricing and solid warranty policies.
Both the companies have a 30-day money-back policy and a month-long trial period. They even offer discounts, coupons and offers to first-time users. You can get up to 40% discount on all Bigrock plans. Bluehost users can enjoy a 35% discount on the first year and 45% on for the next two years.
Verdict: There is a draw between the two companies as both of them offer a 30-day guarantee.
#6. Bluehost vs Bigrock – Hosting Plans
Bigrock has four Shared hosting plans – Starter, Advanced, Pro, and Business. The Bigrock starter plan starts at Rs.129 / per month, while the other three plans are priced at Rs. 199, Rs. 329 and Rs. 449. All the plans are valid only for two years and have to renew constantly.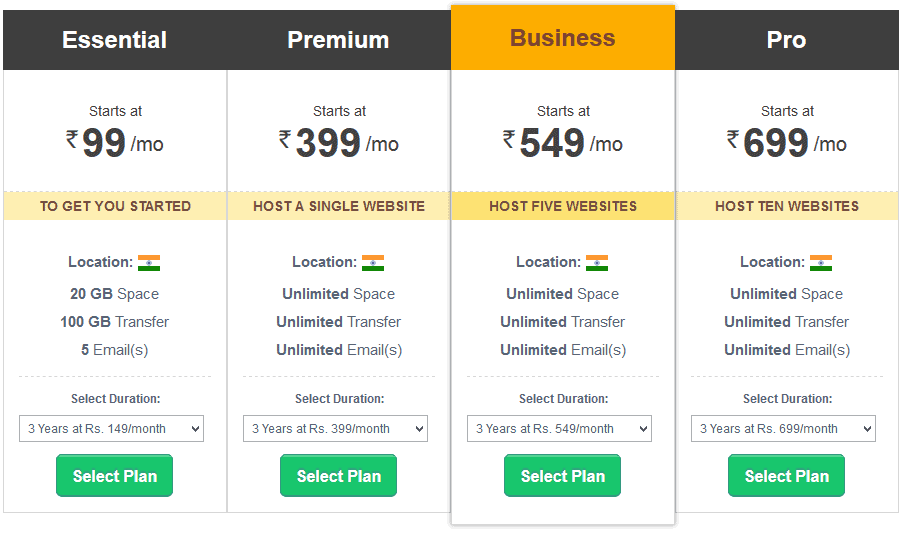 These plans allow you to create both single page and multiple pages websites (maximum limit is 50).
The starter plan comes with a site builder, 2GB data transfer limit, 500 MB storage space and about five email accounts. The other three plans offer unlimited storage, bandwidth and email accounts.
There is a limit on the number of websites you can host in the Starter and Advanced plans. Users even get content management solutions for Joomla, WordPress, Zencart and Drupal.
Bluehost comes with three hosting plans – Starter, Pro and Business that is compatible with both Windows and Linux devices. The Pro plan offers unlimited storage, bandwidth and domains.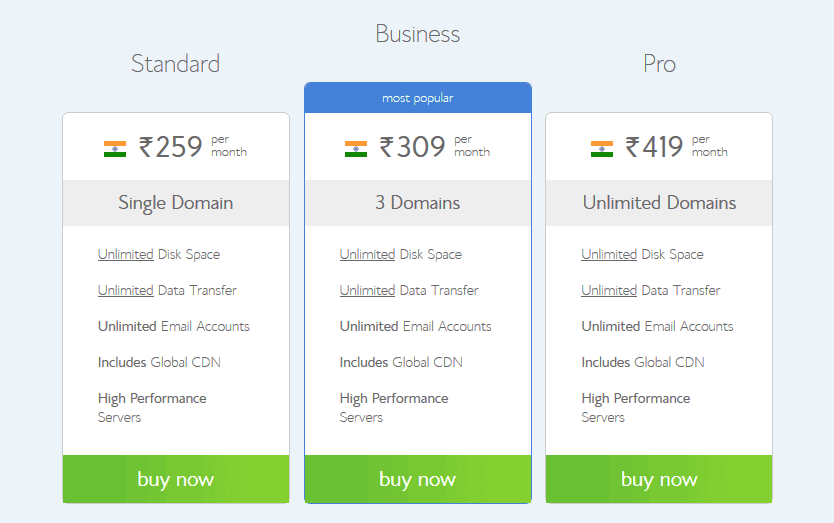 You can always upgrade the platform to a VPS hosting service. Bluehost plans start at Rs. 289 / per month, the Business plan costs Rs. 329 while the Pro plan is Rs. 469 / per month. The Linux web hosting plans start at Rs. 419.
Verdict: Both companies are equally good. However, Bluehost offers users a wider range of options at reasonable rates.
Final Word
So, as you can see from the above Bluehost vs Bigrock comparison review, Bluehost is a clear winner. It performs well on several parameters such as performance, speed test, response time and others. Plus, Bluehost offers greater discounts than Bigrock and also has a vast range of Bluehost coupon as well as Bluehost Domain coupons for you to use.
Thus, it is Bluehost all the way!
For information about different Bluehost hosting plans read this detailed Bluehost Review.