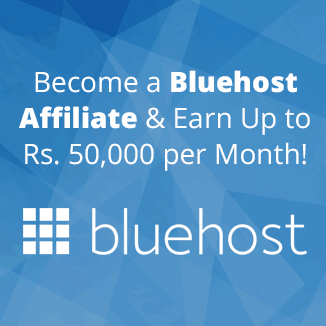 Bluehost Affiliate program is one of the highest paying web hosting programs of the present times. By the year 2017, almost every web hosting company launched their own affiliate program to drive up their traffic and convert them into paying customers. With Bluehost.com, you can earn $65 to $125 per sale.
As the minimum commission threshold is $100 for processing the payment, you will have to make at least 2 qualified sales to get your first payment. The payment is generally processed between the 16th- 31st of every month. So, if you wish to diversify your income stream, become a Bluehost.com affiliate today.
In this article, we will take a look.
How To Become A Bluehost Affiliate?
For those who want to make money online, Bluehost Affiliate Program is a lucrative way that can help you to earn up to ₹50,000/month. You don't have to be an expert to be an Affiliate partner. The investment is minimum too (hosting, domain, and website). Once your website is launched, you need to promote Bluehost products and services. And, for every sale from your website, you earn a specific commission. If you want to be a part of this, then read this complete guide on how to become a Bluehost Affiliate. This guide covers everything you need to know!
How to Set up a Bluehost Affiliate Website or a Blog with Bluehost & Make Money
First and foremost, for any kind of affiliate marketing, you need to have a basic website/blog from where you can promote the products and services. To set up an Affiliate website or a blog, you need to register your domain & buy website hosting from Bluehost.com
Step 1. Go to Bluehost.com website. Click on Hosting – Shared Hosting.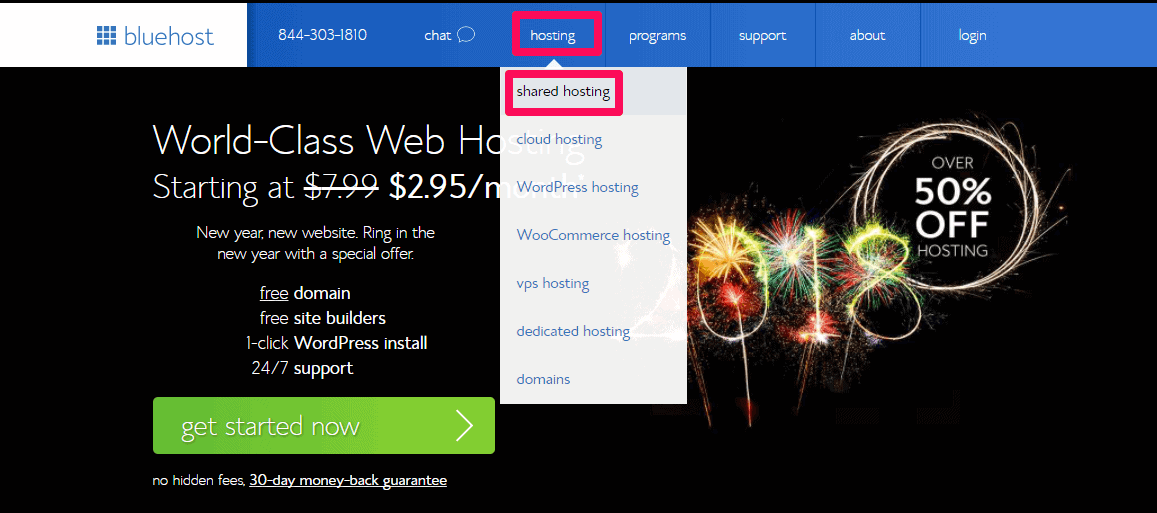 Step 2. Choose a web hosting package and click on 'Select.'
Step 3. Register a new 'Domain Name.'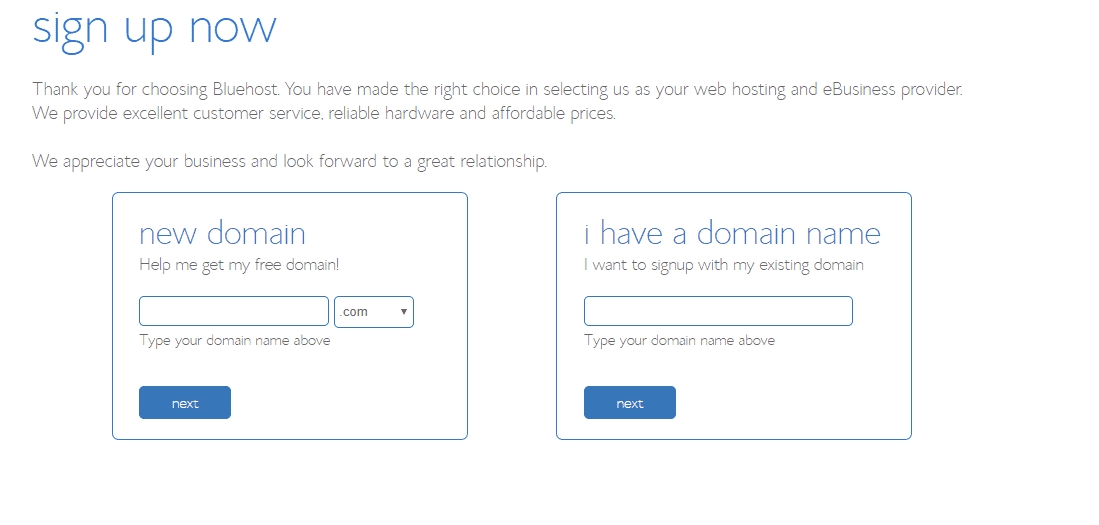 Step 4.
i) Add Account detail. Add your preferred Domain Name. Select additional 'add-ons', if needed. Click on 'Continue' to proceed further.

ii) Review your hosting package details.

iii) Enter payment information. Agree to Terms and conditions and click on 'Submit.'

That's it!

also Read this Guide – How to create a Website/Blog Step By Step Guide 2020
1. Affiliate Marketing with Bluehost.com
Affiliate marketing is a crazy way to bag a lot of money for internet marketers and bloggers. Basically, you have to place the banner ads and links of a third-party on your site, in this case for Bluehost.com. Every time a qualified sale is made through your affiliate link, you get a credit. The commission rate varies from company to company and the type of products sold. It could be starting from $65 or even higher per sale.
Bluehost.com Affiliate Link tracks your website activity including click-through-rate, opening rates and conversion rates through their advanced tracking tools. In most cases, you are provided with a unique tracking code or URL by the company. You can use this link to monitor the site activity, progress and segment referred traffic.
Remember Malpractices, PPC or Brand Bidding, trademark infringement without permission is not accepted and your account may get banned. It's important for your read all the Bluehost.com Affiliate Terms and Conditions before you dive in to avoid any silly mistakes.
2. An Overview Of Bluehost Affiliate Program
There are several types of affiliate programs. Among these, web hosting affiliate programs can help you generate a massive review with reasonable effort & minimal investment. You can earn a fat pay cheque from your affiliate network simply by promoting their products on your blogs.
Typically, blogs with the highest success rate with affiliate program have excellent affiliate marketing content, such as Reviews, how-to guides and video tutorials.
Your content should be in-depth and straightforward. It should provide value to your customers in order to develop a trusting relationship with them, as people will buy from websites they deem trustworthy.
Just the last year, Bluehost paid approximately $5 million as commission to its affiliate marketers. Now you must be wondering how these companies afford to pay such an insane amount as commission. And most importantly, why?
Well, the web hosting companies believe that if someone signs up for their package once, they can ensure he or she keeps on using their services for years to come. So, they earn a their share by serving these recurring customers which also allows them to pay you handsome commission through their affiliate program.
The $65 is just a small one-time investment they make in exchange for a lifelong customer. The best web hosting companies have some solid tricks up their sleeves to ensure that the customers keep using their services again and again. So, the commission they pay is basically what professionals call the cost per acquisition (CPA).
3. Reasons To Join Bluehost Affiliate Program
In a nutshell – there's a market for it, a huge one. Hundreds of websites/blogs are popping up on the web every single day. Hosting is an essential part of building and managing a website. Through your blogs on how to build a website or posts on web hosting, it's easy to convince your readers to buy hosting from your site. With the advent of the social network, it is even easier to promote your products and spread the word among millions with just a few clicks of a button.
You don't even need tons of traffic to get started with the affiliate program, just targeted traffic. Through corresponding content, social media strategies, discount coupon & offer promotion, you could easily bag good commission in a month by devoting only a few hours each day.
Through Bluehost affiliate marketing, you get a commission of $65 – $125 per qualified sale. Bluehost.com is one of the most renowned web hosting companies and domain registrars in the world. The learning curve of how to make money on by Bluehost Affiliate Program is quite simple and straightforward. You have to follow just a couple of steps to join the program. Once they approve your request, you can start displaying customised banner ads on your website or blog.
4. Why Choose Bluehost.com Affiliate Program?
There are tons of companies managing affiliate programs, so why choose Bluehost affiliate program? This question might be tottering in your mind from the very beginning of this article.
Needless to say that Bluehost is the most popular and reliable web hosting company in the world right now. With literally thousands of happy customers, they have set the bar really high for its competitors.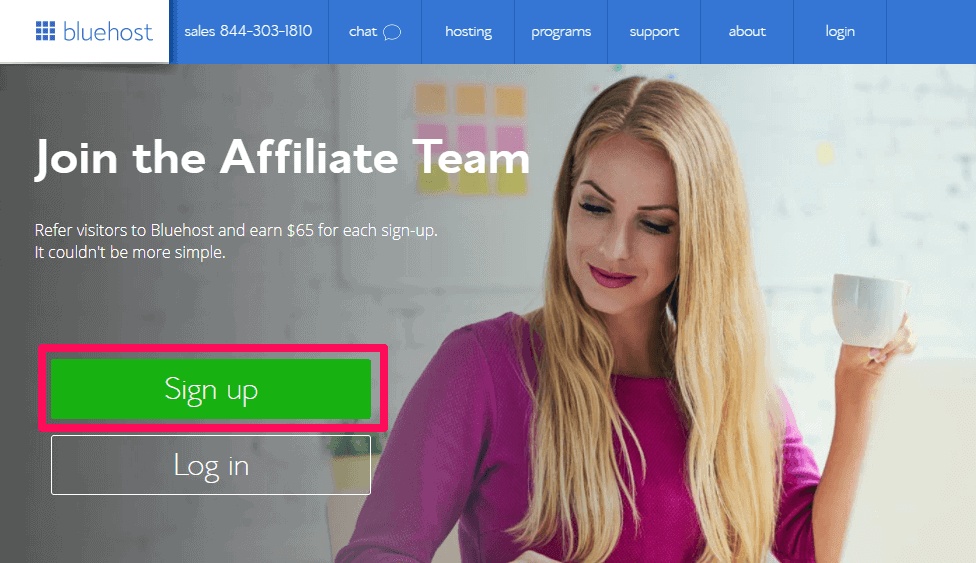 Although there are many other companies offering a higher commission rate, none of them has an impact on bloggers, internet marketers, and webmasters as much as Bluehost. It is almost like a Coca-Cola of the web hosting industry. Everyone knows it is a huge brand, whether they have personally tried their services or not. Almost every hosting or blogging related tutorial has the mention of Bluehost.
Bluehost offers a wide range of hosting services at affordable prices. This is one of the main reasons why it's so popular amongst both novice and intermediate web designers.
Their round the clock customer support will be at your rescue whenever you face any technical issue, no matter how minor it is.
Another major highlight of Bluehost.com is the use of the latest cPanel. It brings all the plugins, analytics tools, SEO tools and much more right at your fingertips. Entry-level users will find it extremely easy to navigate the configurations.
You don't have to pay any sort of fee to make your site Bluehost affiliate ready. So, there's only return and minimal investment (except for domain, hosting & content for building an affiliate website/blog).
We don't want to scare you off but there's one thing you should know well before you decide to promote Bluehost. Bluehost.com hosting is one of the top affiliate products and millions of pro-bloggers and marketers use their best strategies to generate higher revenues. For a novice, the initial experience might not meet the expectations. You might only be able to sell 2 products in a month. But the key to success lies in patience.
You have to brainstorm better strategies, grow with each failure instead of just giving up. Once you get the hang of it, you could make about 10 sales a month which would amount to $650. This figure will gradually increase based on content and user base.
Moreover, if you consistently manage to sell 5-10 products a month, Bluehost will almost double your commission per sale.
If you are able to push around 200 leads per day, you get to earn $150+ per qualified sale. That's not all. They also run contests and reward the affiliate with the highest number of refers in a set period of time. There's no limit on how many sales you can make per day or month. Refer as many people as you can and let the cash flow in. So what are you waiting for?
5. Bluehost.com Affiliate v/s Bluehost India Affiliate
If the majority of your traffic is from the United States, go for Bluehost.com. This will make you eligible for applying for their affiliate program and become a Bluehost affiliate U.S.
Likewise, if you are an India-based webmaster having websites targeted solely at Indian audiences, you could become a Bluehost India affiliate. Bluehost has a separate branch for India called Bluehost.in to aid localized payment, better customer support and quick response time.. Update: Bluehost India Affiliate Program has been permanently closed.
6. How To Join Bluehost.com Affiliate Program?
Below we have shared a step-by-step guide on how to become a Bluehost.com affiliate.
Step 1. Visit Bluehost.com, go to the Affiliate Page and click on the 'Sign Up' button.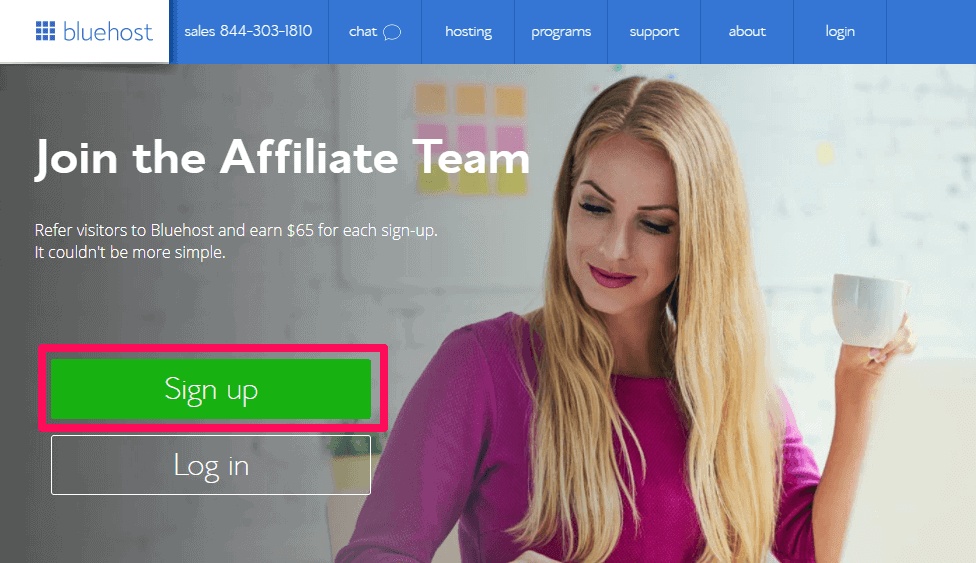 Step 2. You will be redirected to the Sign up form. In the form, you will have to add your username, password, phone number, website link, company name, and address. Fill the blank areas with corresponding details. Then provide your PayPal information, tick the box beside the "I agree" button and click on the 'Sign Up' button.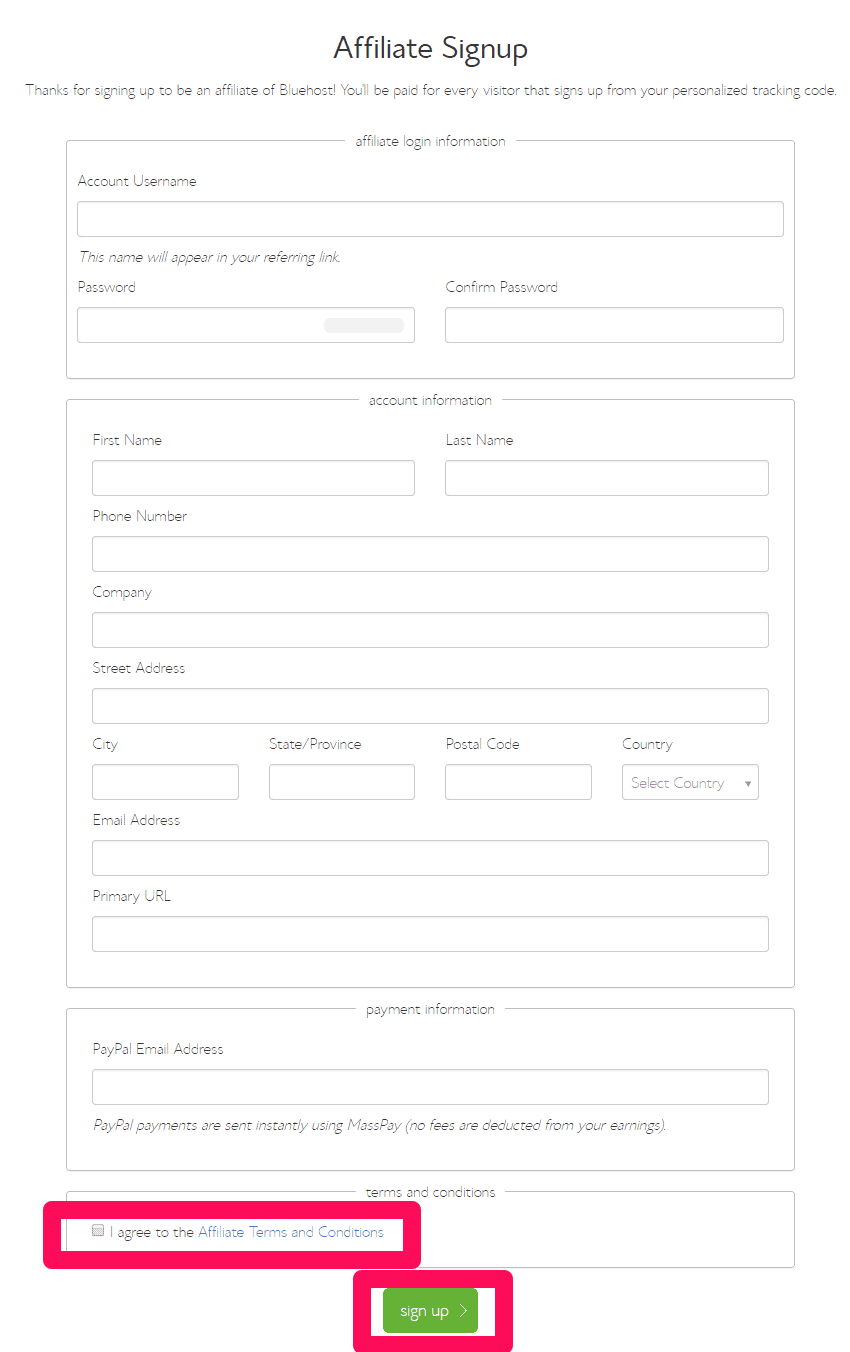 Step 3. Your application will now be under pending approval status. Bluehost Affiliate team will email you when your application is approved (or sometimes denied). Meanwhile, you will be redirected to the Dashboard where you can edit your tax information.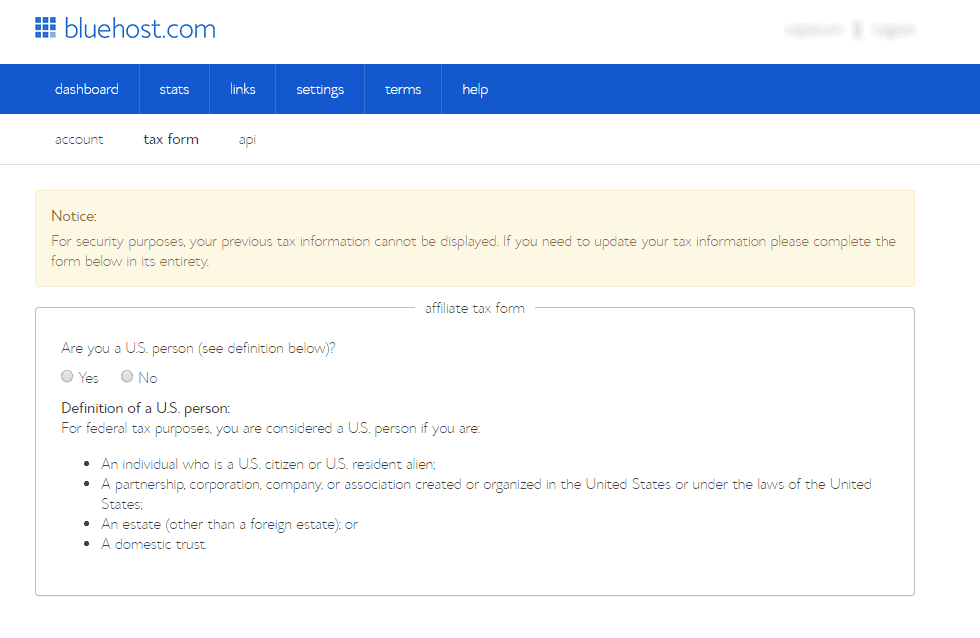 Bluehost commissions are subject to tax, whether you are based in the U.S or out of it. Click on the settings and from there, you can access the tax form to edit the information.
The Sign Up is free of cost and it takes about 24 hours to know the application status. If your website meets all the required criteria of the advertisers, your application is guaranteed to get approval.
7. Bluehost Sales Tracking System
Bluehost will give you a dedicated affiliate link when you join their program. This link is unique to each affiliate. You need to strategically place his link on your website or blog in the form of link or banners. Every time users click on this link, they are redirected to the Bluehost website.
Once the visitor purchases a product through your affiliate link, a sale is registered on your name. Through the efficient tracking system of Bluehost, you can see all the statistics of your sale including conversion rates, CTR, open rates and sources that lead to the sale on the Dashboard.
Once your application is approved, you can start choosing from their wide display of banner ads, text-links, and customized links. Each ad or link comes with a unique code. You will have to copy this code and paste on your website and voila! The ads will automatically start running where you paste the code. Similarly, you can also use the affiliate product links on your blogs.
Another perk of this affiliate program is 30 days cookie duration. It means even if a visitor buys a hosting plan within 30 days of clicking on your affiliate link, you still get paid. And if you manage to sell over 100+ products in a month, your commission per sale increases. The International transaction involves currency conversion fees and PayPal fees. Therefore, you don't receive the exact amount you earn. You will need to check this in your panel.
8. Promoting The Products
There are multiple ways to promote the services and products of the Bluehost.com Products . One of the easiest of them is to place their banners and links on your website in a location from where it can be viewed easily. You can also share the affiliate links on various social media forums. Bluehost lets you customise the banner ads to go with the theme of your blog. You can also select from their massive collection of custom links and banner ads to display on your website.
Many marketers offer a free service like building a website for free if you buy the products from their site. This tactic has proven immensely successful for them. But before you use it, make sure you read the terms and conditions of Bluehost affiliate program.
The other popular ways of promotion are;
Write Reviews

Write a detailed, well-researched and most importantly, honest review of the hosting you are promoting. Don't write fluff, make sure the information you are providing is authentic. The review should focus on how the product can add value to the customer. Make it error-free and plagiarism-proof.

This is no PhD thesis, so, keep the language as simple as possible. Break down the long sentences into short. Your reviews can help the prospective buyers pick the right product. If they know what they are buying and why, they will come back to your website for their upcoming purchases too.

Discount Coupons

Bluehost will email you updated offers as and when they are released for any products. Alternatively, you can check out what discounts other Bluehost affiliate blogs are offering. You can even set Google alert to never miss an update. Place the offer in your blog post, share it on your social media pages and observe how dramatically your sales increase.

Seasonal Promotion

On Black Friday and Cyber Monday Sale, Bluehost offers some exciting deals on their hosting packages. You can promote these offers by writing an exclusive article to draw attention.

Hosting Comparison Site

You can also create a hosting comparison site with genuine reviews of various hosting companies. Compare and contrast their packages, offers and general features side by side. Thus, you can help the users choose the best web hosting for their online venture.

Hosting Tutorial

Through Bluehost hosting tutorials, you not only educate the beginners on how this process works but also double your chances of getting a massive boost in the conversions.

Facebook Ads and Google AdWords

Paid Facebook Ads are a tool to spread the word among millions of users with just a few clicks of a button. Many successful affiliate marketers are making millions by promoting their affiliate links via Facebook ads but be sure to check which is the correct way to do this. Doing it wrong may lead to your website getting banned.

Google AdWords promotion is comparatively more complicated and requires keyword research. Plus, it is costlier too. But if done correctly, your effort will definitely pay off. Since you will be able to target the right audience, your ROI is bound to skyrocket.
The Bottom Line
There's no such thing in the world called quick money, at least not in the dictionary of Affiliate marketing. Even the most skilled and seasoned marketers once failed to get any leads in their first few attempts. Chances are very high that you will face this struggle too.
Therefore, take your time to learn how this works, explore different ways to promoting your bluehost affiliate products and grow with each experience. It takes roughly 5 minutes to sign up for the Bluehost Affiliate program, it will take a bit longer than that to start earning money from it. But your hard work will eventually pay off.