Hi Everyone, hope our previous blog on How Much Traffic a Website Gets was useful. Now, let's take a look at the top blogging platforms for 2019. Let's begin!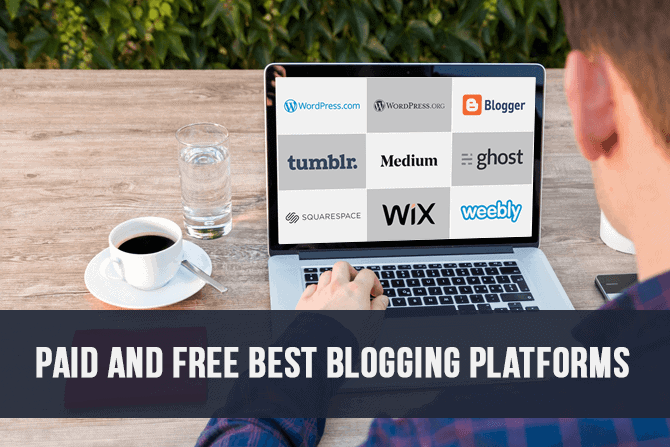 Once you have decided on starting a blog, you have to decide where you would like to showcase your blog. The blogging platform you choose has to match your needs, but should also be able to accommodate the kind of blog you would like to start.
To that effect, we are going to look at the best blogging platforms out there. Of the 9 we will talk about, some will come as no surprise such as WordPress which is extremely popular. We will discuss each of these platforms to know what they are, their pros and cons as well as what kind of blog they are best suited for. This way you will be able to pick a blogging platform that will not only showcase your content but also compliment your hard work and dedication.
Thanks to the hosting company BigRock and the wide range of BigRock coupon code, buying hosting & domain and setting up a website has become easier. All that remains is choosing the best blogging platform. Thus, we will first take a look at WordPress.org, followed by WordPress.com, next in line will be Blogger, then Tumblr, Medium, followed by Ghost, then Squarespace, Wix and finally Weebly.
So, let's get started!
A. Things To Consider When Selecting a Blogging Platform
Just like when buying a web hosting, checking out different web hosting providers and reading comparison reviews like these – BigRock vs GoDaddy and BigRock vs HostGator India – is important.
Likewise, while all of the best platforms for blogging excel in one way or another and they are all very good for their designated market, when selecting a blogging platform, you have to consider a few issues. These being; price, design possibilities, mobile-friendliness, ease of use, and hosting concerns.
1. Price: Price is a very important concern. When you start blogging, the potential to make money is always there, however you have to consider how much money you are putting in. Your needs for the blog will determine how much you are willing to invest in it, and the software to support it. Prices for the blog include software prices, hosting services as well as domain registration. Depending on which platform you choose you may be able to forgo some of these expenses.
2. Design Possibilities: When you start a blog you may have an idea of what you want the blog to look like, and what you want to be able to do with the blog. This means that you may require specific capabilities in the platform, so as to give your blog the look and feel you envision. Even with the most popular blogging platforms, there are functions that one may have but others not. WordPress.com does not use plugins for example, while WordPress.org does. Some blogging platforms have templates and themes for you to use, while others are simple in their blogging presentation or function as micro-blogs.
3. Mobile Friendliness: Mobile devices are quickly overtaking desktop computers. Mobile devices are getting more and more powerful. We are now able to do more with our mobile phones than we could with desktop computers. As such, many people read blogs on-the-go. In choosing a platform to support your blog you need to consider whether or not your blog will be viewable on all mobile devices, as a mobile-friendly website is a key requirement to boost your ranking on Google.
4. Ease of Use: Most of us start blogging as complete novices. Using a platform that is bulky and difficult to use can make the process of becoming a blogger unnecessarily difficult. This is why you should consider finding a good blogging platform that is easy to use so you can focus all your attention on creating excellent content.
5. Hosting: To get your blog online you have to have some sort of hosting. Many platforms have hosting included in their packages. Hosting also includes concerns around choosing a domain name for your blog. Will your blog be OK, using a sub-domain? Do you need specific features for your hosting? How much support do you need while setting up your blog? These are some of the questions to consider when you choose a platform.
Once you have selected a blogging platform, the next step is choosing a reliable web hosting provider. In this matter, Bigrock is the #1 choice. Why? Well, read this honest BigRock review to find out. However, the few notable benefits that you can avail, on selecting Bigrock for your hosting needs are; a wide range of hosting packages at affordable rates, 24/7 customer support, 99% uptime, unlimited storage, space and bandwidth, an intuitive cPanel and best of all BigRock coupon and BigRock domain coupons that provide you with additional discounts on your first purchase.
Now that we know some concerns and questions to ask ourselves when we choosing from the most popular blog platforms, let's take a look at the best blogging websites comparison.
B. Best Blogging Sites Comparison
If you are going to discuss blogging platforms, then you must discuss the most popular, and one of the most used platforms out there. If you have been on the internet at any point in the past week then there is a huge chance you have been on a site supported by WordPress. It is so popular that some say over 29% of the websites out there are run and maintained using WordPress. This popularity is one they have earned.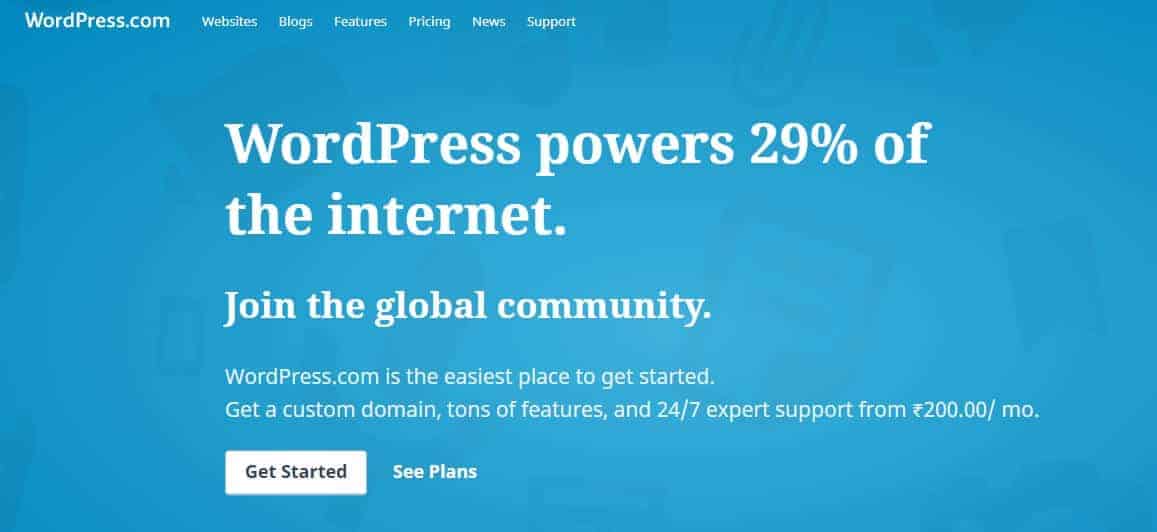 There are two platforms available for WordPress: WordPress.com and WordPress.org. Both run basically on the same software but there are differences. WordPress.com is fully online while WordPress.org is a downloadable software pack. Both have their pros and cons. We will first look at WordPress.com. Also, here is the WordPress Hosting in India that you can check out.
WordPress.com is fully online and is a fully free blogging platform. However, to use premium features you will have to pay for a premium WordPress.com package that starts at ₹200/ per month. It also comes with templates and themes for you to use. You will have the possibility of customizing some features, but this is limited. Most themes and templates on WordPress are responsive to the device they are viewed on and as such, can be viewed perfectly well on mobile as well as desktop computers.
Setting up your WordPress.com blog will take about 5 minutes and you are guided through the process. Most of the themes are drag and drop and the learning curve is easy to adjust to. Plus there is a huge community support to help you should you need it. WordPress will host your blog. They will even give you a sub-domain, however, this comes with its own pros and cons. You can purchase a domain when you upgrade to premium.
WordPress.com is best for professional and hobby bloggers and for those testing out the blogging waters and want to invest the minimum.
Blogger is a simple old-fashioned blogging platform. Many bloggers probably started off with bloggers and then as they developed, moved on. It is one of the oldest and easiest blogging platforms out there. You will have Google to thank for all the heavy lifting and all you need is a Gmail account.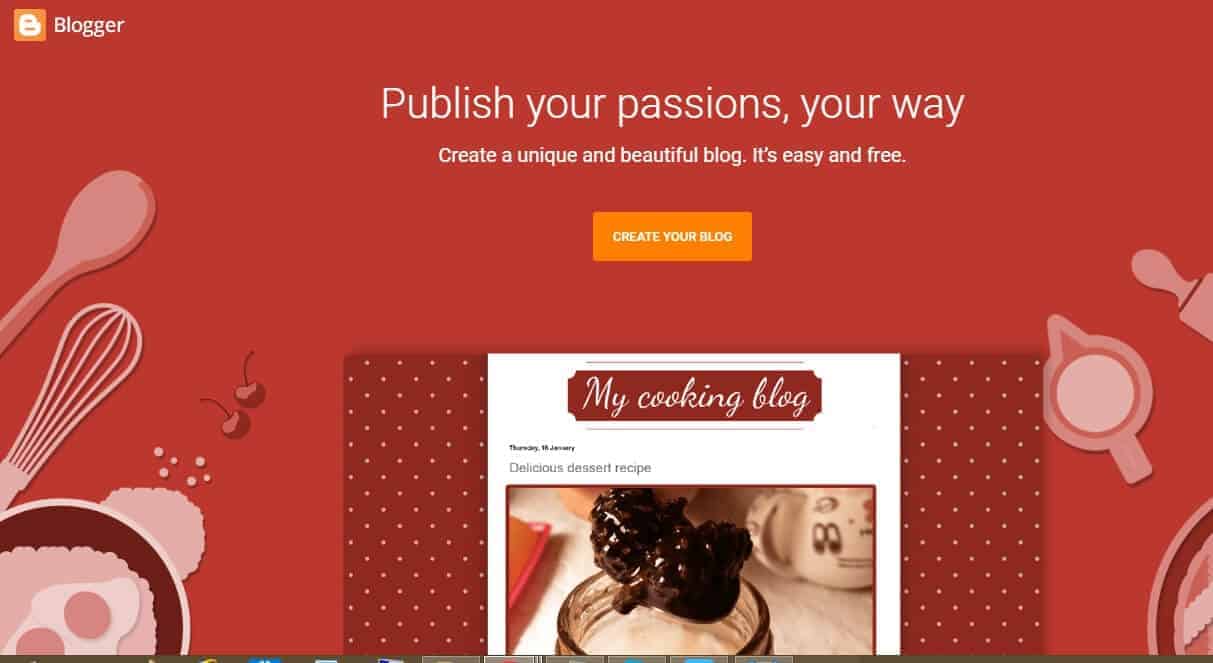 The best part, it's a free blogging site and technically comes with your Gmail account should you choose to use it. This platform does not come with the design capabilities of WordPress and instead offers a standard layout wherein you can write content and use the sidebar.
Blogger is a super easy blogging platform and requires very little skills to set up. As Blogger is run by Google, it is also hosted by them. You will get a sub-domain. But, if you want a domain of your own you can add that on, after purchasing it. This popular blog site is best suited for personal and hobby bloggers.
This is a platform for stories, blog posts and articles. It has steadily grown in popularity with over a million users. It has aspects of the community, as it includes writers, and bloggers sharing their stories.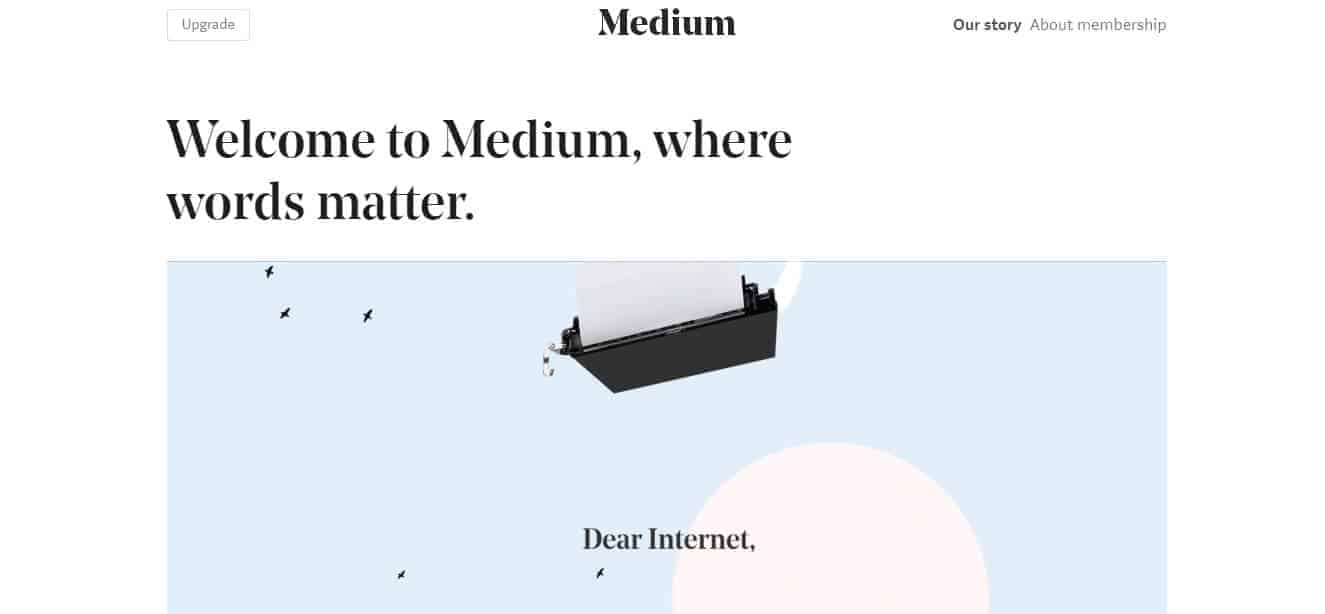 Medium is another free blogging site and uses a uniform design for all of its users. The medium will host you and they will let you publish under your name. They do allow for personal domains, however, this is tacked to a story and not your profile. Other than how to sign up, you need no other skills only the content you want to use. Medium is great for writers looking to build their brand and for company blogs & hobby blogs.
Looking for an all-in-one website builder? Then this is the option for you. Squarespace is a great website building solution. You can use it for multiple purposes, everything from blogging to selling your wares. However, it is not free and as a subscription fee of $8 to $24.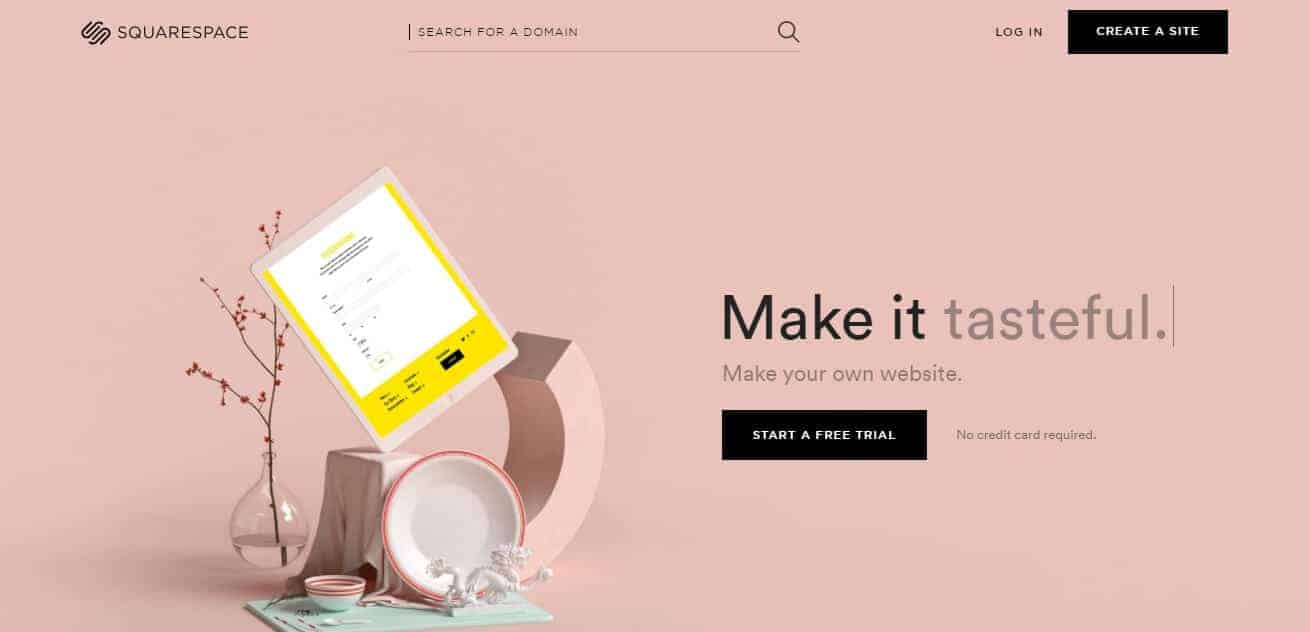 Squarespace prides itself on being on par with the cutting edge trends in design. As such, they have many designs available for you to use. Squarespace is super easy to use. It is user-friendly and highly intuitive. It is designed to give you the best possible experience whether you are a novice or long in the tooth. Hosting is included with your package and you can get a custom domain when you subscribe.
Squarespace is best for those looking for a professional blog and website. For creatives looking to show off their work. For restaurants and café's who want to publish blogs. And for novice users who want to build and create their blogs from scratch
This is another popular blog website almost like WordPress that has a lot of focus on website building but has blogging functionalities integrated. Like WordPress, this is also one of the free blogging sites.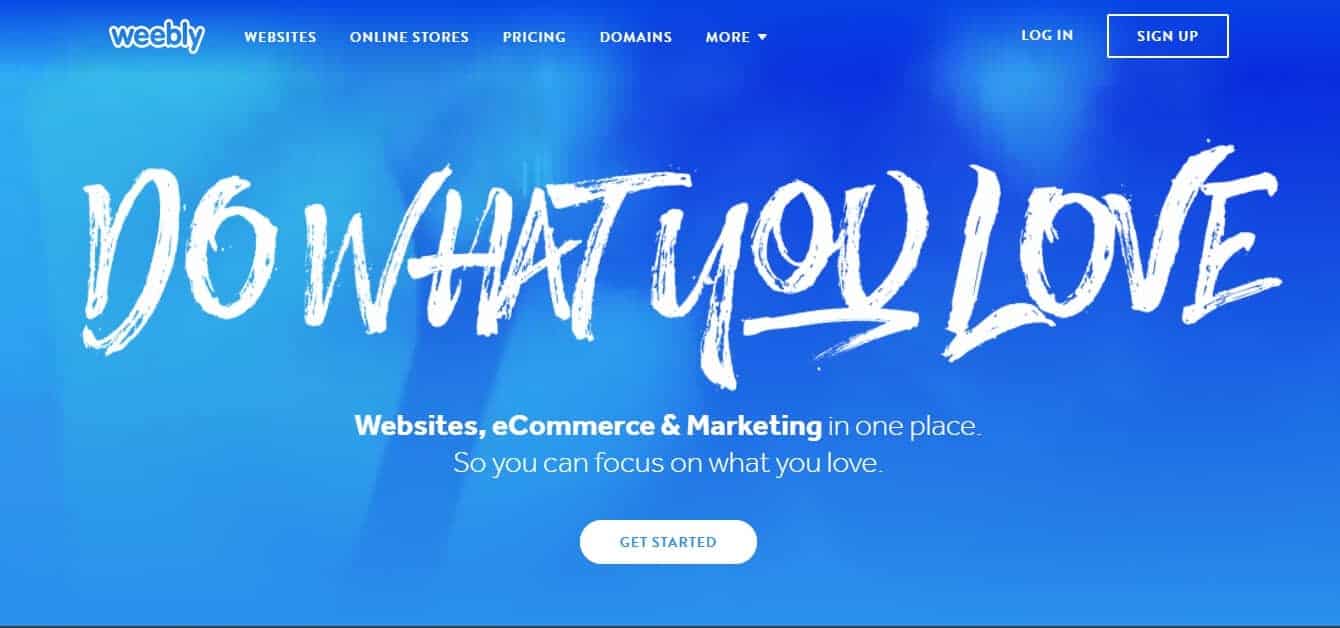 This platform uses a drag and drops feature so it is very easy to get your blog up and running. You also have access to responsive and beautiful themes, which you can customize to a point. Plus, hosting is included when you sign up for an account. Weebly is a good choice for personal and hobby bloggers.