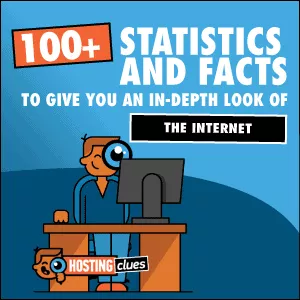 The internet is the backbone for modern-day civilization, which is growing at a rapid scale.
As such, if you are invested in the internet, then you must gain insights into the current trends that are happening on the market.
Having a quantitative idea with access to real statistics and figures will help you make a sound objective business decision.
Therefore, we have put together a comprehensive list of some of the most fascinating internet statistics and facts about the internet.
So without further ado, let's get started.
Want to share this on your site? Just copy the code below!
2. Statistics on Mobile Internet Users
4. Statistics on Web Hosting
6. Statistics on Internet Advertising Trends
8. Statistics on eCommerce
10. Statistics on Cyber Security