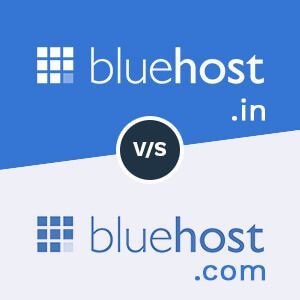 Hi There, hope you all enjoyed our previous blog post on Bluehost vs Godaddy. Writing along similar lines, today we'll take a look at Bluehost India vs Bluehost.com. So let's begin!
It is no secret that many bloggers, webmasters, and internet marketers prefer to use Bluehost's web hosting services to other web hosting companies in the world.
And rightly so!
Bluehost is one of the best company that boasts of excellent services at amazing prices, offers "Bluehost coupon" for a discount on hosting services and has a global as well as an Indian hosting version. i.e. Bluehost India or Bluehost .com. To know more about why it is the best, read this comprehensive Bluehost Review.
Now, if you reside in India, you might become confused about choosing one of these hosting options i.e. Bluehost India or Bluehost .com. Since both hosting options offer great services, making a choice can be difficult for Indian based users.
Bluehost India vs Bluehost.com – Why .Com Is Still The Best?
One of the most trusted hosting providers globally, Bluehost is the preferred choice for bloggers and website owners alike. It offers ample of features and add-ons with all hosting packages. It offers superior website security, excellent backup, and fastest servers. The best part, it offers a free domain for 1 year with all new Bluehost sign-ups. Thus, it is a top hosting provider that you can trust. For the Indian user, Bluehost has a dedicated Bluehost India hosting. However, how does it compare to its U.S. counterpart? This Bluehost India vs Bluehost.com review will help you find out!
Best Bluehost Offers of the Day!
General Overview – Bluehost India Vs. Bluehost.com
Bluehost is one of the best companies that offer exceptional services at a pocket-friendly price. Endurance International Group (EIG) owns it along with other web hosting companies in the world including Arvixe, HostGator, JustHost, iPage and ResellerClub.
In 1996, Matt Heaton founded Bluehost, FastDomain, and HostMonster and was CEO of Bluehost from 1996 – 2011. However, it was in 2010 that EIG acquired Bluehost amidst much controversy.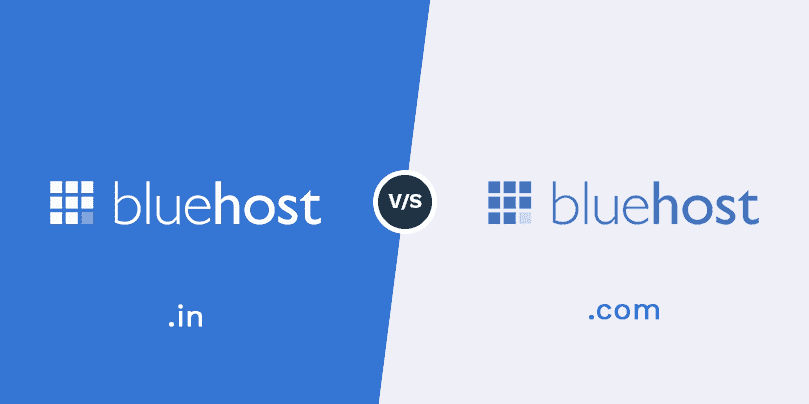 Bluehost.com is Bluehost's global version is known as Bluehost.com that offers hosting services to more than 2 million websites in the world. This ranks Bluehost as one of the world's top hosting companies. I started my first blog with Bluehost.com and it was great. It offers shared hosting, VPS, WordPress hosting and Dedicated servers.
The shared hosting package it offers is perfect for new bloggers and it has maintained it's quality and consistency level over the years. Additionally, it boasts of top-class technical support, comprehensive hosting features along with affordable prices.
The Indian based Endurance International Group (EIG) owns Bluehost India. Bluehost India is a dedicated version of Bluehost for Indian users but with a different domain extension.
This enables Indian users to choose between the Indian version and the global version (only if they have a means of making international payment). Hosting and domain packages are sold on Bluehost India through the ResellerClub, which EIG acquired in 2014.
What led to the bifurcation of Bluehost into Bluehost.com and Bluehost India?
The global version of Bluehost uses the standard international payment method of PayPal and Credit Cards. This was a problem for Indian bloggers and website professionals who could not purchase it because they did not have the means to. Therefore, to give them the option of purchasing with a localized payment method, the company decided to establish Bluehost India.
However, both the global as well as the Indian version has a standard dashboard (cPanel). Plus, since Bluehost India uses the same developer as Bluehost.com, users have the option to switch to either, if they want to. Thus, making the management of Bluehost India hosting convenient for anyone. Here is how you can buy hosting plan from Bluehost..
With a good knowledge of how these two web-hosting options came to be, we can now dive further into how they compare to each other. I will examine what both of them offer in terms of features, prices, customer support and other criteria, in order to conclude which is the best web hosting India.
So without much further ado, let us begin.
#1. Bluehost India vs. Bluehost.com Hosting services
Bluehost.com offers great services for all kinds of customers, from the individual with a small budget to the business owners. The hosting services it provides include Shared Web Hosting, VPS Hosting, Domain Names, Optimized Hosting, Dedicated Hosting and Pro Web Hosting. These hosting services are affordable, reliable and provide good support.
Bluehost India provides the best services in India which includes hosting solutions such as Windows hosting, Cloud hosting, WordPress hosting, VPS Hosting, Linux hosting, Dedicated Hosting, Windows Reseller Hosting and Linux Reseller Hosting.
#3. Bluehost India vs Bluehost.com Pricing
The services Bluehost global version offer is a little bit more expensive than some other hosting company's services. However, the pricing depends on the plan you opt for. The three shared hosting plans, Basic, Plus and Pro start at Rs.233, Rs.397 and Rs.931 per month. For the level of performance and quality, they offer, these prices are great.
Bluehost India Windows shared hosting plan starts at Rs.289 per month for the Standard package. The Business package sells for Rs.329 per month and the Pro package goes for Rs.469 for its ability to host an unlimited number of domains.
The Linux shared hosting plans sell for Rs.419, Rs.519 and Rs.679 per month for Standard, Business, and Pro packages respectively. The packages for WordPress's shared hosting plan have the same price per month as the packages on Linux.
Linux Web Hosting
Windows Web Hosting
#5. Bluehost India & Bluehost.com Uptime Guarantee
This is a category in which both options measure up to one another. They both offer their customer a guaranteed uptime of 99.9%. This is impressive in the world of web hosting. Most web hosting companies that can offer this much-guaranteed uptime have prices that are more expensive. Therefore, when it comes to uptime, you have no problem if you opt for either of them.
#7. Bluehost India & Bluehost.com Server and backups
Bluehost.com servers have good optimization, which is the reason why it is recommended on the official resource page of WordPress. One of the benefits of choosing Bluehost.com is that it offers daily, weekly, and monthly backup of its customer's account.
This keeps your mind at rest knowing that when things go south, you will be able to easily restore your site to an initial condition. This beats the idea of restarting your website's content, design, and development from scratch.
With Bluehost India, you have the option of choosing a server location of India or the US. This means you can use Bluehost India and a US server with it, which makes it the highest-rated company for providing the best WordPress hosting in India. Bluehost servers have the best hardware to guard your website data and files. This makes it possible for it to do regular backups on its backup hard disk relieving you of the worry of losing data.
#9. Customer help and support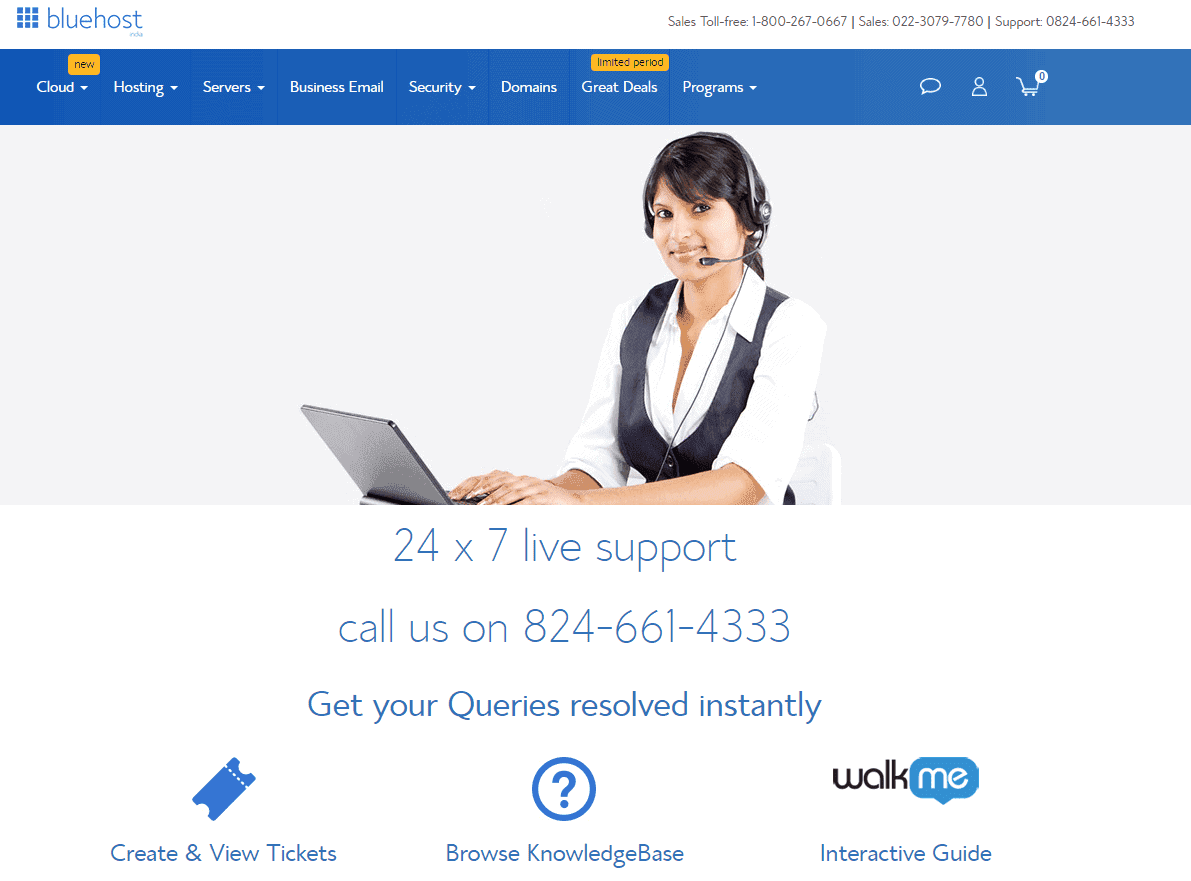 Bluehost.com has been a part of the market long enough to understand the importance of good customer service. It provides different types of efficient media to reach its extensive knowledgeable support personnel 24×7 via Phone, Live chat, Email, Telephone and online forums.
Unlike other web hosting companies, Bluehost.com also has a resolution time of five to thirty minutes. To give you an example, a client of mine once had an issue with his website, I contacted its customer support and the problem was resolved within minutes.
The Indian version of Bluehost.com also offers as much quality when it comes to customer service. It provides 24×7-customer support via Live Chat, Email, Phone and ticket-based options. Its fully well trained technical support staff will resolve your queries in no time. Although, its response time isn't as consistent and fast as Bluehost.com