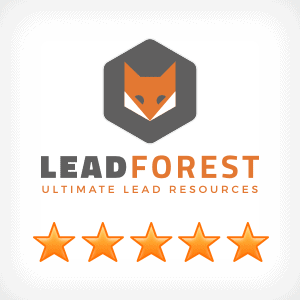 Hi There, did you check out our previous post on Common SEO mistakes? No? Then take a look now and learn how to optimise your website the right way.
Today, however, we'll check out a new landing page design agency in this comprehensive review. So let's get started!
While there is no dearth of theme shops in the online world, navigating through each one of them to find the right template for your business can be a challenging task. Each one boasts of offering you the best themes and templates that, too, at an exceptional price. However, if you can't zero it down to which is the ideal landing page design agency for your business, then fret not, as we'll help you make an informed choice with this LeadForest review.
This landing page design agency has really caught our interest with its wide variety of brilliantly designed landing page themes. LeadForest is a startup offering you well-designed, highly-intuitive, efficiently coded, SEO-ready and responsive HTML landing page templates.
In this LeadForest review, we'll take a look at what this theme design agency has on offer, their pricing structure, the services they provide, the feature you get with their landing page templates and other services.
So let's begin!
#1. Introduction to LeadForest
Started by a group of experienced and professional designers and developers, LeadForest is a landing page design agency that offers you latest, eye-catching and premium quality lead generating HTML landing pages at a cost-effective price range.
The landing page templates designed by them are unique, creative and multi-purpose and as such, they can be used by any business owner or professional to start a blog or a website.
At the time of writing this review, LeadForest had an assortment of 50+ landing page templates in their library that covered different niches like Education, Finance, Home Services, Hotels, Travel & Tourism, Insurance, Web Design, Single Products and Transportation.

#2. LeadForest Landing Page Theme Features
LeadForest landing page templates come packed with amazing features and are highly customizable, which makes it easier for anyone to effectively set up a website in no time.
They offer a collection of lightweight, intuitive, well-coded and easy to use landing page themes that are optimized for speed. Plus, their impressive design ensures that you are able to display your products and services in a visually appealing and elegant style.
Boasting of a clean, minimal and fresh layout, all LeadForest landing page designs have a standard set of features and to give you a glimpse, here is a list of some of the main features include in each theme:
User-Friendly Interface: All LeadForest landing page designs have a well-organized and user-friendly interface (UI) which ensures seamless navigation from one page to another, resulting in effective user interaction leading to better conversion.
Responsive Design: All LeadForest themes have responsive designs, which means that they automatically adapt to all screen sizes and look great on all mobile devices.
Pixel Perfect Design : All templates are designed to be pixel perfect, in order to provide a positive user experience to users across all platforms.
SEO-friendly: These themes are also SEO-friendly which will help you improve your site's function as well as performance and help you garner more organic traffic from search engines.
W3C Markup Validated: This indicates that the landing pages are designed using clean codes, which is in compliance with the guidelines set by the World Wide Web Consortium (W3C).
Translation Ready: These templates are also Translation ready, which means you can build a website or a blog in any language that you want.
Cross-browser Compatible: To ensure a smooth and intuitive user navigation, these themes are rigorously tested and are highly compatible across all major browsers.
One Click Installation: To make the process of setting up a website faster and easier, all these landing pages come with 1-click installation option.
The above features are common to all themes, however, the LeadForest team has also ensured that each theme support other important and unique features related to their niches, in order to provide you with a complete package that will suit your business needs.
#3. LeadForest Pricing Structure
As an introductory offer, LeadForest has cut-down its landing page pricing to as low as $24/ per landing page. Thus, to get exceptional value for money, head to LeadForest now and purchase a stunning template for your business right away!
Single Landing Page: This starter plan allows you access to a single landing page at a relatively low cost of $24. With this plan, you get unlimited Commercial usage facility and unlimited downloads as well as complete access to HTML and PSD files. You also get detailed documentation of the landing page that you have purchased, which you can use to build multiple websites.
Yearly Membership Plan: This plan costs you $199 and offers you the same features that are available with the starter plan, in addition to full access to all landing pages and new products for 1-year.
Lifetime Membership Plan: With the Lifetime Membership plan, you get access to the entire library of landing pages for lifetime usage. This plan is the most beneficial, since for a mere $349 you have 50+ templates at your disposal to use as you deem fit.
#4. Examples of LeadForest Landing Page Designs
LeadForest brings to you landing page designs across 9 categories. Each category offers you unique, well-structured and SEO & speed optimized templates that are versatile enough to build any website you want. Once you select a template, all you have to do is buy the best web hosting India and register a domain to get started.
Let's take a look at some of these impressive landing page designs.
Kids Education Landing Page: Clear and concise, this landing page has interactive design elements that will cater to all educational organizations and institutions. It is SEO powered and features user-friendly navigation along with simple form fields, a display section for courses and can be easily customized as per your needs.

Freight Services Landing Page: This responsive landing page is a perfect template to create a professional looking freight services website. It allows you to display all your services in the best light. It also has a short online contact form for quicker enquiries. Plus, you can easily incorporate videos, add testimonials, contacts and more without any hassle.

Hotel and Resort Landing Page: An ideal template for hotel and hospitality industry, this landing page features a cutting-edge design, has a vibrant look and is flexible enough to be customized as per your requirement. It provides you with an interactive online booking system. Its simple layout allows you to add beautiful visuals, property images and it has a blog section, testimonials, About Us section and more.

Plumbing Services Landing Page: To promote trust and to portray your business in an engaging manner, this ready-to-use template comes in a simple and clean design and has a well-structured layout. In the top section, you can add your company's logo, contact details, email address. There is also a high-converting contact form available for faster enquiries, a newsletter section, an attractive display service section and much more.

Solar Product Landing Page: Easy to use and install, this landing page theme is exclusively designed to Solar companies and provides you with a host of styling and visual options. Apart from the display carousel and lead capture form, there also an integrated newsletter form and testimonials section. Plus, it is packed with unique layouts that will help you customized it to suit your brand image.

#5. LeadForest Free Template Download

For those in want of highest quality themes to start their online business, LeadForest offers FREE Templates across different industries.

To avail, any of the template in their "FREE Template Download section" all you have to do is 'Sign Up' using one of the Social Logins. Once you are done, LeadForest will send you the download link for that theme via email.


#6. LeadForest Additional Features and Services

Mentioned below are some additional features and services that you can avail on the purchase of any landing page template from LeadForest.

Unlimited Usage: To ensure that you get your money's worth, LeadForest provides you with unlimited usage facility, which allows you to use your purchased landing page on multiple domains.
Detailed Documentation: LeadForest also offers you detailed documentation of each theme. This comprehensive guide will explain how to install, use and customize your landing page. Plus, it will help you deal with any errors that you may come across effectively.
Dedicated Support: Last but not the least, if you have any questions or if there is an issue with the product, you can reach the support team of LeadForest through email, chat or phone, and they will get back to you as soon as possible.
Though new to the landing page business, LeadForest is a really impressive theme design agency that offers you fresh, creative and innovatively designed landing pages that are optimized to faster load times and packed with amazing features that will help boost your online growth.
LeadForest provides you with a large collection of 50+ versatile themes across 9 categories for a price value of $24 each. This compared with the host features, dedicated support & services and access to FREE Templates makes it a truly wonderful online theme shop that you should definitely give it a try!
As always, if you are in need of a web hosting, then check out this Bluehost Review to know why Bluehost is the #1 hosting provider in the industry. Also, if you decide to go with Bluehost, then make sure to use these Bluehost Coupon to save money on your purchase!