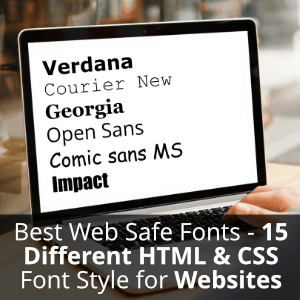 Web safe fonts are a new trend in web designing and content creation. In fact, according to Webinsation, 90% of web designing is about the image assets and the right font usage. Best web fonts work across many websites and apps as well. These fonts are also compatible with different browsers.
We all get bored with the same things, so change is important in life. This also applies to the web world. After creating a website, having the same look for your site for years can be boring. Thus, it's important to change the look of your website and what better way to enhance its look than changing the fonts.
Different font styles can engage visitors to the website. Best web fonts are not only dynamic but also creative. Earlier there were not many options available in CSS and HTML fonts, but there are many best font style options available today.
Which different font styles can you use for a website?
From the huge list of web safe fonts, picking the best web fonts for a website can be tricky. Thus, if you are a web designer looking for the best fonts for websites from the CSS font-family list and HTML font-family list, then here is the best fonts for websites that work seamlessly across all the Windows & Android platforms. Take a look!
What Does Web Safe Fonts Actually Mean?
Just like the best FTP clients & software for MAC & Windows, most web safe fonts are selected based on operating systems or devices.
Windows and Android-based platforms have grouped versions of fonts. Web safe fonts overlap across all the platforms giving uniformity. They are a small collection of fonts from Google to Windows and from MAC to Android. These fonts can be controlled across all the devices. So, you don't have to differentiate between CSS font-family list and HTML font-family list.
In short, best web safe fonts have a universal appeal and can be used anywhere. Most web designers rely on these kinds of fonts for designing a website.
If you are a web designer and are looking for affordable hosting & domain packages for your client, then read these few reviews – A2 Hosting review and Inmotion review – to make a well-informed decision
And Here Are 15 Best Web Safe HTML & CSS Fonts
1. Times New Roman
It is perhaps one of the best font for websites across the globe. As the font is simple and easy to use, most web designers stick to Times New Roman.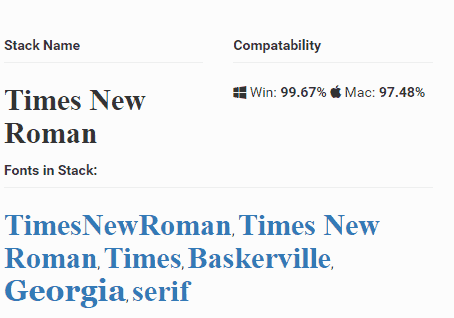 It is the best font for reading as it keeps the readers on the hook. In fact, if you look at the CSS font family list then this font is the most popular one. The font is well accepted on all the Windows devices as well. This actually is a new variation of the old Times font.
3. Courier New
As Courier New is quite similar to Times New Roman, it is used for designing most of the websites. Though it's not completely outdated still, this font generally gives a newspaper feel.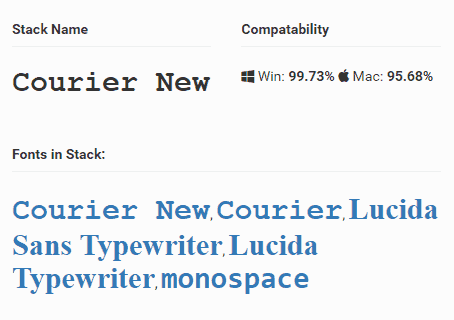 It's kind of a simple Monospace font that you can use for designing a website. If you like simple fonts, then this is the best font for reading. It's an old classic font from the HTML font family list.
5. Times
If you talk about traditional best English fonts, then this font scores high. Times is basically the most used font for newspaper and prints. It's one of the most recognized fonts in the world. From small headers to narrow columns, the font does make an impact.
Most of the best web designers & developers use this font to keep the website simple for reading purpose. Times Header and Times Body Copy are also best web fonts you can use for simple websites.
7. Palatino
It's a Sans-serif font from the CSS font family list. It is also a part of the humanist typeface family, which dates back to the Renaissance. Its the best font style for a website as its structure is pretty large.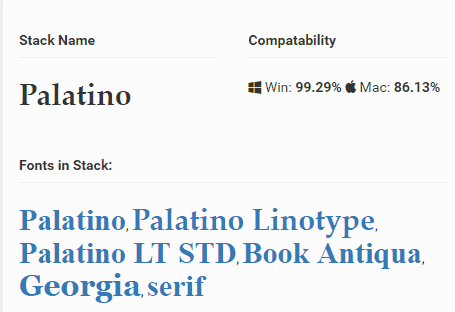 Most web developers use Palatino for titles and headings of a website. The best part about the font is it's available across all the platforms and devices for CSS & HTML. The font is indeed perfect for print style ads and web.
There are two more versions to this font – Palatino Header and Palatino Body Copy.
9. Garamond
Though Garamond is an old school font, it is still the best font for website and reading. In fact, this font dates back to the 16th century because of its structure. But, due to its simple style, it was revamped and introduced to the best font family for websites.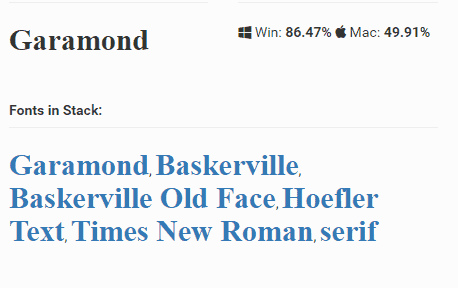 It was also bundled up on Windows and other platforms. The Garamond font is stylish and can be used if you want to add that extra element in your website. You can use Body Copy and Header Style in this font.
11. Bookman
Bookman belongs to the family of a Serif typeface. In fact, it is the best font style for CSS. Though it's a classic font style, its structure is different and bold. The design is simple but it's the best font for reading.
Its structure makes a great choice for a large chunk of passages on the website. Bookman Header or Old style is perfect for headline option. If you use the font in small size, there won't be any problem related to the readability of the font.
13. Arial Black
Arial Black is the bold version of the Arial font. It is indeed the best font style for the website. It's not only bolder in style but also bigger so you can expect complete clarity. It's similar to Helvetica and most people get confused between these different font styles.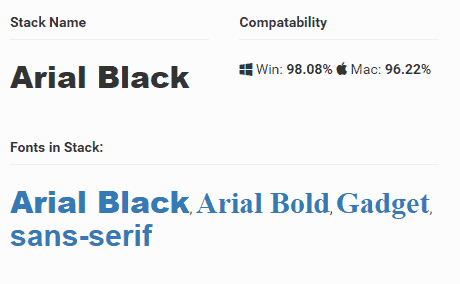 The font is simple to use. It's the most popular fonts in web safe fonts. Arial Black Header is generally used for headline or title of the website. Arial Black Body Copy can also be used as the best title font.
15. Chalkduster
Chalkduster is a stylish font that you can use for the website. It's a font that is similar to chalk on a blackboard. The best part about the font is it's detailed and its structure is bold.
This best font style for the website is suited for small text or paragraphs. It's the best font for reading as well. You can also use the font for titles and headers.