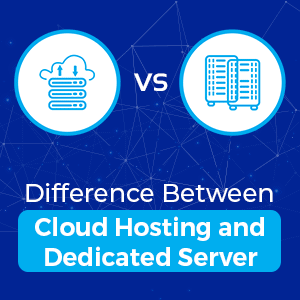 While creating a website is an important part of business, hosting a website on the right server plays an equally important role.
Every website needs a host that provides complete reliability and speed. Even a two-second difference in page response can cost a company loss of customers. Load time affects the website, and this implies the need for the best web hosting companies India.
There are many hosting options available, ranging from Shared hosting to VPS hosting to CMS hosting. Thus, for now, let's look at the pros and cons of Cloud hosting and Dedicated hosting.
Cloud Hosting vs Dedicated Server: Which is the Best Option?
Choosing between Cloud hosting and Dedicated hosting is a crucial decision that you need to make. Each has its pros and cons. However, which one is best suited for your website, would largely depend on your site's requirement and your budget. When it comes to price, Cloud hosting is more economical than Dedicate hosting. But, you can't make a decision based solely on the price. Thus, in this article, we will look at different web hosting features, which will help you to make a wise choice between the two i.e. Dedicated hosting and Cloud hosting.
1. Cloud Hosting vs Dedicated Server: Performance
Cloud hosting offers complete flexibility of resources as it uses a single server software update that supports different other servers. It also supports different databases and web applications.
Cloud hosting offers a unique plug and play option where small business websites can migrate to a better server performance with an integrated page-caching feature.
Dedicated hosting provides the best server response and resources that developers can custom install. It works with all major tools, so you can easily download third-party applications.
It also lets you integrate with different mobile applications and data-driven sites. The best part about Dedicated hosting is, it provides good speed for a new website.
As the dedicated server supports different frameworks, its performance is at par with Cloud hosting. Dedicated servers are a good option for sites with a constant surge in traffic, as it can be optimised to support high-level traffic.
Verdict: Both offer great performance, but Cloud hosting offer better features.
2. Dedicated Server vs Cloud Hosting: Management
While Cloud hosting provides competent management support, the customer does not have any control over the server. Managing Cloud hosting requires some salient features compared to a Dedicated server. Also, Cloud hosting deals with hundreds of different servers, unlike the Dedicated server that works on a single server.
Read here to know the many benefits of Managed Cloud hosting for your business.
With a Dedicated server, the user has full control over the server, so you can manage it according to your needs. But, for managing a Dedicated server, a user needs to have a knowledge of the server, which is important for efficient management.
Verdict: Dedicated server works on a single server, whereas a Cloud server works on many servers. So Dedicated servers offer better management.
3. Cloud Hosting or Dedicated Server: Reliability and Security
Multiple servers hold the web page request in the Cloud hosting, so even if the server gets down or collapse, another server can easily handle the web page request.
Cloud computing is more reliable because of multiple server support and also offers comprehensive security features.
Since a single server is used in a Dedicated server hosting, when there is a collapse or failure in the system, it collapses the data as well, which can bring down the whole system.
A Dedicated server offers great security support, which is the main reason why most people opt for it. Hackers can't attack the dedicated server as it is tough to breach. Plus, for the same configuration, Dedicated hosting offers better performance than Cloud hosting.
Verdict: In the Cloud vs the Dedicated server, Dedicated servers offer reliability and complete security support. However, the Cloud hosting offers good reliability for the system.
4. Cloud vs Dedicated Server: Customization and Integration
In the Cloud ecosystem, there is no option for customization. However, it does allow integration with other tools & applications.
Cloud computing also works on resource pooling; different virtual resources are assigned and reassigned depending on the demand from the customer.
Compared to Cloud hosting, Dedicated server hosting provides complete customization. But, unlike Cloud hosting, you'll have to pay extra for integrating on Dedicated server. Though, it provides easy integration with tools.
Verdict: Both provide great integration support, though Cloud hosting does not provide customization option as a Dedicated server.
5. Dedicated Server and Cloud Hosting: Scalability
With Cloud hosting, you'll be able to scale or change the resources depending on your needs. It can also be scaled according to space.
When you expand the storage in the cloud environment, it does not cause your site to go offline. Plus, changing the storage and resource options is not time-consuming.
In a Dedicated server, dedicated hardware is used. Dedicated hosting offers different scalability compared to Cloud server hosting. The number of DAS (distributed antenna system) or drive bays that are available on the server limits the physical hardware.
A Dedicated server adds a drive to an already open bay through the underlying logical volume manager. In this process, it also uses a RAID controller or an associated battery.
DAS arrays are difficult to hot-swap. Also, Dedicated servers take extra time to change the resources and processors without the maintenance downtime.
Websites that are hosted on a single server that require added processing capabilities, also require networking with a different server.
Verdict: Cloud server offers better scalability as the resources can be altered according to need.
6. Cloud Hosting vs Dedicated Server: Migration
Both the hosting servers offer seamless migration. With Cloud hosting, no set planning is required for migration. But, in Dedicated server hosting, full-scale planning is required for the migration process.
For seamless migration, the new solution should keep both the current and future growth in mind.
In most cases, new and old solutions are run concurrently until the new server is ready for response. Most people also maintain the older servers as a backup until the new solution is tested.
Verdict: Both offer simple migration, but Dedicated hosting requires special planning.
7. Dedicated Server or Cloud Hosting: Costing
If you compare the two, then Cloud hosting has a lower entry cost, while Dedicated server hosting is expensive. Dedicated servers can be upgraded based on use and need. Whereas, most Cloud hosting plans are billed on monthly basis.
Verdict: Cost generally depends on the plan you choose based on the features. A dedicated server may be costly compared to Cloud hosting servers.
In Cloud vs Dedicated server hosting, Cloud hosting offers more scalability of resources, whereas a Dedicated server offers better security and integration options. Which to pick between the two would largely depend on your needs. However, look for added features when you choose a Dedicated or Cloud Hosting to get your money's worth.