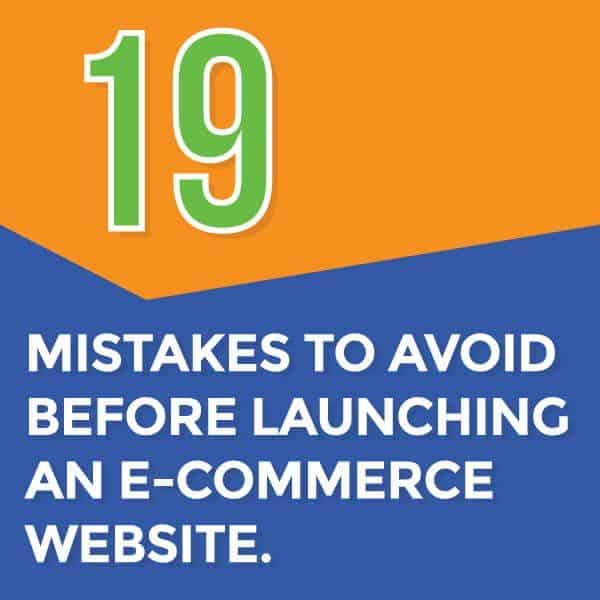 Do you own an eCommerce website?
Whether you own it, or you're planning to start one, this article is tailor-made for all the eCommerce enthusiasts!
It may seem easy to build an eCommerce website but, is it really that easy? Apart from choosing the best hosting provider India, you also need to pick the right platform, set-up payment getaways among others.
What if I tell you that building an eCommerce website is as difficult as difficult can get?
It sure is achievable, but it's not as easy as you believe.
People make the most common and minuscule mistakes while launching an eCommerce website. Reason being, they do not know they are mistakes until they suffer a major loss because of those mistakes.
What eCommerce Mistakes To Avoid Before Launching a Website?
The online eCommerce marketplace is huge, and the competition is quite fierce. If you want to make in-roads into a particular niche, then you need to do in-depth research before embarking on an eCommerce venture. Likewise, when creating an online store, you need to steer clear from common eCommerce mistakes that could affect its future growth. Just like our how to start a blog checklist, here is a list of eCommerce launching mistakes to avoid that could help you save a lot of time, effort, and money in the long run.
Make sure that you read this infographic and the article to get the most out of it. Let's dive in and understand the 19 most common mistakes eCommerce website owners make.

Quick Overview Of What Is Covered In The Article Below:
Below is the extended version of the above infographic which tells you how to avoid these mistakes, and even tells you how to rectify them if you've made them! So, dive in!
Mistake #1: Long, Confusing Domain Name
Many times people do not realize that their domain name is very long. Long domain names are difficult to remember and spell.
For instance; if it weren't for Google, none of the HIMYM fans could ever spell Robin Scherbatsky! But, because of the Google prompts all we had to do was select the name.
Sure, the same will apply to your website. But, tell me honestly, do you believe that your website will rank on the first page of Google, for all your keywords, at all times? It's probably not possible.
For that, you need to do a lot of SEO and have to be one of the best eCommerce websites.
It's not possible for everyone to rank on the first page of Google, and thus, you need to get a domain name that is easy to remember and recall whenever required.
Now, if you already have a domain name which is long and can be easily forgotten, then what you can do is – create a story around your domain name. This story will help your customers to remember your domain name and if the story catches the attention of the public, then be ready to go viral.
For domain and hosting, check out eCommerce hosting in India.
Mistake #3: Lack Of Research
Research is the first and most essential step of starting up any venture. Be it online or offline, research is vital. Many young entrepreneurs ignore this fact and in the excitement start a venture without any research.
But, you may be wondering; What is this research? What am I supposed to research about?
Before launching your eCommerce venture, you need to research in depth about the eCommerce market. You need to understand the minute details that can help your business rise, or pull your business down. You need to devise plans to avoid drawbacks. You need to be prepared to shine, no matter how hard it rains!
Started your business without any research?
Since your boat has already sailed, you may as well start rowing! This means you can research now even when your business has already been launched.
Researching will help you increase the sales on your eCommerce site and also help you find new marketing strategies!
Mistake #5: No Proper About Us Page
A lot of people underestimate the content of their About Us page. Yes, you're not alone. You may not know, but your About Us page has the potential to sell!
Don't believe me?
Go take a look at your analytics report, you will find that your About Us page is either the second most visited page or among the top 3 pages!
Yes, that's how important the About Us page is!
Here's what you can include in your about us page-

So, does your website's about us page meet these guidelines?
No? Well, then now is the time to revamp the about us page!
Mistake #7: Limited Budget / Insufficient Budget
Building an eCommerce website isn't a piece of cake. You will need investment, a lot of it.
Many people fail to understand that finance is the backbone of any venture, however, small or large it may be. Thinking about starting a business without any capital is not a wise thought, to begin with.
You need money for things such as, building your website, making a logo, and most importantly you need money to advertise your website.
Sure, you can push your website to rank high on search engine pages through SEO, but that takes time and effort. Advertising is the only way to bring your website into the limelight as soon as it's launched. As we all know, advertising needs money and a lot of it!
If you've started a venture without adequate funds, and need some now, you can look out for investors. Since your business is already running, there will be a lot of them interested in investing in your business.
Mistake #9 : Not Serving Customer Interest
An eCommerce website owner should never ever overlook one thing-
Customer's interest!
Whether you have an eCommerce website or a retail outlet, you need to realize that customer is king. You need to make your website in the favour of your customer and nobody else.
Everything you put on your website, including your products, should be what your customers want and need.
If you do not satisfy your customer, somebody else will!
Thus, your primary focus should be to serve your customers wants and their needs. Everything on your website should add value to the lives of your customers.
You need to think about customer service before your first order and not afterwards.
Though, if you have already started your eCommerce business, all you need to do now is start focusing on your customers and their interests.
Mistake #11: Running A Contest Without A Plan
Running a contest is another way of marketing the products, and it's quite effective!
Running a contest is easy. With your product as a prize, you can market it as well as gain a lot of social media followers. More the number of followers, more the sales.
Since you have an eCommerce website, you need to understand that your social media likes are based on how engaging / promising your website is
You can make your eCommerce website promising enough by providing a variety of unique products with good quality. If you fail to entertain your followers, then they will simply unfollow you and the entire idea of running a contest will be done for.
So, before running any marketing strategy, make sure that you have enough data to entertain your followers.
Mistake #13: Ignoring Influence Marketing
You probably have no idea how fast influence marketing is growing as a marketing strategy. Here's what you need to know about influence marketing.
Influence marketing is hiring a person, a brand, or a company with many followers, to market your product/service.
Now, you may be wondering how does this work?
Well, it works like this;
A brand hires a popular blogger with a lot of followers. This blogger uses the brand's product and starts promoting the product on her social media profile. She may compliment the product, ask the followers to try it, or give it as a giveaway. Whichever way, the blogger makes sure that the brand's product gets the necessary limelight through her blog. When the blogger's followers see her using a particular product, they may go ahead and try it. This is purely out of loyalty the blogger has earned from her followers.
Sounds complicated? It's not. All you as a brand have to do is, contact the blogger and take things forward!
Afraid that your eCommerce website might be too old to use influence marketing? Well, don't be. Even the oldest brands today are using influence marketing on a large scale. You should go for it!
Mistake #15: Not Thinking Through The Shipping Costs
Running an eCommerce website means you will have to have a strong product delivery network. Before launching an eCommerce website, you must get this delivery network sorted. You need to ask the delivery guy questions like;
Once all of this is sorted, you can then get a clear idea of how much would the shipping expenses cost you. This will help you charge the customers appropriately.
Mistake #17: Loading Speed
A slow loading website is a big turn off!
You hate it. I hate it. Your customers hate it too.
E-commerce websites can be quite heavy with files to load, as there are a lot of modules and features to display.
Your website should load within 3 seconds max. Moreover, research says that if a visitor doesn't see any text on your website within 1 second. It's very likely that they will leave your website.
Being an eCommerce website, if your visitors leave before your website loads, you're losing an opportunity to impress them with your products.
That's a huge opportunity lost!
So, to avoid that, you need to optimize your website to speed up the loading time of your eCommerce website.
Mistake #19: Choosing The Wrong E-commerce Platform
The biggest mistake people make is not realizing that eCommerce platforms too affect the SEO of a website. You may not know, but different eCommerce platforms have different SEO ratings.
I'm not saying you have to select the one with the highest SEO rating, but you need to consider the ones with the top ratings and choose the one which well matches your needs.
All you've to do now is to choose wisely!
Similarly, you need to select the right hosting for your eCommerce website. Bluehost can help you with that. (Read this Bluehost review to know how)
You can call up the Bluehost customer service at any time and look for a hosting that matches your need well. Once you have a hosting plan in place, you can come back to /bluehost-coupons/, select the appropriate coupon and purchase the hosting at a discounted price!