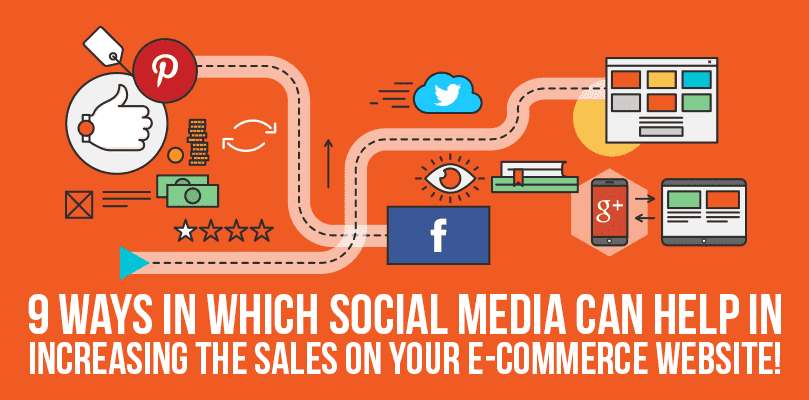 Yes, you read the title right.
Social media is one of the major reasons for the advancing rise of the eCommerce market today.
How about we talk a bit about the eCommerce market?
I'm going to start by asking you- Did you see a lot of eCommerce websites/businesses a year back?
Probably yes!
How about 5 years back? A little less, correct?
Let's jump back two decades
How many eCommerce websites do you think existed two decades back? Start counting, your fingers will be enough!
The start of e-commerce dates back to the year 1971/1972 when ARPANET was used to arrange a sale between students at the Stanford Artificial Intelligence Laboratory and the Massachusetts Institute of Technology. This event was later described as "the seminal act of e-commerce" in John Markoff's book – What the Dormouse Said.
Since then, the eCommerce market has picked up the pace and risen up from nothing to everything!
The question here is;
What sparked the rise of the eCommerce business in the past two decades?
Apart from the availability of cost-effective best hosting provider in India, there are many valid reasons for the rise of eCommerce, such as, ease of shopping, better and multiple options, home delivery and more.
But, nothing has helped e-commerce rise in the past few years, as much as these social media strategies!
What is it about Social Media that helped the eCommerce market to rise?
It's the ability to connect and share in a matter of seconds.
It takes about 10 seconds to search a name on Facebook and send them a friend request. 5 seconds to click on an account on Instagram and follow it. 2 seconds to pin an image you like on Pinterest.
And hey,
The speed remains the same, whether you are sitting in Australia and following an account based out of India, or sitting in New York and following an account based out of London.
The speed with which people share things on social media is crazy!
Here's a great example;
Take the blue and black/white and gold dress controversy.
That was the day when the entire Twitter community was divided into two groups- one which thought the dress was blue and black, and the other which thought the dress was white and gold.
Just FYI, I could only see the dress as blue and black!
So, wouldn't social media platforms be THE PLATFORMS to sell your products on?
Yes, they would be!
There are many e-commerce websites already using digital marketing to sell their products. It's time for you to understand how and why, you need social media platforms in your business strategy.
Let's start with understanding;
What role does social media play in the lives of your target audience?
Social media has become an essential part of our lives.
Go back a day and think- How many times yesterday did you check your social media profile?
And hey, scrolling through Instagram and Pinterest counts as a social media activity.
I'm sure the answer is a lot!
Now, imagine your target audience doing it.
Scrolling through their social media pages, every now and then.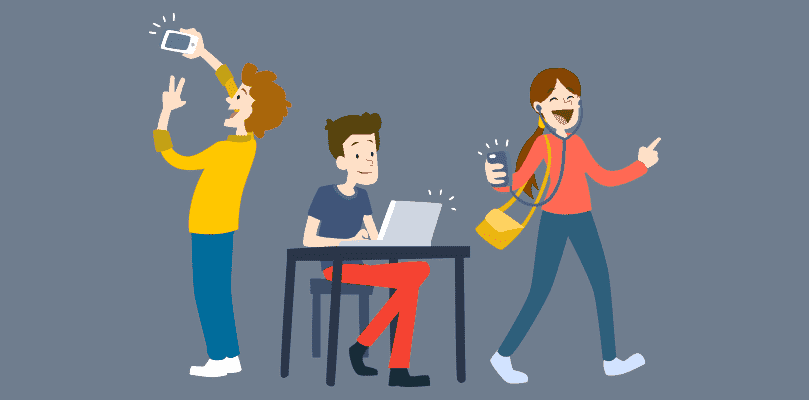 Wouldn't it help if they came across your products and your feed?
This is exactly how social media helps.
Your business needs to be everywhere your target audience is. This will increase your presence in your target audience's life and that will indeed help you sell better.
Social networking sites are about five times more visited than online retail sites. Let's have a look at some statistics-
List of the top 8 Social Networking Websites with a great opportunity for eCommerce:
| Websites | Unique Visitors / Month | Alexa Global Rank |
| --- | --- | --- |
| 1. Facebook | 900,000,000 | 2 |
| 2. LinkedIn | 225,000,000 | 14 |
| 3. Twitter | 310,000,000 | 10 |
| 4. Pinterest | 250,000,000 | 40 |
| 5. Tumblr | 110,000,000 | 42 |
| 6. Google+ | 120,000,000 | 1* |
| 7. Instagram | 100,000,000 | 30 |
| 8. Flickr | 65,000,000 | 139 |
(Unique Visitors / Month as of Dec.2014 and Alexa Global Rank as of July 2015)
* Google.com ranks number 1 on the Alexa Global Rank
Thus, with millions of people connecting on these major networking sites, it seems useful enough to turn these websites partially into eCommerce sites.
Most of your target audience won't know where to find your product. Thus, making your product/service available on their favorite social media accounts is the smartest way to start.
The corporate eCommerce giants are slowly but inevitably gaining momentum over major social media platforms.
Now you may be wondering
Is it better to have a presence on every social media network or are a select few enough?
It is widely said that to increase your brand presence and to get an extensive reach, you need to be active on every social media website.
Sure, that does make sense.
But, only if you have a dedicated social media team taking care of all your social media pages.
A small-time firm can benefit big time by focusing on a select few social media platforms.
Focusing on a select few will give you the opportunity to communicate with your target audience and understand their requirements better.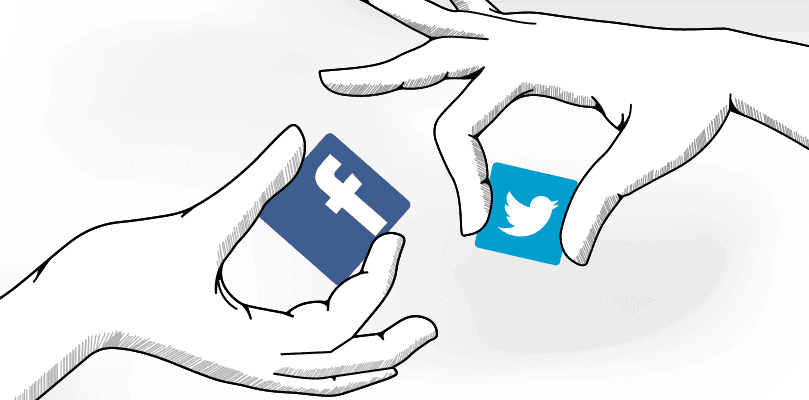 So, unless you have a huge, experienced team to take care of all your social media pages, stick to a select few!
With social media having such a lasting impact on all our lives, it's become essential for eCommerce websites to bridge the gap between social media and eCommerce.
If you run an eCommerce website, we have here 9 ways in which social media can help in increasing the sales on your website.
#1. Stay Loyal To Your Favorite Social Media Websites
The first thing you need to do is understand where your target audience is most active.
Once that is in place, you can zero down to four/five social media platforms and create an account on them all.
Your job does not end here.
Let's focus on Instagram as one of the social media platforms. Now, once your account is active on Instagram, you'll have to start posting images relevant to your business with interesting captions and relevant hashtags.
For instance, a designer when puts a picture of her ethnic Indian design, can use hashtags like – #IndianAttire, #EthnicWear and so on!
The more the merrier!
Do not just sell!
You need to develop a relationship with your audience on your social media accounts.
Share a bit of your world, be it a random selfie, or a day at work, the sky today or anything for that matter, other than your products.
The idea here is to personalize your social media accounts to make your target audience feel at home!
Different social media platforms have different theorems. If you, as an eCommerce website try to be on all the social media platforms, it will be difficult for you to give your 100 % to even one of them.
So, stay dedicated to a select few and see the magic work in your favor!
Be it on Instagram, Twitter, Pinterest, Tumblr or wherever else they are valid, hashtags will change the game for you.
Let's take Twitter now,
You may have noticed a small 'Trends' section on the left side of your Twitter account.
Something like this!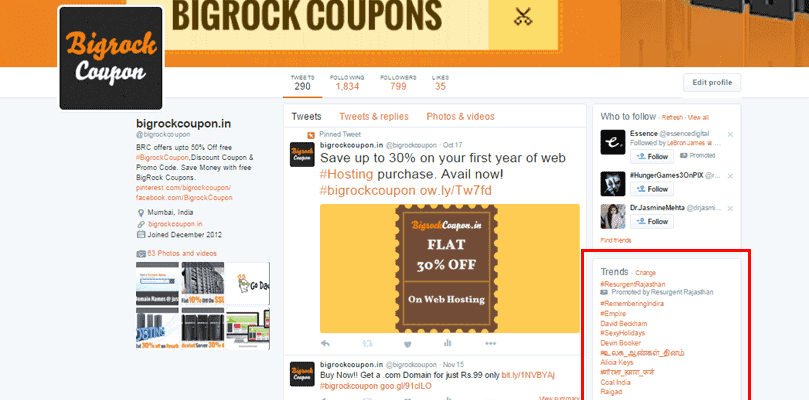 You haven't?
No biggie, Go check now. I promise you it's there!
So, that's how important a hashtag is!
It connects you with the rest of the world by increasing your exposure.
You must use hashtags that are relevant to your business and the ones which connect with your target audience.
There are some general guidelines to follow while using hash tags; these are,
Use short and precise hashtags
Use them sparingly
Use it for something that stands out, not for everyday use
Create a unique hash tag, which will be known by your brand
Now, sit back and start thinking of some pretty effective hashtags!

#3. Blog, as much as you can!
Blogging helps!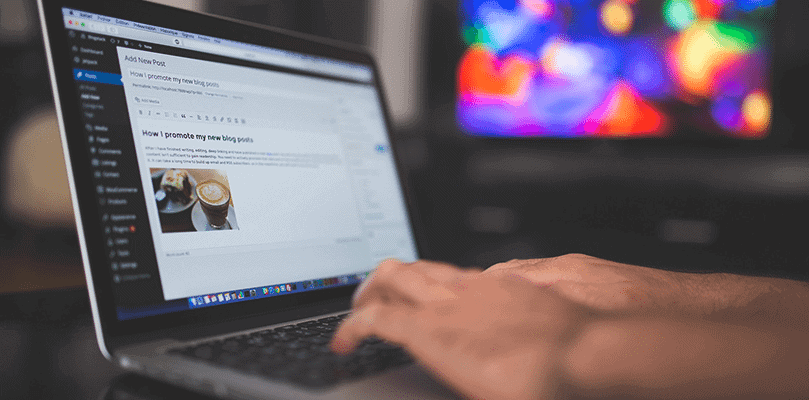 An extremely valid proof of it is – You.
You wouldn't be here, on this website, if it weren't for this blog. You're here because something in this blog interests you.
Similarly, you may have an eCommerce website, but you cannot just sell.
You need to entertain your target audience, every now and then.
What would entertain them better than blogging about the genre of their interest? So, start blogging!
The best part about blogging is that you can include SEO in the same. This will help your e-commerce website rank higher on the search engine pages.
That sure is a brownie point!
I will share another little blogging secret with you – (Well, I'm happy. That's why!)
You can create a controversial blog post. The controversial blog post is one way to get your brand on the top of the ladder without much effort and garner some serious consumer attention. But, make sure you do this carefully and artfully, not at wits' end for attention!
#4. Try Some Influence Marketing!
Are you aware of this model of marketing?
If not, you need to know!
Influence marketing is THE marketing strategy these days. There are so many brands collaborating with high-end bloggers to market their products. And the response they get is mind-blowing.
As an e-commerce business, wouldn't it be wonderful if a high-end blogger promotes your products?
It would be! It may cost you, but it sure is more effective than most of the advertising strategies.
There are a lot of high-end bloggers out there and they have got some crazy fan following. Now, all you have to do is get them to work for you.
I assure you that influence marketing will get your eCommerce website a lot of business!
#5. Use Facebook To The Fullest!
Sure, you can create a page on Facebook and advertise it to get likes. But, there is so much more to Facebook than this!
You must have come across a lot of Closed Groups on Facebook.
Closed groups work really well for businesses. All you have to do is make a group, add few members, ask them to invite their friends, then start sharing the details of your products there, announce sale, engage with the members, and entertain them.
When you do this, you no longer remain just an eCommerce website, you turn into a successful eCommerce community.
And as time passes by, your community will grow bigger and your website will get you much more business! But, to achieve this success you will have to deliver the best.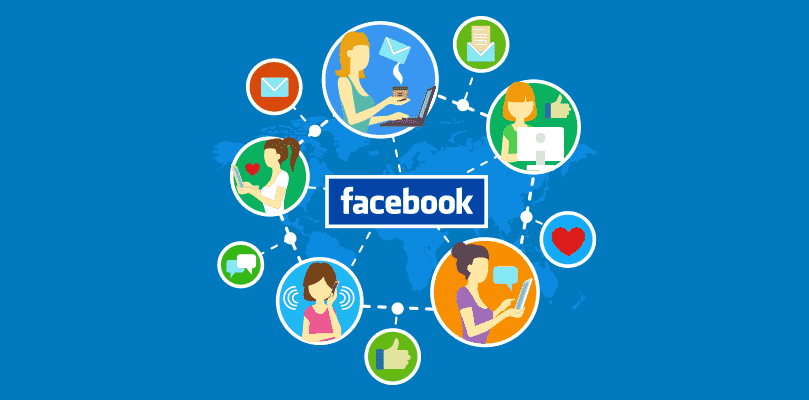 You can also try this other Facebook hack to gain more business–
Since you own an eCommerce website, you can launch a Facebook store to sell your products.
The Facebook store is quick and easy to set-up and can be directly operated through your Shopify admin. Any change to any product on the Facebook store is done in real-time. The store is extremely easy to customize and you can very well choose your choice of collection to display on the store.
With Shopify, you can turn your general Facebook page into a Facebook e-commerce page.
Overall Facebook store is an amazing channel for generating more sales!
Smartness is in utilizing such clever little options from the most popular social media networking websites and utilizing it for your eCommerce website's benefits.
#6. Create A Magic Potion By Combining The Best Ingredients
No, I'm not talking magic here.
There is a common tendency to treat social media as a third wheel. That's unethical!
Social media is a part of the family too, so start combining social media strategies with all the other marketing strategies.
For the best outcomes, social media has to be integrated with other marketing strategies and emails too!
Integrate them with each other. For instance, you can ask people on social media to subscribe to your email list for maximum exposure. Similarly, you can add your social media links to your newsletter and ask people to follow you.
This integration will ensure that your target audience never misses any update from your eCommerce business.
As social media continues to become an imperative component of everyday life, it will become more substantial to leverage it in order to succeed with eCommerce.

#7. You Must Own A Mobile App!
With most people checking their mobile phones every few seconds, wouldn't it be effective to have a mobile app for your eCommerce products?
It would be Depending on your budget, you can either make a simple mobile app with product listing or a full fledged e-commerce app.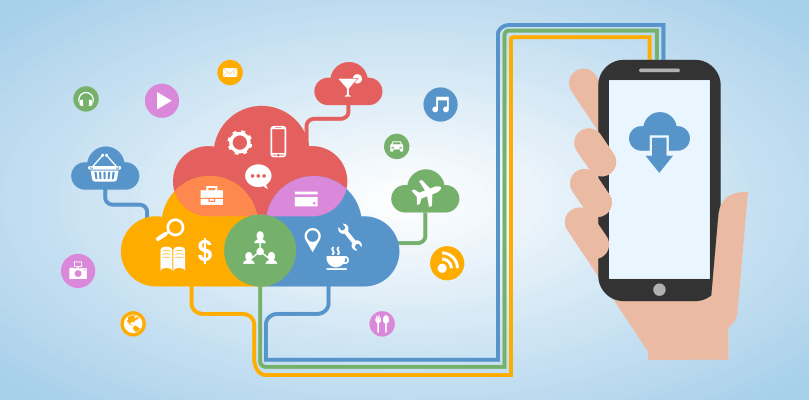 The point here is to be available within a click, through any medium.
It may not be an essential step in your business, but it can definitely be an amazing addition.
So, if you're positive about the app, then there is something that will interest you.
Have you heard of the Launchrock Campaign?
Launchrock is a prominent free service for collecting email addresses of people who want to get early access to the launch of a new app, service or really anything.
The exclusive thing about Launchrock is that it consolidates social within the subscription process, which is an effective component that can be used to turn a regular promotion into a viral marketing channel to help drive traffic and sales.
This is how the Launchrock website looks, it's worth a try!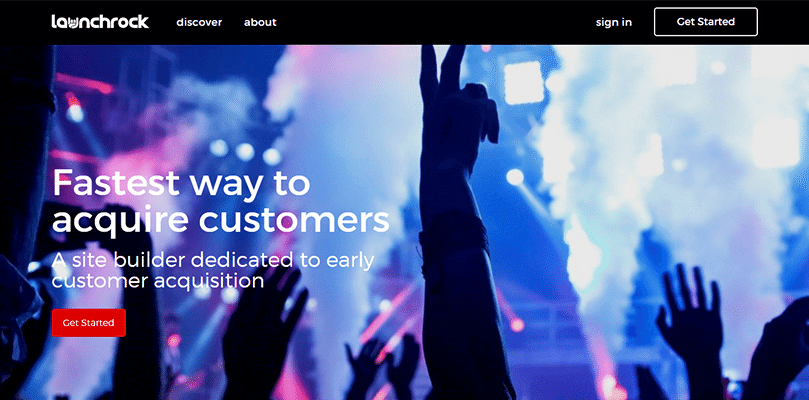 #8. 'Giveaways And Discounts' Benefit In The Long Run!
You may have witnessed your competitors running a contest on their social media pages. Did you notice how much attention they got because of it?
As an eCommerce website, when you run a contest or when you arrange a giveaway, people get excited about it.
They play the contest, follow, share, in the hope of winning the prize. That's when your products come into the picture.
Whenever you arrange a contest, you should make sure that your product is the reward. This will ensure that your product is always in the limelight.
Discount coupons also work on similar lines. Offering discounts, be it 70% or 10% will get traction on your eCommerce website. Like this: HostGator Coupon India
Offering regular discounts will make sure that your target audience comes back to your eCommerce website.
This step may seem too minuscule to you, but it has far-reaching benefits.
As a proof, study the top eCommerce websites to know how often do they give out discount coupons.
It's simple logic- You give some, you get some!
#9. Invest A Generous Chunk In YouTube Ads
YouTube is the most ignored marketing website by the eCommerce market. Simply because they do not understand how to utilize YouTube to generate more sales.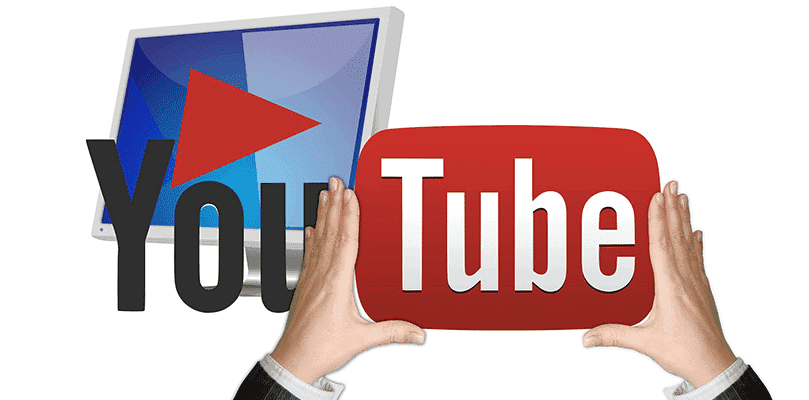 If you must know, videos can be an extremely effective marketing tool too.
Sure, the production cost is high, but the benefits are too impeccable to ignore.
Outgoing referrals from YouTube to shopping category websites drove almost 90 million visitors over the last 12 months. Big time brands like Nike and savvy e-commerce websites like Etsy are all using YouTube to find customers.
YouTube pre-rolls are a great platform to run an eCommerce ad. You can target the videos you want your ads to run on beforehand. Plus, if the ad is creative, it will get you the required business for sure!
So, what do you think would be more effective?
You launch your product and there is no update about the same on social media, or you launch your collection and popularize it through your social media accounts?
Yep, it's the latter!
eCommerce is all about getting popular as much as you can. The more you popularize, the more business you make. Plus, it connects you with a wide audience, and digital advertising is cheaper compared to the other forms.
Well, from the above article, it's clear enough that, when it comes to eCommerce, being social matters!
So, whether you're an eCommerce giant or an eCommerce startup, to get a wider reach, you have to go social!
The corporate eCommerce giants are slowly, but inevitably gaining momentum over major social media platforms. However, by not utilizing social platforms to boosts their presence, small businesses are making one of the biggest eCommerce mistakes, which is hurting their bottom line.
Are you an eCommerce website, looking for the right Ecommerce Hosting?
Then head over to our Bigrock Coupons homepage to get yourself some amazing Deals.