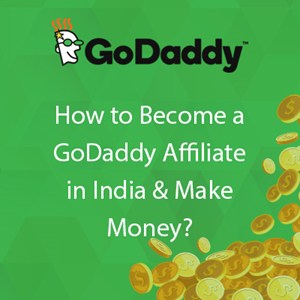 Affiliate marketing is an easy way to earn some quick cash. All you need is a blog or a website with targeted traffic.In our previous post, we discussed how to become a Bluehost U.S. Affiliate, likewise, today we'll take a look at how to become a GoDaddy Affiliate in India. So, let's get started.
GoDaddy, as we all know, is world's number one domain registrar right now and one of the best web hosting companies as well. Their affiliate program is helping thousands of online marketers to earn a handsome amount.
Through their affiliate programs, you can get a commission of minimum 15% which can go up to even 100% depending on the type of products sold. In this segment, we will thoroughly discuss the ways using which you can make the most of the GoDaddy affiliate program.
#1. How Does GoDaddy Affiliate Program Work?
All you have to do is display their banners and links on your site. Every time someone purchases GoDaddy products using your affiliate link, you get a commission. Sounds pretty cool, right? When you sign up with their affiliate program, you get a customised URL which you have to place on your website. The commission will depend on the kind of products sold and could be as much as 100%. Every time GoDaddy gets a customer, you get paid. As simple as that. The popularity of this program is such that it was awarded "People's Choice Award" by Commission Junction in 2013.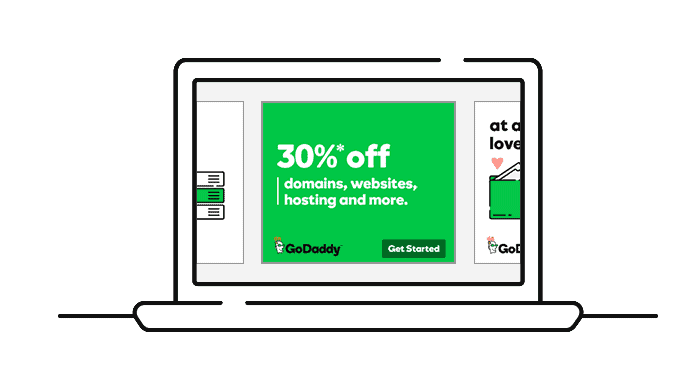 Apart from this, what really makes GoDaddy affiliate program stand out among other web hosting affiliate programs is that you can even earn through referrals. Here, referral means when someone clicks on your affiliate banner and gets redirected to GoDaddy's website. Other companies provide commission only when somebody purchases their products via your website.
However, the GoDaddy referral rate isn't fixed. GoDaddy offers exclusive deals and discounts on their products every now and then. You can leverage this to boost the sales through your affiliate program to ensure higher revenues. There are hundreds of banner ads and customised links to choose from depending on the plan you select.
Earlier, GoDaddy used to have managed affiliate program. But later on, they partnered up with Commission Junction (CJ) and Zanox to manage their program. You need to have an account on either of these marketplaces to get started with GoDaddy affiliate program. The most amazing part is that you don't need to spend a single buck to join this program. In fact, there is no minimum purchase limit either. Even if you end up selling only a few products, you still get paid. So, you've got nothing to lose.

#2. What Is The Eligibility To Become A GoDaddy Affiliate in India?
You don't need to have a website or a blog on a particular niche to be able to join this program. But as we all know, some niches work better than the others. Blog niches work the best. Through guides on how to create a blog, it is easier to convince the visitors to buy domains and web hosting packages from a reliable company.
Make sure to read the website requisites set by GoDaddy before applying for joining their affiliate program. Your website mustn't promote products or activities that are, in any way illegal, promote violence, hate speech or racism.
#3. How Much Can You Earn by Joining The GoDaddy Affiliate Program?
You can earn up to $90 (₹5,700) every time a visitor purchases web hosting from GoDaddy via your affiliate link. There's no limit to how many products you can sell. Even if you sell just 1 product a day, you could earn more than $1000 a year which is a quite decent yearly income. Achieving this target is not at all difficult as that there are hundreds of websites mushrooming every single day. Every website needs hosting. So, the demand is definitely there.
The minimum required commission to process the payment is $100. Once you earn that sum, the payment will be processed via cheque, direct deposit to your bank account or via PayPal. Note that your earnings are subject to tax deduction, whether you are based in or out of U.S. So, make sure to carefully edit the tax information while setting up your account. It takes about 2 months to verify and transact the money.

#4. What Are The Products You Can Sell?
Web Hosting – GoDaddy is a leading web hosting service provider. They provide almost every type of web hosting services required for a website, that too at an affordable price. Promoting and increasing the sales of their hosting plans via affiliate program could make up for a consistent stream of income for you.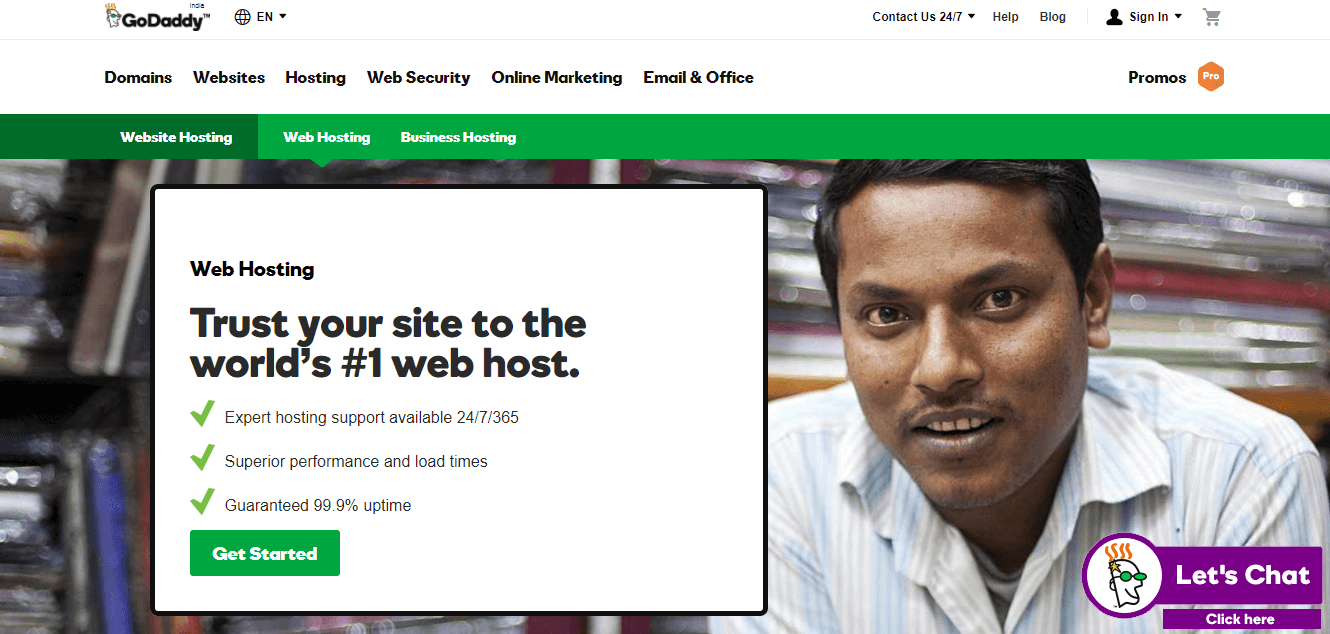 The commission rates inflate considerably when someone buys a hosting plan for an entire year. The total commission you earn through sales will be provided to you via cheque or directly to your bank on monthly basis.
Domains – Every website also requires a domain. It gives the site its unique identity. GoDaddy has been recently voted world's number one domain registrar. Therefore, GoDaddy domains will naturally be the easiest to sell through affiliate programs.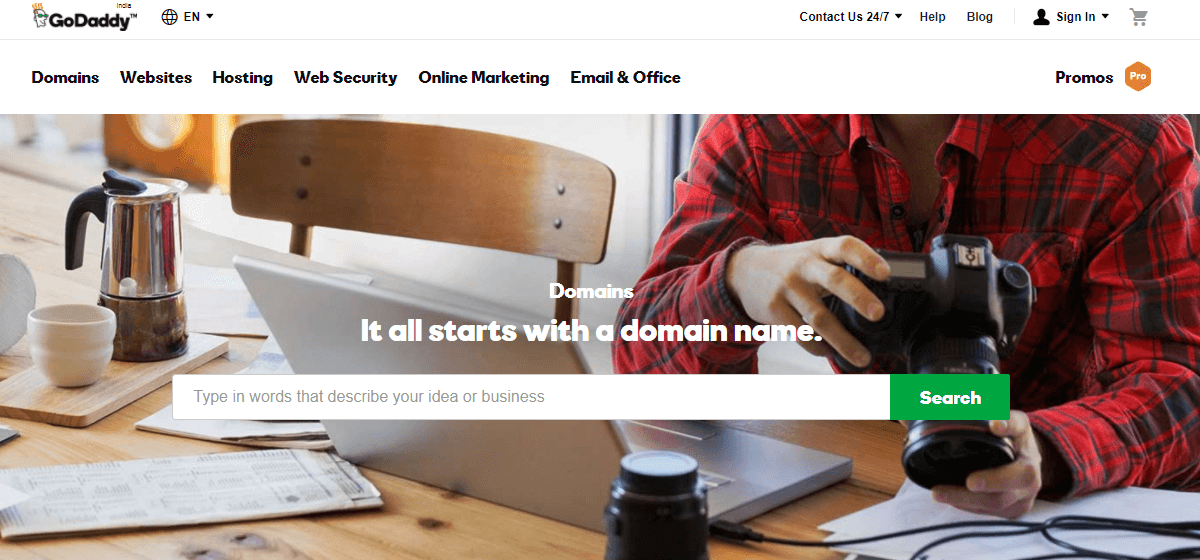 Your income isn't solely dependent on qualified purchases. Every time you refer to the registration of a new domain or refer the renewal of existing domains, GoDaddy rewards you with a commission.
The other products you can sell are – SSL certificates, email accounts, WordPress hosting and almost all the other services offered by GoDaddy.
#5. How To Sign Up For GoDaddy India Affiliate Program?
As we mentioned earlier, read the terms and conditions of your affiliate network (GoDaddy in this case) before joining the program. You have to have an account on either Commission Junction (CJ) or Zanox to set up your affiliate account. These are the two marketplaces GoDaddy currently uses to manage their affiliate program.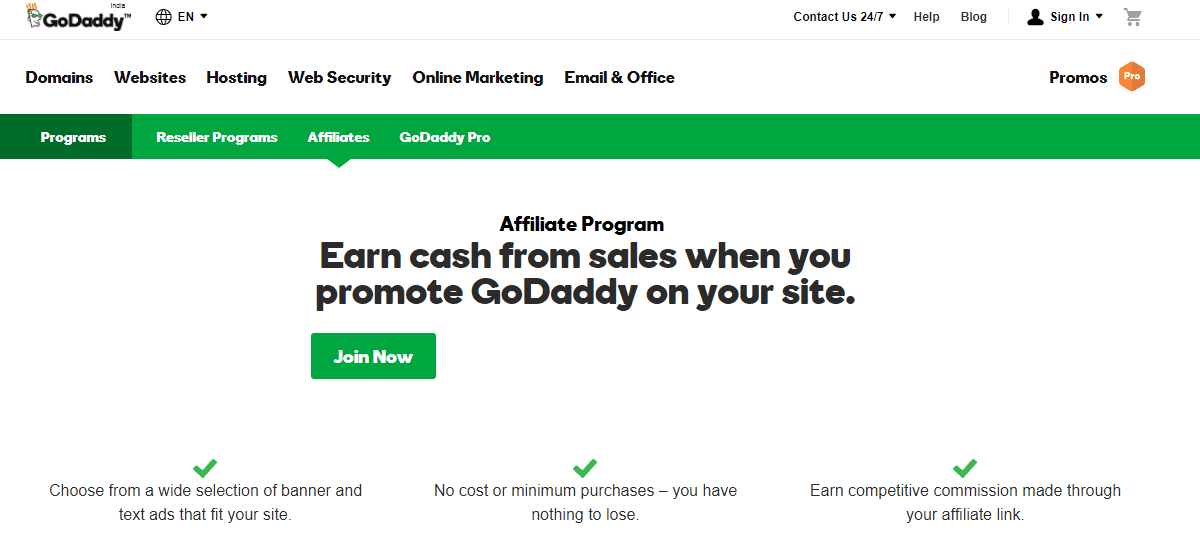 First, you have to visit GoDaddy Affiliate page and click on either CJ or Zanox. We prefer CJ over Zanox as it is comparatively easier to use. If you are already on CJ, you can search GoDaddy right inside the search tab of CJ. From there, you can directly apply for joining the affiliate program. The application status (whether approved or denied) will be provided to you shortly after that.
For those who don't know what Commission Junction exactly is, it is basically an affiliate marketing company. It acts as a middleman who provides a channel for promoting and selling your products. It uses tracking tools to monitor your sales and ensures that you get a commission for every sale made through the ads displayed on your site.

#6. Requirements For Creating An Account on CJ
You need a blog with target traffic before signing up on CJ. Depending on the traffic, your application will be either approved or denied. If your blog meets the requirements, you can follow the steps below:
Step 1. Visit the CJ site and click on 'Sign Up Today.'

Step 2. Fill in the required details and click 'Next.'

Step 3. An email will be sent to you asking for verification. Click on "Create my account" link in the email and you will be redirected to a new page. Fill in required details, click on "Accept Terms" and you will be redirected straight to the login page.

Step 4. After logging in, you will have access to the CJ Dashboard. From there, you can tweak the earning options. You need to earn minimum $100 to receive payment from GoDaddy via PayPal.

Step 5. Next, you have to set up your bank details. Note that it is mandatory to edit the tax details, especially if you are a non-U.S resident. To edit the tax information, go to the 'Settings' tab, click on 'Administrative Settings.' From there, click on Edit beside Tax Information and provide the necessary details.

Once you are done with setting up your account, go to the Dashboard and click on Advertisers. Search for GoDaddy on the search partner tab. In the search results, find GoDaddy and click on the + button beside it. That's all. Now you have successfully applied for the program and wait for the approval from GoDaddy.
#7. GoDaddy Affiliate Program Through Zanox
Follow the steps below to apply for GoDaddy affiliate programme through the popular marketplace Zanox.
Step 1. Go to the Zanox site and create your account.

Step 2. Verify your site using meta tag or file. Use the keyword GoDaddy in the Advertiser menu and request to join the program.
#8. Ways To Ensure The Approval Of Your Application
There actually isn't much you can do to guarantee the approval of your application. If your website meets all the necessary requirements, there's no reason to decline your request. However, to gain the attention of the advertisers, you can email them via GoDaddy's Affiliate Program contact email. Include the URL of the website on which you want to promote their products along with your email ID. You are most likely to receive a reply within 24 hours.
#9. How To Promote The GoDaddy Affiliate Products?
Once your request is approved, you have to start promoting the products. Your approach should be different from other affiliate marketers. Below we have shared a few useful tactics to promote the products on your websites and blogs:
Coupon codes – GoDaddy encourages its customers to purchase their products frequently through coupon codes. Once you are all set to promote their products, you will be provided with a number of GoDaddy coupon codes which will be applicable to almost all the services sold by GoDaddy. You can promote the coupon codes and deals on your blog in a way that it creates a sense of urgency.

For example, you could write that "The code will expire in 24 hours, so hurry up!", thus compelling the visitors to take the action immediately. It is also a classic method of referring sales as the customers frequently check for coupon updates. You need to update the codes regularly to keep the buyers hooked.

Write product reviews – Many affiliates publish a detailed review of the products on their blog to help the prospective customers understand the pros and cons of the product. The review should be fluff-free, straightforward and add value to the product.
Affiliate Links in Landing Pages & Blog Pages – You can generate higher revenues by optimizing the product landing pages with affiliate links. This has proven to be a foolproof technique to increase conversion rates time and again. Another great way to use your blog posts to boost your income is to put affiliate links in the posts so that people who read your posts can easily see it.
Other ways – Many affiliate programmers post the banner ads on platforms like eBay, Craiglist, and various other forums, promising to build a free website or any other service for free if you buy the hosting from their affiliate links. While we are not sure whether this is against rules of GoDaddy, this method has worked out incredibly well for many.
#10. GoDaddy Affiliate Program Review
GoDaddy affiliate program is two times better than the other web hosting affiliate programs for a number of reasons. To begin with, the GoDaddy affiliate commission rates are quite high, ranging from 15% to as much as 100%, based on the product. You don't need any minimum number of qualified sales to earn a commission. Also, there's no limit for the number of products you can sale. The more you can sell, the higher your income is.
You can sell anything, from domain names, email accounts, web hosting plans to reseller plans and earn almost as much as a regular 9 to 5 guy does, or even more. It doesn't take much effort and zero money to join their affiliate program. You don't even need a jaw-dropping traffic on your website, just targeted traffic and you are good to go. GoDaddy lets you choose from hundreds of banners and text links to display on your website.
Affiliate marketing is an easy way to earn some extra cash with zero investment. If you partner up with an affiliate network as popular and reliable as GoDaddy, you can make as much as your daily job could earn you.
So, if you want to give their affiliate program a try, there's no reason you shouldn't. Joining the program is absolutely free, so you practically have nothing to lose and signing up for the GoDaddy Affiliate program takes roughly a few minutes.
Hope this information helps clear any doubt about GoDaddy affiliate program.