Flywheel Review Summary
Last updated: January 28th, 2023
Flywheel web hosting was started in the year 2012 with the intention to provide a comprehensive platform to designers and developers. As a best web hosting provider in India, it focuses on the needs of the customer by providing them with the best hosting deals and plans. You can also choose to customize plans according to your individual need.
Flywheel hosting offers you the best WordPress hosting plan. This is the only hosting plan offered by this company. This plan lets you integrate with the WordPress platform so you can install other tools. You'll also get access to free SSL certificates.
This hosting company offers a secure platform with good customer support. It also provides a flexible environment, wherein you can enjoy all the web hosting features of the plan. Over 1,50,000 web developers are already using Flywheel web hosting solutions as it offers developer tools via which you can optimize your site according to your website requirement.
Flywheel Review – Features
Automatic Updates and Backups
Flywheel provides you with automatic updates and backups for your hosting plans. You don't have to manually set up an account for backups of your website. Also, updates keep your website secure and in good shape.
It also depends on the WordPress hosting plan you choose. Some plans can give you enhanced settings and secured WordPress backups that will prevent your site from a hacking attempt. The best part, each backup taken provides you with screenshots of the updated website.
Faster Speed and Powerful Dashboard
This hosting company offers blazing fast speed, so now there is no need for separate WordPress cache plugins. It also lets you scale as many visits as you want on your website. This is indeed a great bet for eCommerce sites.
The other best feature about Flywheel web hosting is the powerful dashboard. The design is easy to use. You'll be able to manage all your sites and view everything, with a single dashboard when you create a website.
If you are collaborating on your client's site, then you can view your client's site as well. There is no need to share the password with the dashboard feature. What's more, you can use a single login for SFTP.
Security and Night Backups
Flywheel ensures that your website is safe against malware and threats. It allows access to two-factor authentication. The login attempts are also limited so no one can try to hack your website or your main login page.
It not only blocks your IP but also manages your WordPress updates. This hosting provider also lets you take a complete backup of your site at night. Take a snapshot with one-click restore feature. It also lets you integrate with Google Cloud feature.
Flywheel hosting lets you share your billing with clients with no shared accounts. It offers one-click billing transfers. It lets you transfer ownership directly to the client so that they can pay if their payment is due. It also lets the clients take full access after the payment is made.
You can create production-ready websites with demo sites on the Flywheel. It can be used for development as well. The best part is that the sites are totally free and also password protected.
This hosting provider gives you an opportunity to become a Flywheel agency partner. You can share money on a commission basis on each site that you develop and transfer to the client. Create a demo site and transfer to your clients and when they pay for the site, you'll also get paid along.
Flywheel Web Hosting Packages
Flywheel provides you with Managed WordPress multisite hosting platform. There are three different options in this package. The Starter plan offers 5GB storage and 50GB bandwidth and is priced at $23/month. The Freelance plan costs $105/month and offers 20GB storage and 200GB bandwidth. The last plan is called the Agency and starts at $266/month. With this plan, you get 50GB storage and 500GB bandwidth.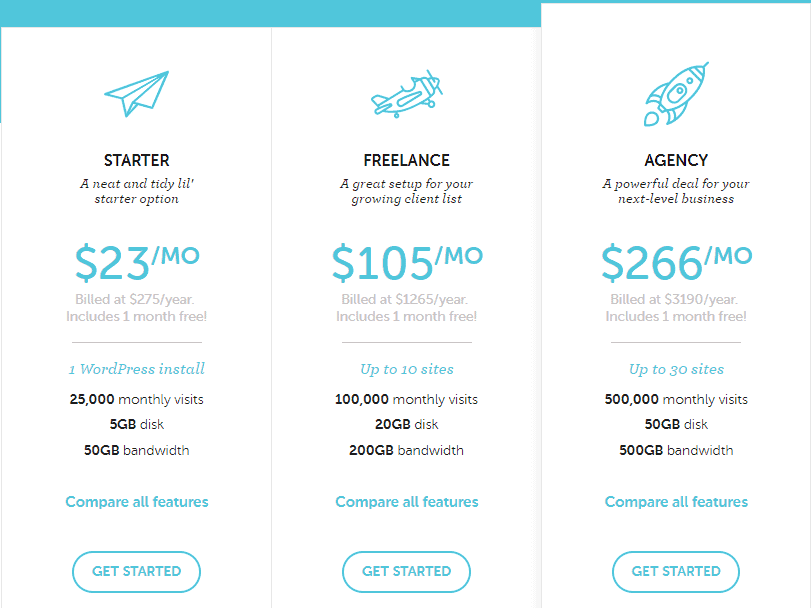 With Blueprint WordPress feature, you get a theme and plugin in which you can save your sites custom configurations. The pre-installed themes help to build a great site. This feature gives you a perfect turnkey solution that enhances your site's performance. It helps to simplify so you can manage your own workflow with turnkey solutions.
Blueprint WordPress feature also simplifies recurring site projects. You can create WooCommerce blueprint with the plan. The blueprint also offers to focus on design details.
The Staging WordPress feature gives you intelligent merging. Push and pull changes help you change your themes in a jiffy. With a single click, you'll be able to remove all the changes you make on your website. With this, you'll be able to update your WordPress theme with a single click. You can also test all the new plugins with this theme.
Collaboration tool lets you streamline your collaboration process so that you can integrate in a positive way. You can also collaborate with your developer team without any effort to build your websites.
There is no password sharing and only a single login for this purpose. You'll be able to revoke the access with a single account to get started with this tool. You can easily create a free account with this tool.
Pros & Cons
Pros
Cloud-based infrastructure with good performance.
Complete security solutions.
Money back guarantee.
High-quality IP blocking with 24/7 customer support.
Great server response and uptime.
Cons
Can't access SSH because of managed security.
Only WordPress hosting available.
Does not have build in deployment.
You cannot buy SSL certificates directly.
Verdict
Flywheel is a great website hosting that lets you manage WordPress with many features. The user interface and dashboard features of the site help you in real integration. This feature also lets you manage your site efficiently. For a new website developer or designer, Flywheel hosting offers complete coverage. It also has all the requirements mentioned in the web hosting checklist.