FatCow Hosting Reviews Summary
Last updated: January 28th, 2023
FatCow needs no introduction in the world of web hosting. The company is operational since 1998 and offers a host of plans to suit every individual or business website. This web hosting company is ideal for small business and medium-sized business organizations. As Endurance International Group (EIG), the same group that manages Bluehost and HostGator, manages FatCow, you can be assured of receiving excellent services.
The best part about FatCow hosting is it offers basic plans at no added costs. Plus, it offers FatCow hosting coupon. It also lets you integrate with other software platforms, so that you can get a good exposure. The control panel of the web host is also simple so you can also manage your site without any technical knowledge.
The below FatCow review offers information on the web hosting features and the types of hosting offered by this hosting company. So, let's check out this review to know why FatCow is the most feasible web hosting solution for your website.
FatCow Review – Features
One feature that sets this web hosting company apart from others is the amazing technology it uses for hosting. It's powered by the wind energy that uses extra green credentials. It offers multi GB connections and provides great uptime. It offers daily server backups so that there is no issue with your site.
FatCow provides the best of technology that gives you great performance with added efficiency. It offers secured hosting that is stable and the speed is good. You can trust FatCow for the technology it offers.
Ideal Platform for Hosting
FatCow web hosting is ideal for users who have no experience in website hosting. Its easier to manage and make a website with FatCow. The customer care support is always available if you have any issues. It also offers easy to use tools that can be used for website building.
You also have customized options available for website building. You can choose from a basic hosting plan to an advanced plan depending on your need. The advanced hosting plan will give you add-on advantages that'll help if you need to expand your business.
Ease of Use and Pricing Features
FatCow web hosting gives you a hands-on experience. It offers so many features in a single hosting plan. You don't have to install added security tool for your website. FatCow takes care of your website security and updates your site on a regular basis. The interface is easy to understand and tools are simple to use.
Even if you get stuck somewhere in website development, you can contact the support team for help. The dashboard interface is also easy to understand. It also allows you to change settings in SMTP support.
Talking about the pricing, there is a web hosting plan for every budget. If you need a website for a startup, you can choose a basic plan. For advanced features and expansion of business, you can also get your plan customized. The below FatCow hosting reviews offer a comprehensive overview of all the hosting plans, so you can choose the best one.
FatCow Web Hosting Packages
Kind of like Shared hosting, this is the most basic web hosting plan on FatCow that you can opt for. Starting at an introductory rate of $4/month, this plan is a great choice for those who want to start a blog. This hosting plan includes everything you need, right from site-building tools, 1-click install, email and great customer support.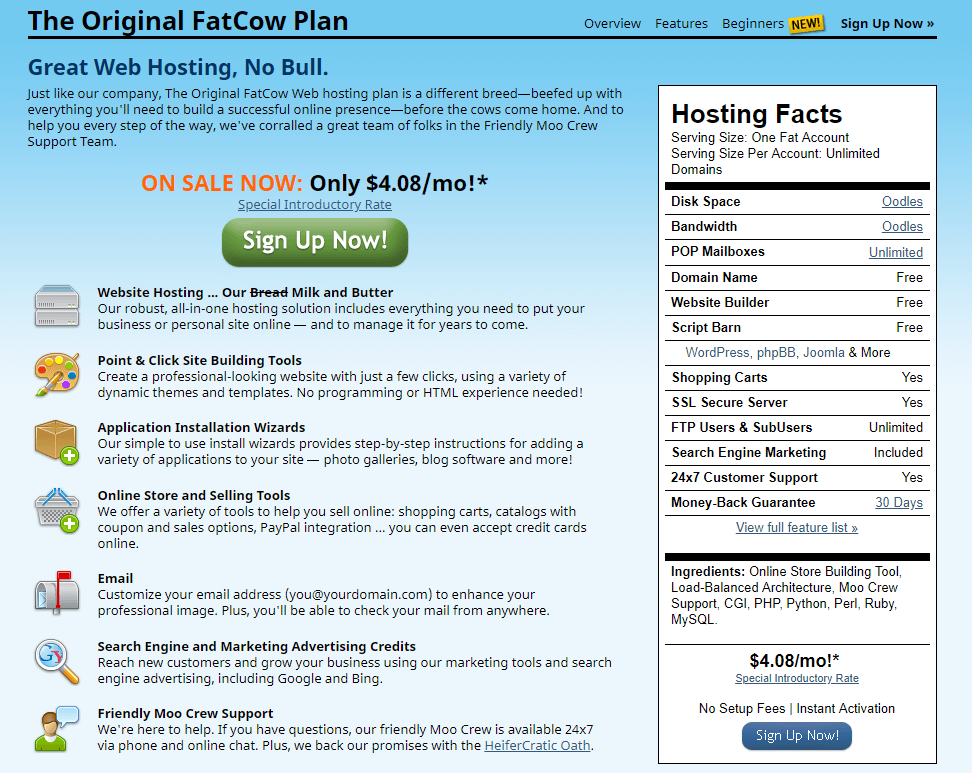 You also get a free domain name for 1st year only. It also offers unlimited disk space and bandwidth. In addition, you get add-on services like spam filtering, daily server backup, customizable cPanel, Google & Bing advertising credits and much much more. This hosting service by FatCow is reliable and provides optimized services for your website.
WordPress hosting plan is ideal for a business setup or individual site. You can choose from two plans that FatCow offers in WordPress – WP Starter ($3.75/month) and WP Essential ($6.95/month). Both plans come with a host of features.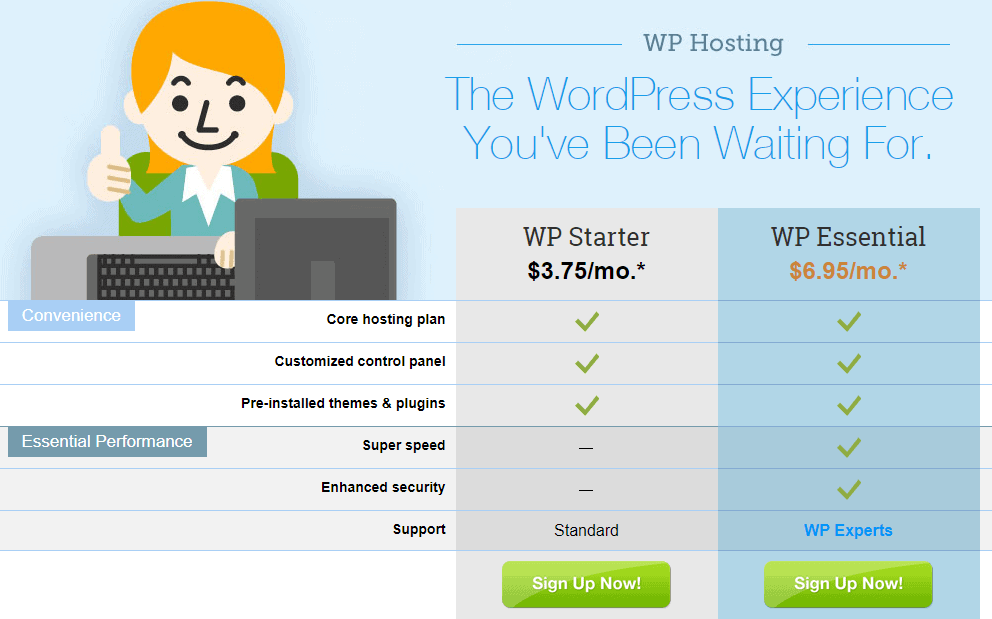 You'll get the benefit of the customized control panel with pre-installed themes and plugins. WP Essential plan offers super speed with enhanced security features. It also offers full backup support. Both the plans also let you manage email settings from the screen, which is an added advantage. Go here to check out the other WordPress Hosting in India.
Domain Parking is also called the MiniMoo plan and is quite a popular plan for independent site owners. It gives complete access to email, site building, and other management tools. The plan offers webmail feature along with affiliated partnerships. The domain parking plan offers a customizable control panel and 24/7 chat support.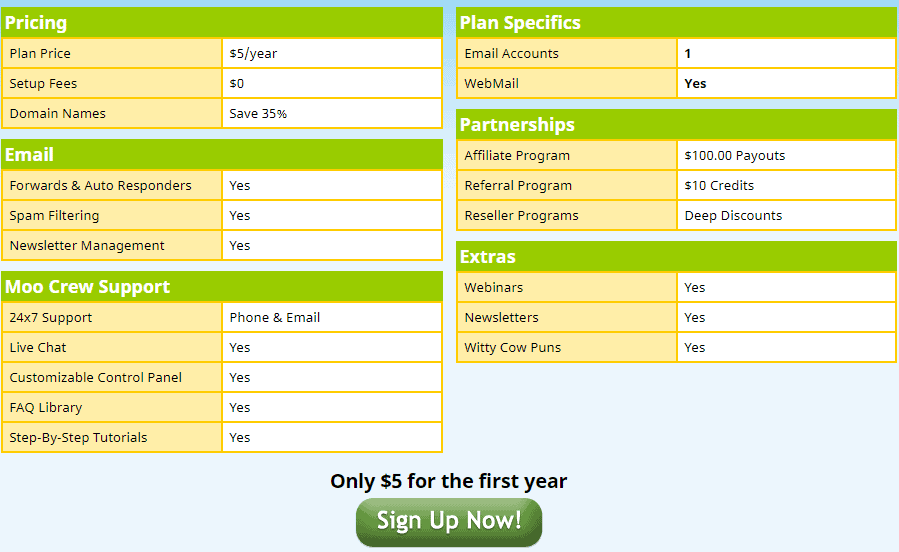 The best part about the MiniMoo plan is the price, which is $5 for the first year. The plan starts with a nominal amount if you compare it with other hosting plans. The sign-up process is easy and you can create a website in a few minutes. The plan is great if you need a place-holder for several domains.
VPS hosting is a high-performance hosting plan that is ideal for the expansion of your business. This plan offers customizable configurations and no excess billing. All VPS plans offer increased control with cloud-based flexibility. It also provides great resources with excellent support features. You also get amazing backup with this web hosting. Other features include; personalized email services, free marketing services and free domain name registration.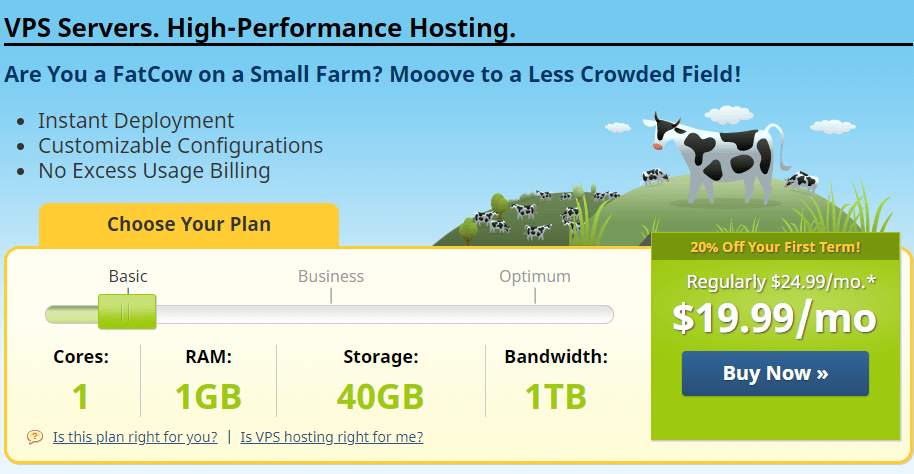 The Basic Tier Plan offers instant deployment with 1 GB RAM along with 40 GB storage and 1TB bandwidth. This VPS hosting plan is good if you need added advantages for your website and the pricing starts at $19.99/month.
The Business Tier Plan offers 90 GB storage, 4 GB RAM, and 3TB bandwidth. This plan costs $47.99/month. The Optimum Tier Plan offers 8 GB RAM and 120 GB storage. It also offers a flexible bandwidth for expansion and is priced at $79.99/month.
Dedicated Server Hosting in India is ideal for large business organizations who want more space and freedom for their website. There are three tiers in the dedicated plan. The Startup Plan is priced at $119.99/month and offers 4 GB RAM and 500 GB storage. It also offers 5 TB bandwidth support.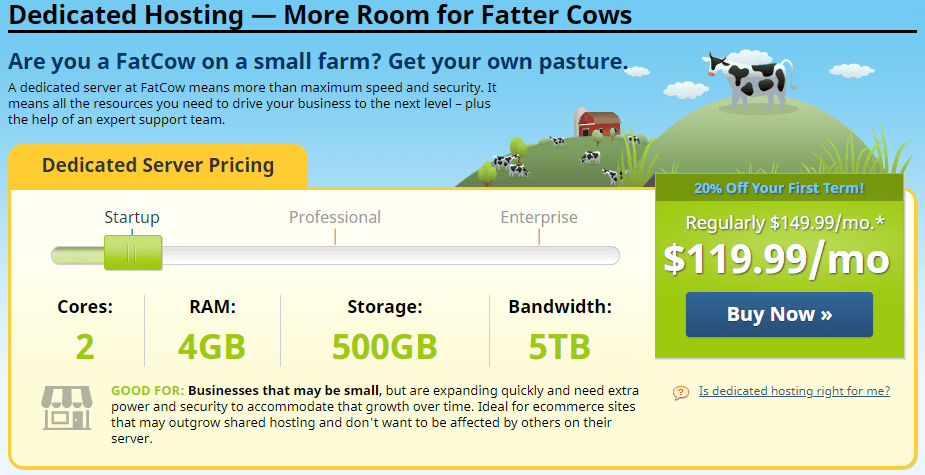 For your professional website, you can choose a Professional Plan that offers 8 GB RAM and 1000 GB storage. It costs $151.99/month and offers a bandwidth of 10 GB. The Enterprise Plan offers 16 GB RAM and 1000 GB storage. The plan starts at $191.99/month and offers 15 TB bandwidth support.
FatCow web hosting provides you more than 330 domain names. You can preregister for a domain you require. If you like different domains and want a great host for your website, then your ideal choice should be FatCow web hosting. Read this article to know how to select the right domain name for your website.

Pros & Cons
Pros
Inexpensive pricing of web hosting plans.
Free migrations and domain names.
Great customer support.
Daily updates and backups.
Free web icons.
Powered by wind energy.
Cons
It's slow at times.
Too many upsells.
Added costs for cancellation.
Expensive on a monthly basis.
Conclusion
This sums up the FatCow reviews for hosting, domain and features. This web hosting company provides you with the cheapest plans for website hosting. You can integrate it with other software platforms to get the right exposure for your business.
It also offers cloud service for all your professional needs. FatCow web hosting offers flexible plans and great performance. You can choose a hosting plan and migrate later if you want to expand your business. In short, it's a great top 10 hosting companies in India that you can trust.