As one of the top web hosting providers, DreamHost provides you with exclusive and effective web hosting solutions. It offers different full-featured hosting plans that you can use. This web-hosting provider is fast and reliable and offers a host of features even for new users or websites.
DreamHost provides 24/7 support and backup so if you have an issue with the functioning of the website, you can contact the support team. From the individual owner to big organizations, this hosting site provides great solutions to all.
This web hosting company is individually owned and you'll have your said privacy and security for the website. It also lets you embrace open source and allows easy installations on the website. The best part, DreamHost provides a great uptime of up to 99.9%.
Featured below is a comprehensive DreamHost Review that'll help you make an informed choice. Also, just to be on the safer side, read this web hosting checklist to know what things to consider before selecting a web host.
DreamHost Review – Features
Simple Hosting Plans and Backups
If a website hosting plan is complicated, it only creates added problems for the users. DreamHost provides the flexibility of plans and pricing both. For integrating with WordPress, you can choose a managed WordPress plan. If you are a new user and need a website for a startup, you can choose a basic plan for website hosting.
It provides you with easy backup solutions that help to keep your site updated. DreamHost plans also include multisite authentication features that you can use to keep your site safe and secured.
Advanced Features Are Great
It is easy to choose a plan according to your budget and requirement. But, there are some advanced set of features that'll make a difference in your website. You can take advantage of features like access to raw log files and DreamHost control panel. It also offers unlimited SFTP users with unlimited MYSQL databases. The advanced feature also includes secure shell access.
Having advanced features for website always helps. DreamHost offers you the best solutions for website needs. Also, for a full spectrum of hosting services, you can get the best deal possible with DreamHost Coupon.
#DreamHost Web Hosting Packages
#1. DreamHost WordPress Hosting Review
It is the most popular web hosting plan by DreamHost. It offers an upgraded plan for WordPress that is available with a pack of features. The WordPress hosting plan offers to build in a cache on the server along with the memory that is automatically scaled. It also offers the feature of a dream computer that lets you use the cloud computing server access for your website.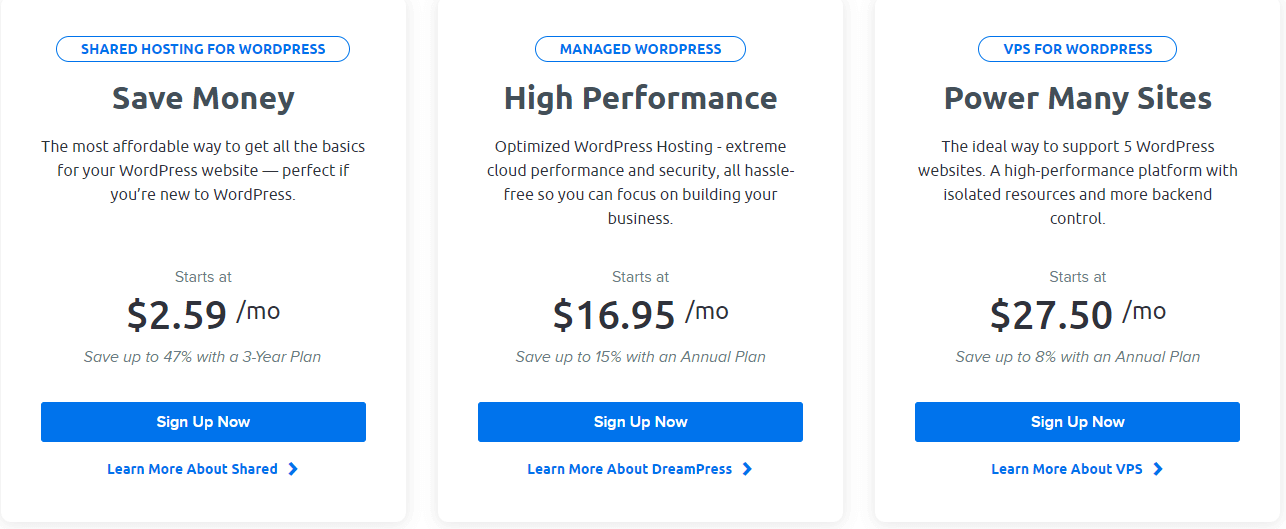 Choose from the three main options available. The 'Save Money' option is Shared hosting for WordPress, which start at $2.59 /month. The 'High Performance' plan provides managed WordPress hosting and is priced at $16.95 /month. The third plan 'Power Many Sites' provide VPS for WordPress and costs $27.50 /month. Choose a feasible plan according to your website requirement.
#2. DreamHost Shared Hosting Review
Shared hosting gives you complete coverage that is fast and secure. This hosting plan lets you install WordPress on a single click. It gives you zero risk with a money back guarantee of 97-day. You can choose a monthly or a yearly plan with Shared hosting solutions.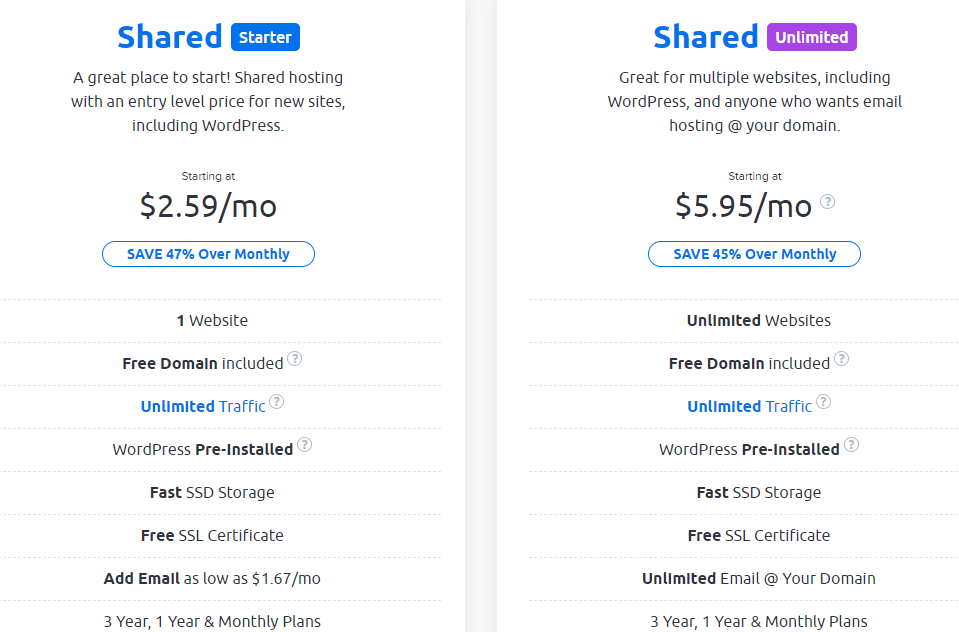 There are two plans in Shared Hosting. The 'Shared Starter' plan gives you pre-installed WordPress with faster SSD storage. It also offers a free domain and SSL certificate. This plan is priced at $2.59/month.
The 'Shared Unlimited' plan offers a free domain with free SSL certificate. It offers unlimited traffic and unlimited emails are also included. It also lets you migrate your existing website to a new WordPress account. The cost of this Shared hosting plan is $5.95/month.
#3. DreamHost Virtual Private Servers Review
This hosting plan provides a host of web hosting features. It gives you managed performance along with great security and update. It provides a quick and simple custom control panel. It offers unlimited bandwidth and traffic along with email and SSL support.
There are four VPS plans to choose from. The 'VPS Basic' offers 1GB RAM and 30 GB SSD storage. This plan starts at $10.00/month. The 'VPS Business' plan offers 2GB RAM and 60 GB SSD storage at a price of $20.00/month.It also offers unlimited websites.
The 'VPS Professional' plan offers 4GB RAM and 120 GB SSD storage. The costs for this plan is $40.00/month. It also offers free SSL certificates. Lastly, the 'VPS Enterprise' plan offers 8GB RAM and 240 GB SSD storage. It offers unmetered email domains and starts at $80.00/month.
#4. DreamHost Dedicated Servers Review
Dedicated hosting offers you professional web hosting services at affordable prices. There are two available plans in dedicated hosting. The 'Standard' plan offers 4GB RAM and 1 TB HDD. It also offers root access with 100% network uptime guarantee. You also get 24/7 support with local SQL database server. This plan is priced at $149/month.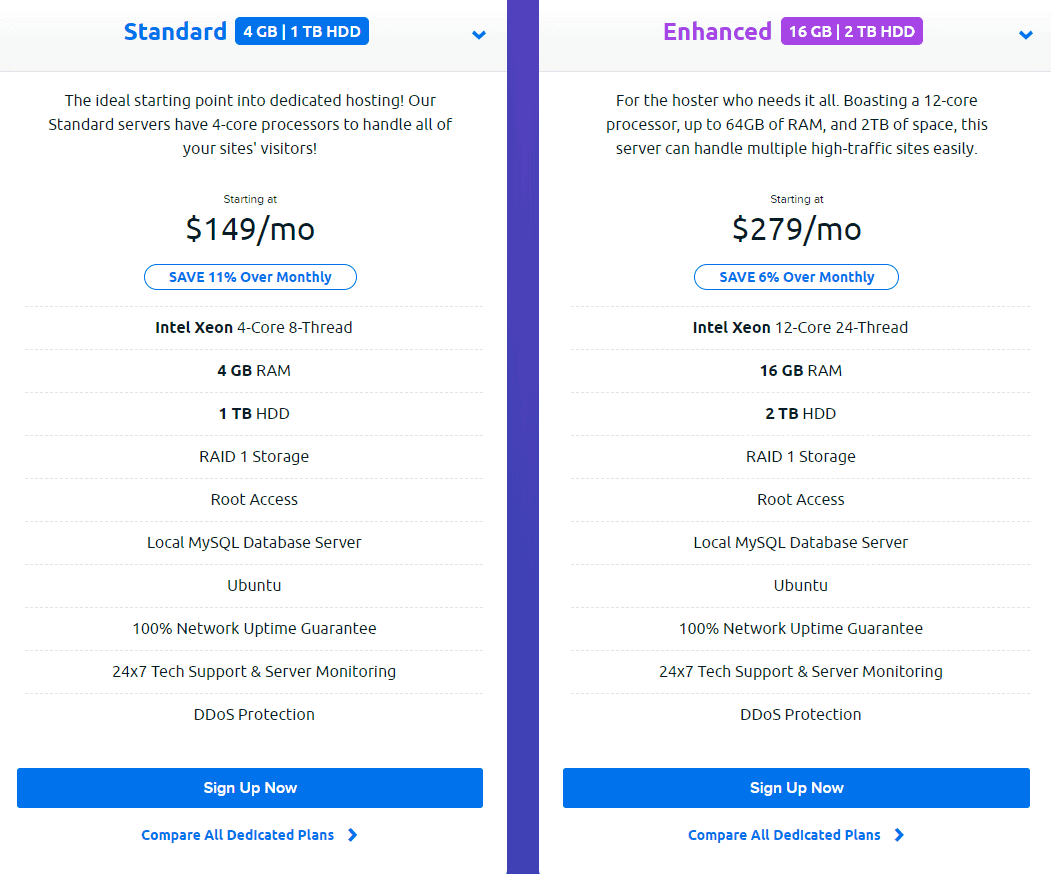 The other plan 'Enhanced' offers 16GB RAM and 2 TB HDD. It offers root access with great uptime guarantee. It also offers full tech support along with server monitoring. The cost for this plan is $279/month. With the Dedicated plan, you can reboot your server whenever needed.
#5. DreamHost Monthly Web Hosting Review
It's the most feasible plan if you need a plan under budget. It gives you custom control panel with money back guarantee. It gives you great uptime with unlimited email. It also offers free SSL security. The plan offers a Shared Starter ($4.95/month) and Shared Unlimited ( $10.95/month).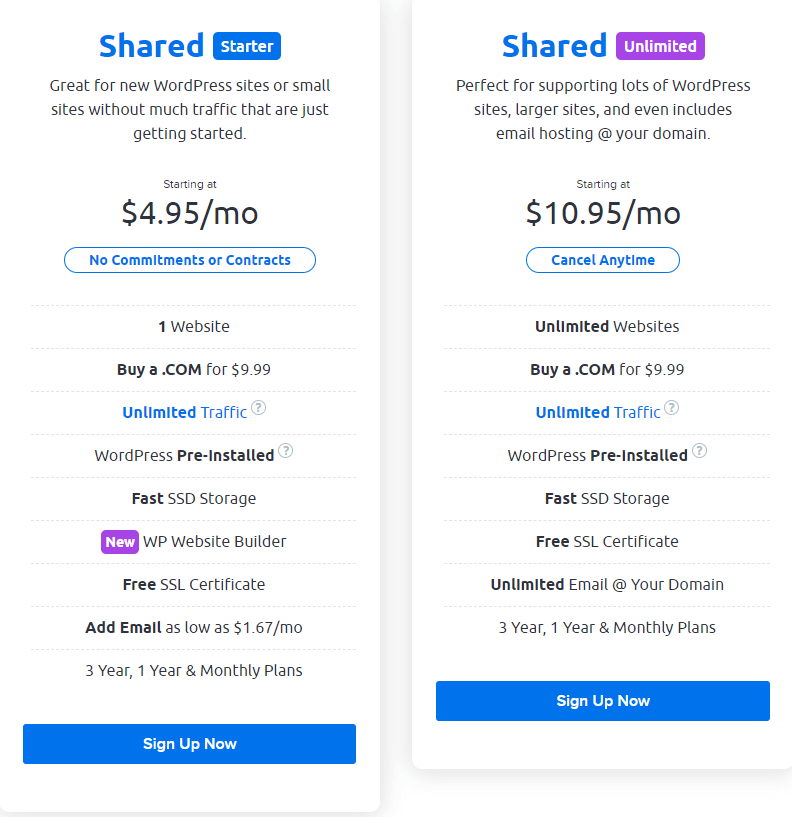 The Shared Starter plan offers pre-installed WordPress with a faster SSD storage. Shared Unlimited plan offers unlimited sites with pre-installed WordPress and free SSL certificate. It also offers unlimited email at your domain.
#DreamHost Domain Names Review
Domain name registration will give your site a unique identity. This web hosting company offers different domain names so you can personalize your website effectively. It also offers private customized hosting service with different domains.

Features offered are a free domain name and domain transfers. With simple domain management, your work becomes easier. Reserve your name to get the best name possible.
#Website Builder
Website builder option easily lets you build your dream website in no time. This plan lets you select a layout so that you can build your own site according to customized options. Select customized themes with this option along with easy to click website builder. Choose a tool with stunning filters; it also lets you export to WordPress easily.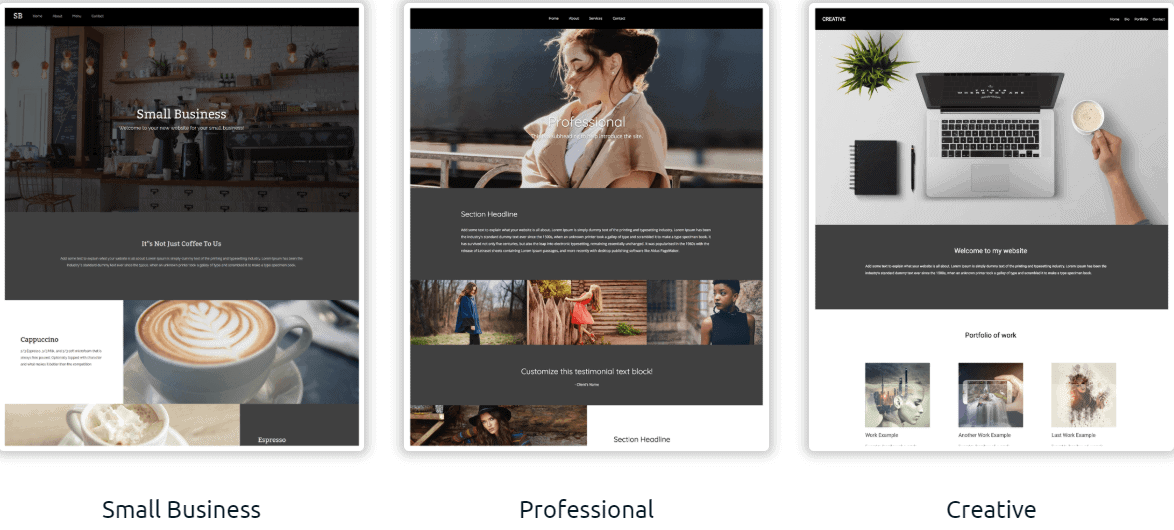 There are no page limits and it lets you choose your own media library. It lets you host unlimited websites with SEO feature. SEO is important for marketing and promotion of digital business. There are two options to choose from Remixer Standard ($4.95/month) and Remixer All Access ($7.95/month).
Pros & Cons DreamHost
Pros
Great uptime and performance.
97-day Money back guarantee.
Optimized WordPress hosting.
Many web hosting plans and features.
Amazing website builder.
Cons
Text-based control panel not intuitive.
Many features cost extra.
No phone support at times.
Conclusion
Hope this DreamHost review helped! This web hosting company is perfect for new bloggers or WordPress users. It's also ideal for startup companies. Choose DreamHost if you need to upgrade or migrate your website. With so many plans, it is indeed an ideal web hosting company if you are planning on creating a website.