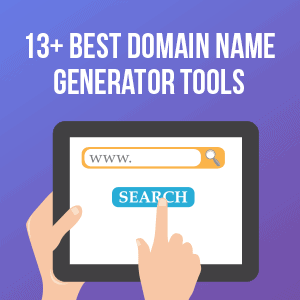 Starting a blog is easy! But, once you have created the basic layout of the website, you need to christen it and host it online and this is where the web hosting platforms such as Bluehost comes into the picture. Read this Bluehost review to know why it is the best web hosting provider!
The right domain name can work wonders for your website. For starters, it attracts more viewers and spikes the interest of the audiences. Secondly, a catchy but simple domain name is also easy to remember and will enhance the online visibility of your content considerably.
However, choosing a domain name is no easy task. Thus, besides Bluehost's highly efficient domain name suggestion tool, here is a list of a few other best Domain Name generator tools that you can make use of.
Best Domain Generator/Suggestion Tools
DomainPuzzler is a tool that offers its clients a few categories such as Easy, Advanced, Magic and Page Ranker where you can enter specific keywords and generate a list of domain name ideas to choose from. It is best you start off with the Easy version if you are an amateur.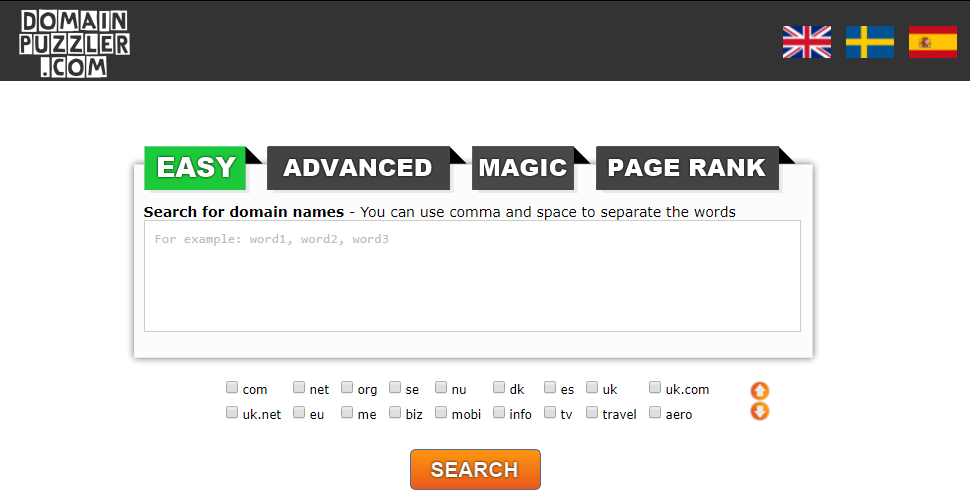 Here, you can enter as many keywords you want, unlike other tools where users can add only two or three keywords. DomainPuzzler then combines these keywords and creates numerous website names for you. The more advanced options allow you to add filters, check the SEO ranking and also social media credibility of the domain name. Once you find an ideal domain name for your website, you can register with anyone of these domain registrars in India.
NameStall is domain name finder that has a slightly different approach from its peers. For starters, this tool allows you creative freedom to enter as many keywords, phrases and Standard English words you want.

Next, you can even choose the order of the domain name and add special characters to it such as an underscore or a hyphen. Plus, you can also add filters and extensions to the domain names for better accuracy and efficiency. The tool would generate a list of both taken and available domain names along with their prices and links.
LeanDomainSearch is a reliable and robust domain generation tool that allows users to create functional and effective website names in a matter of minutes. All you have to do is enter one keyword and the tool would give you a list of the potential domain names. These results feature the standard .com extension.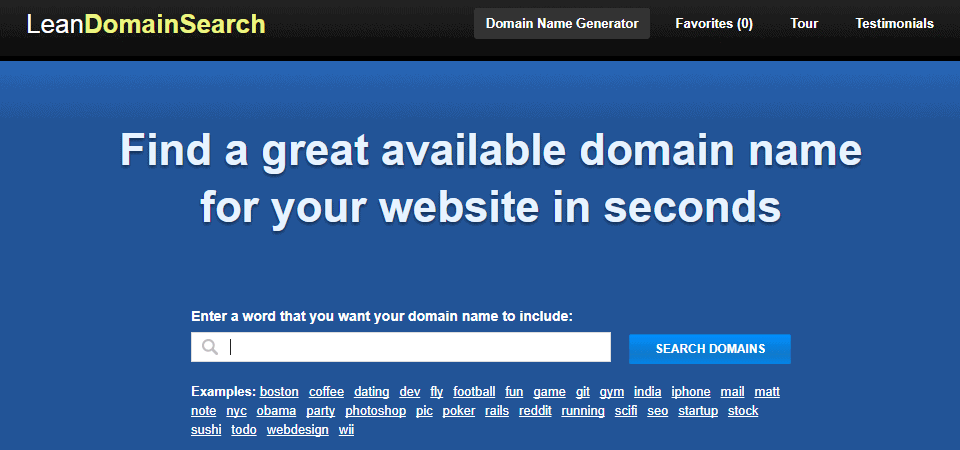 However, you can customise that to your liking as well. You can even filter the suggestions alphabetically or on the basis of their price, popularity, and length. Here you also get the option to save your favourite domain names for future reference.
Nameboy is a domain name generator tool that assists you in finding the best domain names based on the kind of keywords you've entered. Put in two keywords, and the platform would produce a list of probable and potential domain names you can choose from. Both available and used domain names are given here, along with their registration platforms and prices.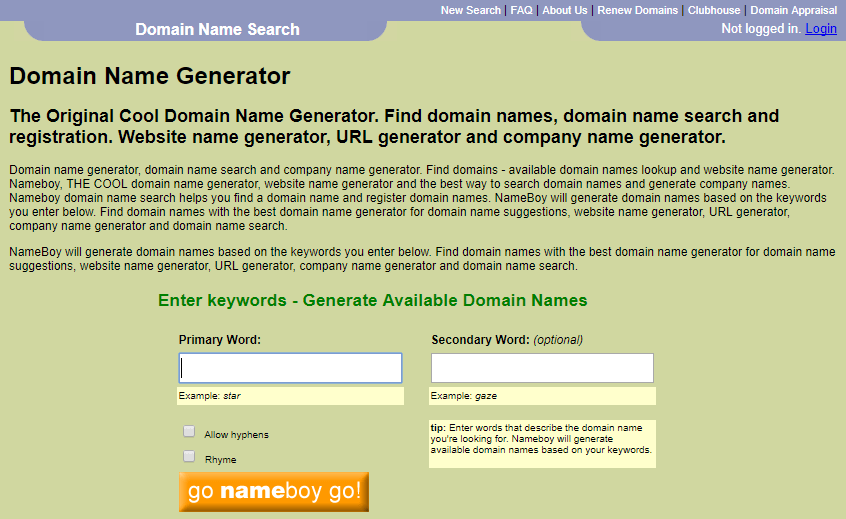 You can even customise the extensions and use a registered domain name as well. The tool also provides alternatives, including rhyming keywords, hyphenated suggestions and names that are up for resale.
Shopify is a popular e-commerce platform that helps users in building and promoting their online store and blog on a global scale. The Shopify Business Name Generator is a great tool for creating new business website names and for checking their availability online.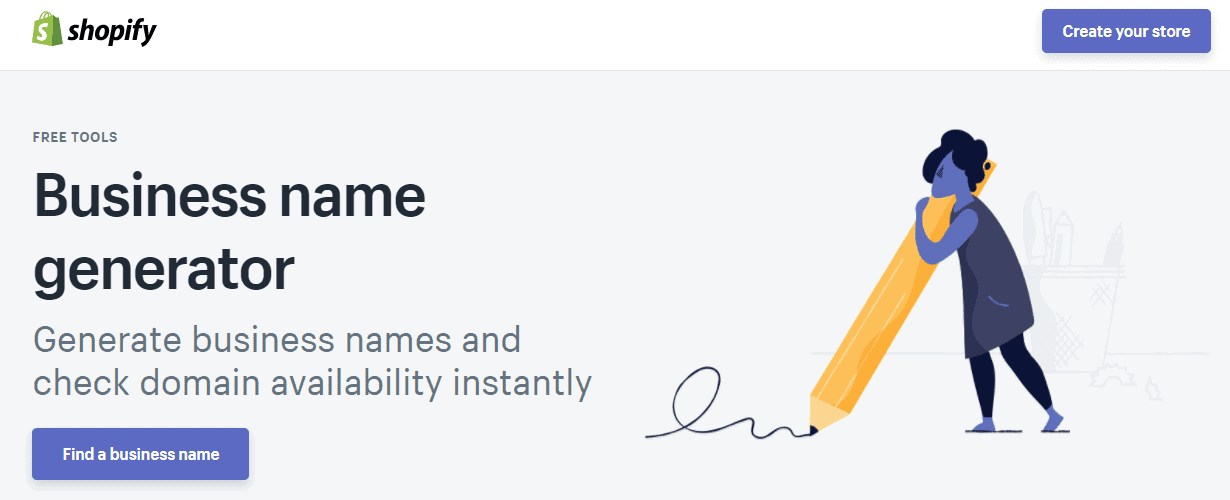 Upon entering a keyword, the tool would generate a long list of probable domain names and other alternatives as well. The suggestions will have the .com extension. However, you can also customise the extensions as per your requirement. The platform encourages users to purchase the domain from Shopify. Although, you can get it from somewhere else as well.
BustAName is an online domain name generator that includes loads of filters and stunning ideas for entrepreneurs who want to establish a solid presence on the World Wide Web. Start by entering the necessary keywords and then the tool gives you a list of probable options to choose from.

You can add numerous filters to these suggestions based on the language, character length, extensions used and other details for greater accuracy in the results. This tool also works as a random website name generator where you'll get domain suggestions without having to enter any keywords.
NameMesh, as the name itself suggests, is a platform suited for web developers who have a couple of ideas in mind already and simply want to confirm and check the accuracy and efficiency of it. Here, you'll have to enter about two to three keywords and the tool automatically generates a whole list of probable domain names that you could pick from for your website.

There are several categories that these domain suggestions are divided into namely, Common, New, Short, Similar and SEO. You can even add extra filters for more precise results.
Panabee is a standard domain name generator where you can check the availability of a website name, create new names or simply get better suggestions and alternative ideas on what to name your blog or web store. Get started with two or more keywords and the platform will automatically generate ideas and suggestions for you to choose from.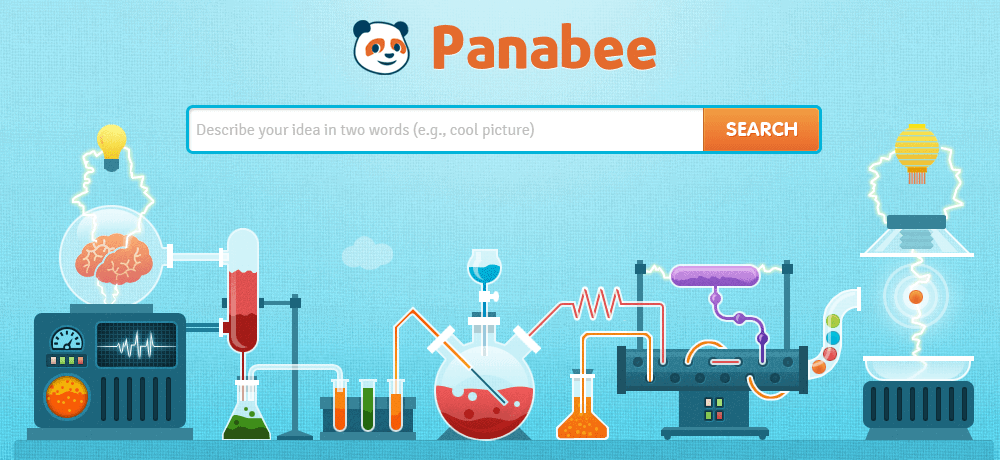 It even states the price range and links to the domain registration portal such as GoDaddy from where you can directly purchase and register the domain and get a discount by making use of these GoDaddy promo codes.
DomainsBot is a platform where you can both search for new domain names and generate new domain name ideas. Once you have logged in and created an account, start by entering the keywords you have in mind. The tool then builds a list of probable domain names based on your suggestions and also tells you about the pricing and availability of it.

Add filters such as name length, language, prefixes/suffixes and other extensions for more accurate results. You can even check out the alternative suggestions offered. Plus, it also directs you to the domain registrar where you can purchase the website name.
Instant Domain Search, as the name suggests, is a tool that works well for users who have already decided on a domain name and just want to check its authenticity and availability online.

All you have to do is type in your idea and a few keywords and the platform tells you whether it's already in use or not. Here, you can check out the links to all the available domains from where you can directly contact the companies such as GoDaddy and make a purchase.
NameStation is a place where clients can sign up for free via their Google or Facebook accounts and even get a domain name registered without having to pay a penny. The platform not only generates random domains names for you but also checks the credibility and availability of the domain names you have in mind.

You can even add filters based on name length, characters and other extensions. Other than that, NameStation also offers keyword suggestions and holds public name contests where you can enter and check the popularity of your website name.
IWantMyName is a domain name finder best suited for professionals or established enterprises who have a clear idea of what they want and just need a tool for generating the necessary domain. Just enter the specific keywords and phrases you want and the tool would tell you if it is up for grabs.

In case the domain name of your choice is unavailable, the tool also presents alternatives and their pricing range from where you can choose the next best option.
Impossibility! is a unique site name generator that uses a very quirky approach to come up with domain suggestions for its clients. You'll have to first enter the keywords you have in mind followed by a list of nouns, verbs and adjectives that either begin or end with the entered keywords.

The platform then creates domain name ideas based on your input, you can even decide the length of the domain name and mix up the keywords. Once you've picked a domain name you'll be redirected to either GoDaddy or Namecheap where you can buy them. Don't forget to make use of Namecheap coupons to get a discount on your purchase.
Dot-o-Mator is the perfect place for clueless budding businessmen and first-time web developers who have neither idea nor experience in choosing and handling a domain name. Here, all you have to do is choose the beginning and ending words of the website and the platform will automatically generate a host of domain name suggestions to choose from.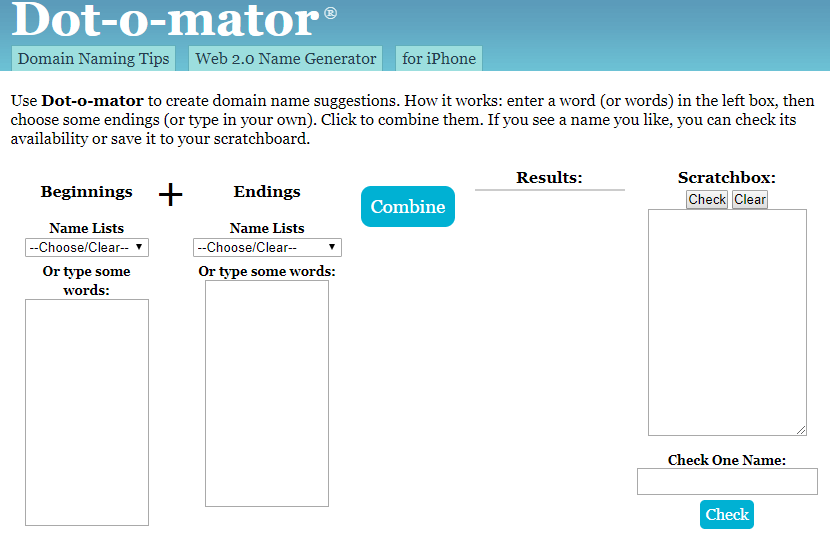 You can use standard search terms and keywords or include some creative ideas as well. The platform also serves as a random website name generator, where you don't even need to add keywords!
Cool Name Ideas is a website name generator that also checks the availability and credibility of the chosen domain name. Not just that, the platform also checks whether the Twitter handle of the same name is available or not.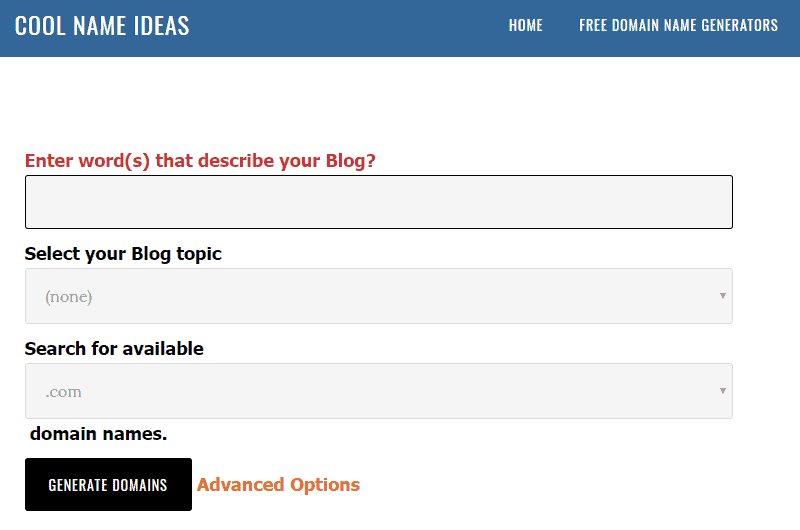 Here, you can add filters and specifications according to your business requirements and customer base as well for more accurate and systematic results. Some of the more advanced options include adding keywords, limiting the character length and also enhancing the SEO of the selected name, thereby ensuring a wider reach of your website.