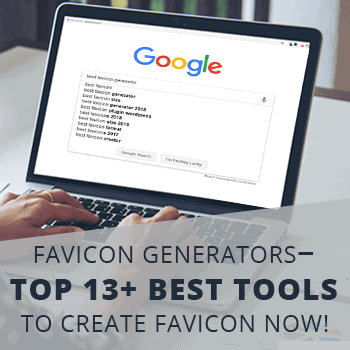 After you have selected the best hosting in India and create a WordPress website, the next step is to build your site's brand. Here, a small but significant element that can help you improve brand visibility is Favicon.
If you are not sure what a Favicon is, then fret not, as this post will provide information on the same.
Best part, it will also show you how to make a Favicon for your site using the best online Favicon generator tools.
So, take a look!
How To Create Favicons Online?
Here is the ultimate list of online Favicon generators that allow you to create Favicon for websites as well as personal use. These Favicon icon generators are free tools (some are premium). In this post, we've also explained what a Favicon is and why it is important. It also includes how a Favicon creator works. So, check out this extensive list and create a Favicon online right away!
A. What is Favicon?
Favicons are small icon files that are displayed near the URL address bar. The standard Favicon size file is 16×16 or 32×32 in 8-bit or 24-bit colour. In other words, the Favicon is a small iconic image that represents your website.
Favicons are used in listed feed aggregators and web browsers. You can create a Favicon for your website to build brand awareness. They also help boost SEO. Most browsers like Chrome and Firefox support Favicons in different formats. They are saved in GIFs, PNGs, and other popular ICO file formats.
B. What Does a Online Favicon Generator Do?
Just like BigRock coupon make hosting and domain affordable, a Favicon generator helps you to make Free Favicon online for commercial and personal use. This is a great boon for those on a budget.
Most people use the Favicon generator for their website. These generators work according to updated codes of HTML 5 and CSS. Most generators are also updated with different JavaScript that helps you get the desired image result.
It's easy to make a Favicon with a Favicon creator. You can choose from different Favicon size that suits your requirement. A Favicon maker can help you create an image of up to 128px. But, this again depends on your website needs and the tools you use.
A Favicon creator or generator allows you to create Favicons from handy online editors. You have an option of manually tweaking the generated Favicons. You can also make Favicons for your mobile website version too.
The below list covers 13+ Favicon generator online that allow you to easily create a Favicon for website. So, let's check them out!

C. How To Create Favicons Online – 13+ Free Favicon Generator
1. Genfavicon – Free Online Favicon Generator
This site allows you to convert any image into Favicon image for your website. It's a free Favicon generator so you do not have to pay anything for conversion. This tool allows you to not only crop your image after generation but also resize it accordingly.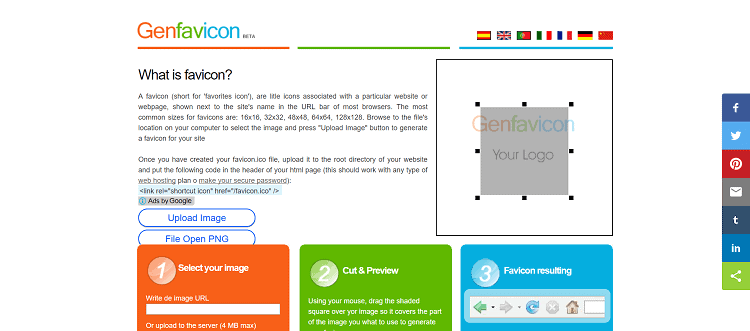 You can save your file in .ico format. You can also watch a preview of your Favicon file before you download it. This can give you a fair idea about the right Favicon image size.
When you log in to Genfavicon, you need to simply upload an image from a URL or your computer. Once the image is uploaded, the next step is to cut the Favicon icon size. The standard Favicon size that this generator allows is from 16px to 128px.
2. Favikon – Generate Favicons With Ease
Not having a Favicon for your website is one of the blogging mistakes. Thus, if you are looking for a simple Favicon generator, then this is a handy tool for you. There are not many steps involved with this. You just have to upload your image file and crop it. Download it according to the file format or in .ico format.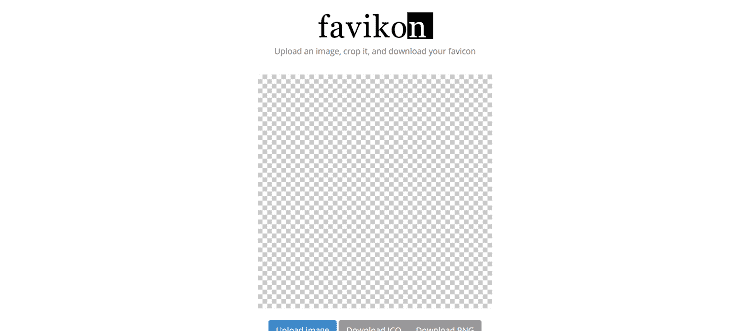 You can also create a Favicon file in PNG format with this tool. However, the only drawback with this tool is there is no editing option. So, Favikon specifically allows you to convert your normal image to .ico format. The conversion is free so you can convert and download as many images as you want to.
3. Logaster – Online Logo/Favicon Maker and Generator
Logaster is the fastest Favicon creator online tool. This website holds a record of more than 50 lacs Favicon images, icons and logos. The small image logos can be used on your website or other social media sites to improve brand awareness.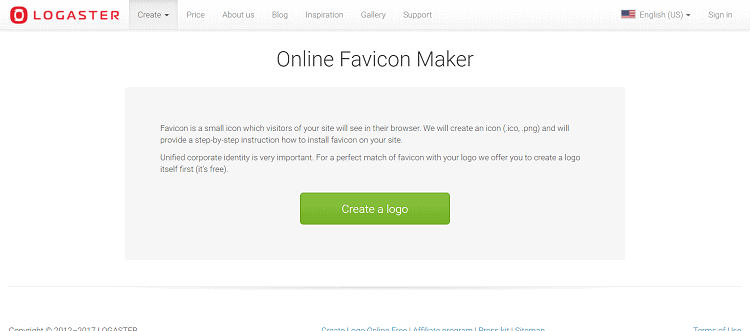 To create a Favicon, you need to select Create logo or Image option in this tool. Enter your company name and the exact requirement. This tool offers you many templates too. Best part, it offers customized options for logos and Favicon images.
Once your company logo is created, you can create a Favicon image from that logo. You can download a small size logo for free and a large size logo for a nominal charge of $9. Logaster is one of the most popular Favicon maker sites online.
4. Favicon and App Icon Generator
A free Favicon icon generator, if you are still stuck on how to make Favicons easily, then this site can help you create one. The website helps to generate Favicons in all formats. You can create Favicons for websites, Favicon for bloggers, applications and different IOS & Android platforms.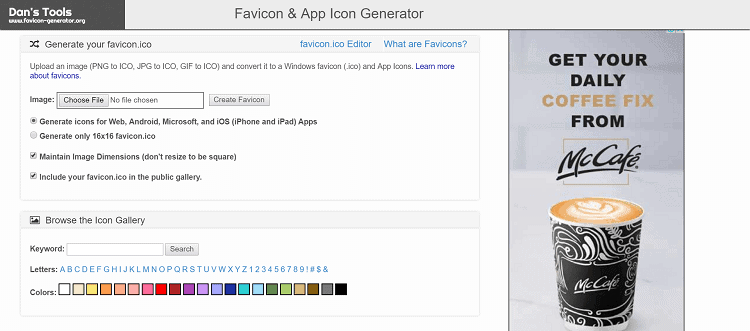 Go to Favicon Generator and choose an image you want to convert. The tool supports JPG, PNG and GIF formats. You can convert it into .ico Favicon image. You can maintain image dimensions on the website as well.
The site has its own Favicon generator image library so you can browse through many images on the site. The site lets you search for images through letters and numbers, which is great. You can simply edit your file image and download it. The site also lets you save your image in the root directory of your own website.
5. Favic-o-Matic: The Ultimate Favicon Generator
There are two different Favicon generators on Favic-o-Matic. The first version lets you upload your normal image to convert it into .ico file. The second version lets you convert an icon for Android and IOS platform.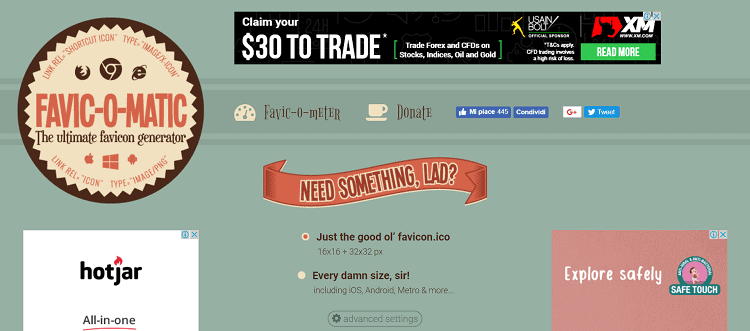 You can create free Favicon images on this site. The website has many advanced setting features. It lets you preset the size with metro tile options and decide on the background & colours. A normal Favicon size you can download here is 16px and max is 32px.
So, upload your image, choose a size and simply download as per your need!
6. FavICO – Free Online Favicon Generator
This is a simple, easy and the best Favicon generator that lets you convert your image into a Favicon. It supports different image file formats like PNG, GIF & JPG and can easily converted them into .ico version. The process is rather simple.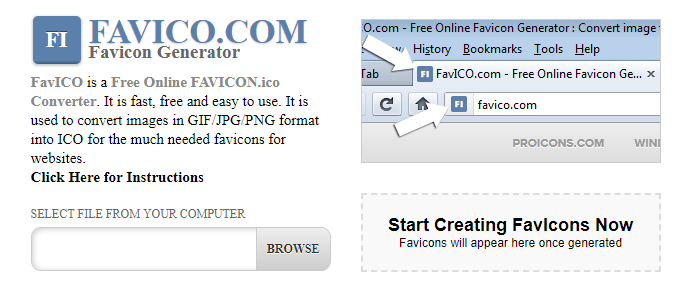 At FavICO, you need to upload an image and select the required size. Then simply click create and generate Favicon image that you can use. Download it on your computer or your website. With this tool, it just takes minutes to create a Favicon image.
7. X-Icon Editor – Create High Resolution Icons
This Favicon generator tool lets you design your Favicon image from scratch. This free tool is also easy to access. It offers different features like brush tool and type tool that let you customize your image. You can also use an eraser tool and pencil tool to produce a creative Favicon image for your website.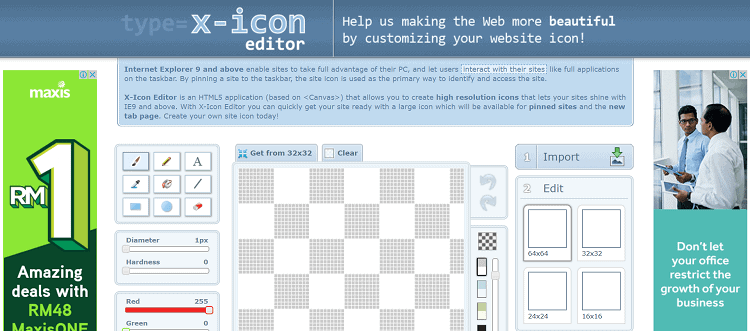 X-Icon Editor also offers you an option of cropping and editing your image. You can simply import, crop, convert and download your image file. This Favicon generator tool lets you preview your file before you download it, so you can see how your image actually looks.
8. FavIcon.pro – Free Favicon Online Generator
This website lets you create a Favicon image for free. Simply convert your GIF, PNG and JPG file to .ico file. The tool lets you choose an image size before the conversion process. You can choose a size that ranges from 16px to 128px. After converting, you can save the file to the root directory of your website.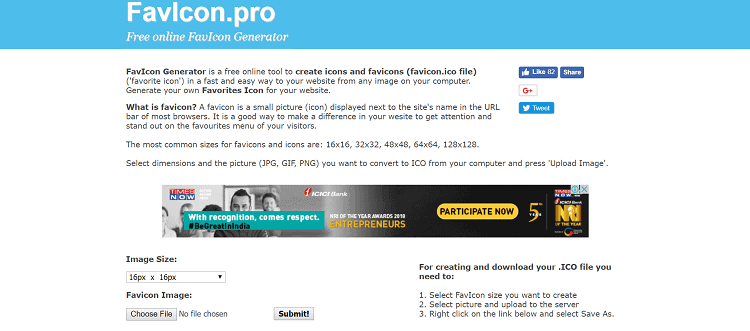 FavIcon.pro also provides an HTML code for your Favicon image. You can simply paste this code in the image context or tags of your website. This procedure though long can give you better results for Favicon image.
9. AntiFavicon – Creates Favicon from Text
This tool makes a Favicon image using text. That's right!
AntiFavicon generator lets you make a Favicon image through a text box. You can enter text using numbers and colours. It's a great tool if you want a different type of Favicon image.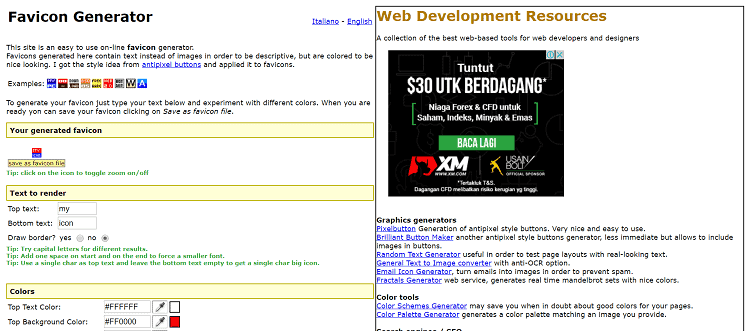 However, the free version of the tool offers limited features. The paid version lets you edit the image through designs, tools and your skills. This fast Favicon generator from text tool lets you save time and money both.
10. RealFaviconGenerator – Favicon Generator for all Platforms
If you are looking to create Favicon icon online for every platform, then this is the right choice for you. This website allows you to generate Favicon image for Android, Website, IOS, Chrome, Mac and almost all the other available platforms.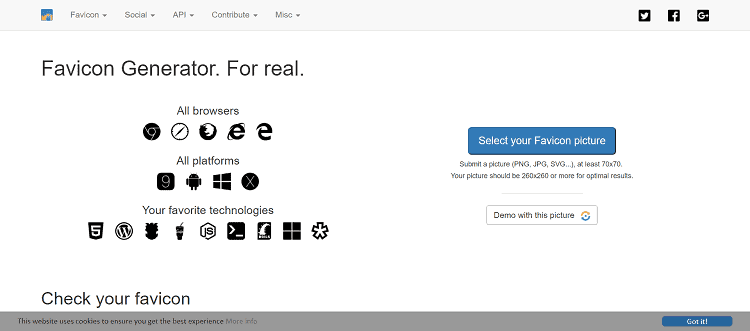 You can also check your existing Favicon with this tool. Simply enter your URL or website address for feedback and RealFaviconGenerator will give you instant feedback on how the icons are displayed across all platforms. If there is a problem, you can simply fix it with the suggestions provided.
You can generate a feedback on Favicon in minutes using different designs, colours, and graphics. You can also create your own icon depending on your needs, which makes this a multi-utility Favicon generator.
11. Favicon.cc – Create Favicon for Website
Favicon.cc can create a Favicon using a pixel source. You need to fill in the pixels in the design box. It gives you an option to change your hues and colours. This Favicon generator tool also gives you an option of converting your image.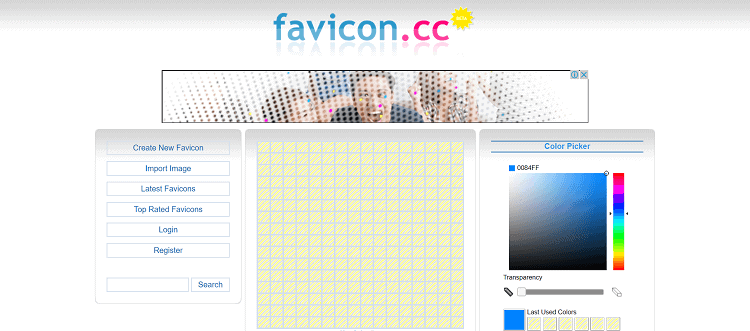 You can convert any image into ico file format. It supports an image size of up to 5 MB. You can also preview and download your Favicon image.
12. Webestools – Favicon Online Generator
This website lets you easily make edits according to your choice. You can create your own Favicon image from scratch. The website offers a click editor and site point that helps you get the desired results.

You can opt for a 16px or 32px option. You can also use a feature like a preview to see what your actual image looks like. Plus, Webestools allows you to download a favicon for free.
13. Favicon Generator – Make Favicons for Personal or Commercial Use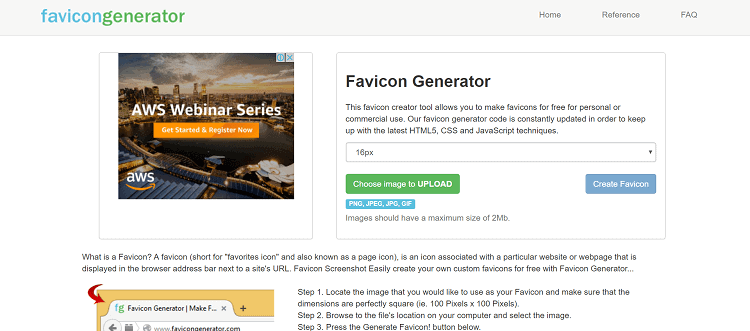 It's quick and easy to convert the images with this Favicon Generator tool. PNG, JPG and GIF files can be converted into .ico format. It's a simple conversion where you can upload, convert and download the file.
14. Dynamic Drive – Generate Favicon Online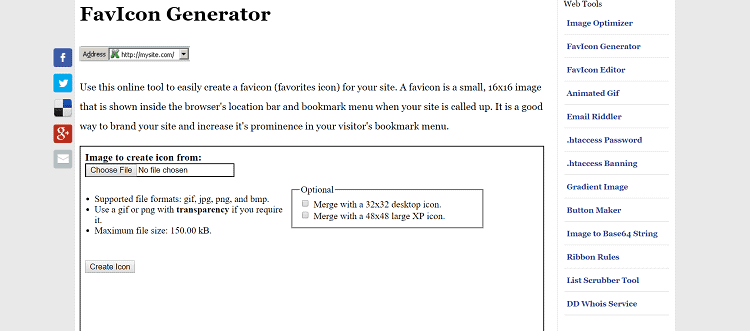 With the Dynamic Drive online Favicon tool, you can simply create your Favicon image in seconds. The supported file formats for conversion are GIF, PNG, and JPG. The maximum file size for an image is 150 KB. So, if you want to increase your site's brand awareness, then this neat Favicon image tool can help you.
15. Ionos – Professional Favicon Generator from Text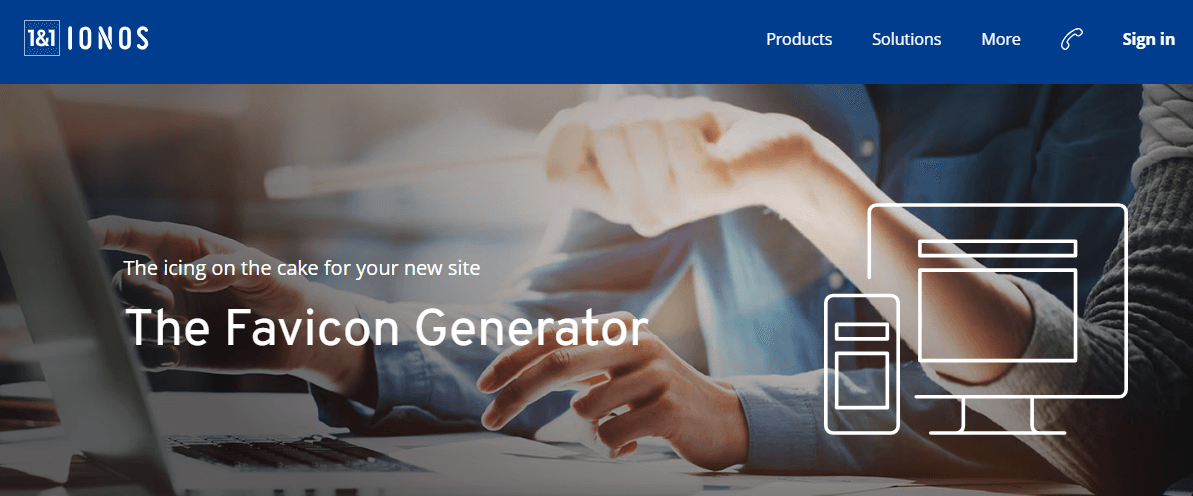 If you want to create a professional looking Favicon image, then this is your best bet. You can create an image through an online editor, image or a simple text. You can use the converted Favicon images in all the popular social media platforms and your website. Ionos also offers preview features with various customized options. You can convert any image file to .ico format.
The little images that you see on websites, social media platforms are Favicons. Favicon images can give you brand recognition and much-needed exposure on social media. Favicons can be used in bookmark lists, browsers tabs, and even clickable links.
After generating your own Favicon image from the above-given options, you can upload it in the root folder of your website. Use a direct code or image for this. You need to keep your hold strong in the world of internet to survive. A great Favicon image is definitely going to help you get that attention. So make one today!
Also, check out these options if you need WordPress hosting in India or specialized SEO hosting in India.